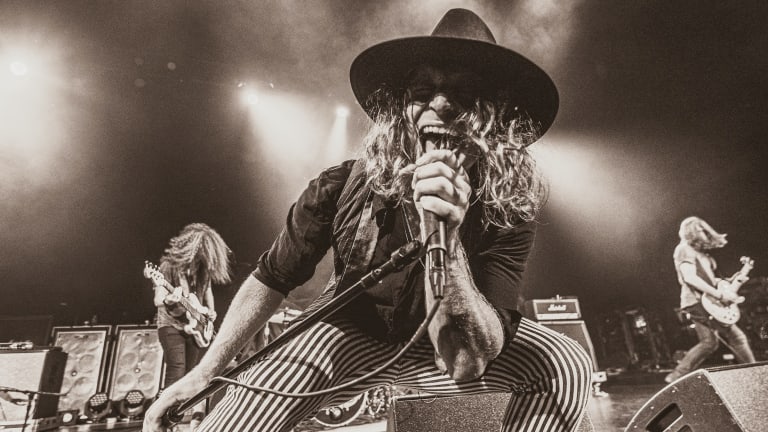 Dirty Honey talk hanging with Axl Rose, covering Prince and rockin' and rollin' in 2022
The secret to the young band's success? 'It's always gotta be about great songs,' singer Marc LaBelle says
Over the past few years we've heard the phrase "rock is dead" thrown around with increasing casualness. But anyone who subscribes to this sort of nonsense clearly missed the memo on Dirty Honey. The band – singer Marc LaBelle, guitarist John Notto, bassist Justin Smolian and drummer Corey Coverstone – exploded out of L.A. in 2018 with a sound that was indebted in equal parts to Aerosmith, Led Zeppelin and Guns N' Roses, with a whole lot of Black Crowes swagger thrown into the pot for good measure, and topped off with a youthful and thoroughly modern energy and approach to songcraft.
And despite that whole "rock is dead" problem, rock fans (and also rock legends) have been lining up enthusiastically behind the band. Their early single, "When I'm Gone," reached #1 on Billboard's Mainstream Rock Songs chart, the first time in history an unsigned act achieved this feat, and Dirty Honey has rocked stages alongside everyone from Guns N' Roses and Slash to the Black Crowes and the Who.
Currently, they're in the middle of a successful co-headlining U.S. club run with Wolfgang Van Halen's Mammoth WVH, on a tour aptly titled Young Guns. LaBelle caught up with Metal Edge as the Dirty Honey bus rolled through the Midwest, "somewhere between Kansas City and Madison, Wisconsin," to talk about working as an independent band, coming face-to-face with Axl Rose, covering Prince and trying to make it in rock 'n' roll in 2022. The secret? "Great songs," LaBelle says. "It's always gotta be about great songs."
You're out on the road with Mammoth WVH at the moment. Clearly, you're making a point that, in addition to the legacy acts that we all know and love, there's also great new rock 'n' roll bands out there today. What do you think about the state of rock 'n' roll in 2022?
Marc LaBelle: I was just talking with somebody about that, and actually I'm a little surprised there's not even more rock bands right now. And I think Covid might be a reason for that. It made it really hard for bands to play. I know Slash's son, London, who's in a band called S8nt Elektric, and we were talking quite a bit that there was nowhere to play during Covid. So how can you even do it if you're just starting out? It might take a couple more years to bounce back from that. 
But you know, we recently played in Vegas with this band the Warning, which is three sisters from Mexico. They opened up for us and they were so cool. So there are some bands popping up out there, and the scene seems pretty healthy. It's just going to take a minute because bands haven't been able to cut their teeth in bars and clubs the last two years. So we'll just have to wait and see.
In addition to tours like this one, Dirty Honey has also opened for massive acts like Guns N' Roses, the Black Crowes and the Who. How does doing your own show in a club compare with playing in arenas supporting legendary artists?
LaBelle: It's a completely different experience. I mean, last night I put out the microphone to the audience on a song of ours called "Heartbreaker," which was not even a single or anything, and they just started screaming along to the chorus. So in that way, doing a club show that's your own is a much more fun experience, because you have a room full of people that are familiar with your material. As opposed to opening up for, like, the Black Crowes or the Who or something, where it's a bit of a challenge. In that case you have to win the crowd over and get them out of their seats and get them to have a good time. On some level you're still putting on the same sort of concert, but the experience is definitely very different.
Anything crazy happen when you played with any of those bands?
LaBelle: One crazy thing that happened to me was after we opened for Guns N' Roses, I was backstage talking to their manager. He was very nice, very complimentary, and I asked him casually, "Hey, have you seen the rest of the guys in the band?" You know, talking about Dirty Honey. And he goes, "Oh, yeah, I'll bring you to them." And he walks me right over to Axl! And he says, "Here's the band!" And I'm like, "Whoa, what the fuck is going on?" But I got to chill with Axl for a good 20 minutes, which apparently never, ever happens. And I was just looking for my band…
You should've asked Axl where they were.
LaBelle: [laughs] I don't think he would've known. But he was awesome. Very, very cool.
Who are some of your biggest influences as an artist?
LaBelle: Any classic rock star, really. Chris Robinson was a big one. Brian Johnson. Bon Scott. Steven Tyler. Mick Jagger. Robert Plant. Chris Cornell. Eddie Vedder. They're all in there. Any great front man had some sort of effect on me, for sure.
You guys recently covered Prince's "Let's Go Crazy," who is an artist from outside of your wheelhouse. How did that one come about?
LaBelle: We did it for a hockey game [the NHL Winter Classic] that was being held in Minneapolis, so the people involved wanted us to do a nod to Prince. They kind of suggested that one. And you know, doing any Prince song is tough, but once we figured out how to make the song our own, or at least put our own spin on it, it was much easier for us to sink our teeth into. Because it's a great song, but for lack of a better word it's a little bit of a "goofier" sort of rock song. It's very tongue-in-cheek, the way Prince attacked it. I don't know if he would like that criticism, [laughs] but I just mean it doesn't feel very "rock 'n' roll." More pop, I guess. So we had to make it a little dirtier. Once we figured out the riff and the sort of heaviness of it, it came pretty naturally.
Is there any song you'd like to cover that you haven't gotten around to yet?
LaBelle: That's a good question. We've been learning one, it's an AC/DC tune, but it really relies on having a second guitarist. We were talking to Wolf about maybe doing it with us. So that might pop up down the line.
What AC/DC song is it?
LaBelle: We would love to do pretty much anything off Back in Black. I mean, we know the whole record, honestly. But we've been focusing a bit on "Shoot to Thrill." And something like that, there's two pretty iconic guitar parts, you know? You just feel like something's missing if one of 'em isn't there.
Dirty Honey is an L.A. band. Are there any Sunset Strip acts in your musical influences?
LaBelle: Not really, honestly. I mean, I love Guns N' Roses. I love the Doors. But, like, the Mötley Crüe's and Poison's, I take it or leave it for the most part. For me, the only '80s bands would be Guns N' Roses and, like, '80s Aerosmith and AC/DC.
Given that you're on the road with Wolf, do you have a favorite Van Halen song?
LaBelle: Oh, yeah, I do. My favorite is probably "Feel Your Love Tonight," off that first record. It's so cool. It feels super-live. I love that Van Halen record from top to bottom. It just totally kicks ass. That's in the Top 10 rock records of all time for me.
You guys have achieved a lot of success in a short time, and you've managed to do it as an independent act. How has the experience been to navigate your career without a record label behind you?
LaBelle: Well, the quote I say all the time is, "I haven't met an artist who's pulled me aside and told me how much they love their record label." You know what I mean? So to do it on your own, you learn a lot more about the business and how things actually work, how the money comes in, and I think there's value in that. You're more a part of all of those things than you would be if you just had people promoting a single or whatever. I definitely have a better understanding of the music business after doing it this way. 
That said, it's also a pain in the ass sometimes. There's definitely some struggles in doing it yourself and dealing with the minutia of it all. For instance, going abroad for the first time – if we had a big label like, say, Sony, behind us, we'd already have had our flag planted firmly in the ground over there just by having people promoting our music in foreign markets. Instead, we had to do it all ourselves and start from scratch in every new part of the world. Whether it's Japan, Australia, Europe, it doesn't matter. You have to go there and do it all over again.
One of the challenges of being a rock band in this day and age is trying to straddle that line between being reverent to the past and to rock tradition, while also having your own voice and playing modern-sounding music. Is this something that Dirty Honey has had to think about?
LaBelle: We did early on, and I think that thinking about it made it something that wasn't authentic. And authenticity is the thing that draws you to any band you like, whether it's Nirvana or Aerosmith or Led Zeppelin, you know? But what happened was, we were thinking about it too much, and because of that the music that we were writing wasn't good. So we had to strip it back and just be like, "What do we actually like here?" Once we did that, songs like "When I'm Gone" and "Rolling 7s" started to come out. And those are the songs that became successful for us. And that's because those are the songs that are authentic to us.