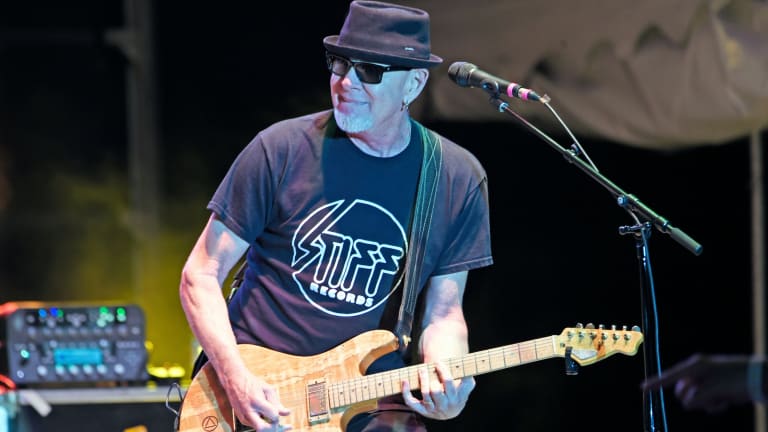 Exclusive: Great White's Mark Kendall talks new singer, Mitch Malloy split and recording new music
Guitarist calls new tunes 'a little bit heavier and with more of a blues edge'
A few months back, Great White singer Mitch Malloy issued a surprise statement that he was exiting the band he had fronted for the past four years. Within a few hours, Great White released their own statement welcoming a bew singer, Last in Line's Andrew Freeman, to the fold. The reconstituted band, with Freeman (the third GW vocalist to follow in the footsteps of original singer Jack Russell) on board, is already up and playing shows, and there looks to be even, um, "greater" things on the horizon.
Metal Edge caught up with Great White guitarist and founding member Mark Kendall to find out just what's in store for the long-running band. Kendall called in from Pleasanton, California on the band's stopover during their current trek around the country to discuss Malloy's departure and Freeman's arrival, his reignited enthusiasm for new music, the status of original singer Russell and much more.
What led to the recent split between Great White and Mitch Malloy?
Mark Kendall: In the beginning, I would give Mitch a song and he would come back with a pretty good song, but it was more poppy, which is a little bit more up his alley, not as much of a heavy rock thing. As we started growing apart over the past couple of years, I didn't want to give him any more music as I didn't know what the future was going to hold. And because we were working so much, we didn't have time to look for another singer or anything. But this thing with Andrew kind of happened not by design. It was accidental. Andrew was just sitting in and because he did so well, we thought, "Man, we'd like to have him in the band…"
How did you hook up with Andrew?
Kendall: We were playing with Mitch, and there was one night that he had a commitment to do a Van Halen tribute show. We had a show with Foreigner, but then a couple guys in the band got Covid so they rescheduled it for the date that Mitch was doing the Van Halen tribute show. So he told us he couldn't do the Great White gig. We got Andrew to fill in and he totally blew our minds. We didn't even rehearse with him. He just learned the songs on his own and we did the show.
Vocally, Andrew seems to have a wider range than Mitch.
Kendall: Yes. We've even started playing "Stick It," from our first album, which we haven't played for 30-something years. Andrew has quite a bit of power in the upper range, and because of that, we can pretty much do anything in our catalog. Mitch was a wonderful singer but a lot of our songs were a little bit out of his range. Besides that, the brotherhood was kind of lost these past couple of years. It was like we're always together, but Mitch was by himself somewhere, like he didn't really talk to us very much. He was basically coming onstage, doing the show and then taking off. So we asked Andrew what he thought about getting into the band.
It sounds like Andrew has brought an inspirational spark to both you and the band.
Kendall: Yeah. I've been writing songs! This guitar player friend of mine, Tracy G, who I've known since we were teenagers and who was in bands like Dio and WWIII, has a studio at his house, and since I played on his last solo album, he says to me, "Anytime you want to come in and record something…" And I said, "Dude, I have these ideas and this killer singer so I've got to put this stuff down." So, I went over and laid down the ideas for Andrew to get into. And I'm curious to hear what he does with them. It is a little bit heavier and with more of a blues edge to it, but also hard hitting.
Does this mean we could see a new album from Great White sometime soon?
Kendall: Absolutely. We want to make a record as I do have a lot of music. I just have to get it all on tape.
Before getting Andrew, did you ever consider the possibility of bringing Jack back into the band?
Kendall: No, only because he is not 100%. He sits on a stool when he plays and I'd rather just remember him in his heyday when he was flying around on the stage and singing like a bird. I can't have him sitting on the stool onstage, it's not the kind of show I want to present. If we were playing acoustics and were all sitting on stools, that would be a different story.
Does it bother you having two versions of Great White out touring?
Kendall: Not too much, because they [Jack Russell's Great White] don't play that often as it's just a way for him to make a living. I didn't want Jack to just call his band Jack Russell, I wanted people to know what they were going to see when they went to a show, and because the guy has his surname attached to Great White, this way they know it's Jack Russell, the past singer from the band Great White. Whereas this band is not like Mark Kendall's Great White – it's just Great White only. We just wanted him to be able to make a living and that was the settlement we made.
In the band's very early days you were known as Dante Fox. Some of that music was released a few years back as the compilation album XXX. How did you feel about those recordings being made public?
Kendall: What happened was, Jack had done a deal with Cleopatra Records and I was going to sue them because I didn't feel that stuff should have been released. They should have talked to me before they released it. I don't mind people hearing where we came from in our beginnings, but there is some stuff that is so… it's just not something you want to release to the public, you know? It's personal. It was the very early stage of writing songs for us, and our lyrics were kind of corny. We were pretty young and green. So, they settled with me and I just told them to not be releasing anything like that again unless they call me. Had I been able to go through the tunes, I might have said, "Okay you can do an EP or something with these five…"
What did you think of the quality of those recordings?
Kendall: Well, that's other problem with it. The quality was bad because it came from a cassette that came from a fan. It was a fan that gave us that cassette years ago and it played so fast that the key of E was now F#, [ moved up a tone] so literally Jack sounds like a chipmunk. He is hitting notes that aren't even possible. So that was the other problem as it wasn't even off the acetate or the master. Essentially what they had released was a cassette and one that played way too fast. So those were the things that really irritated me.