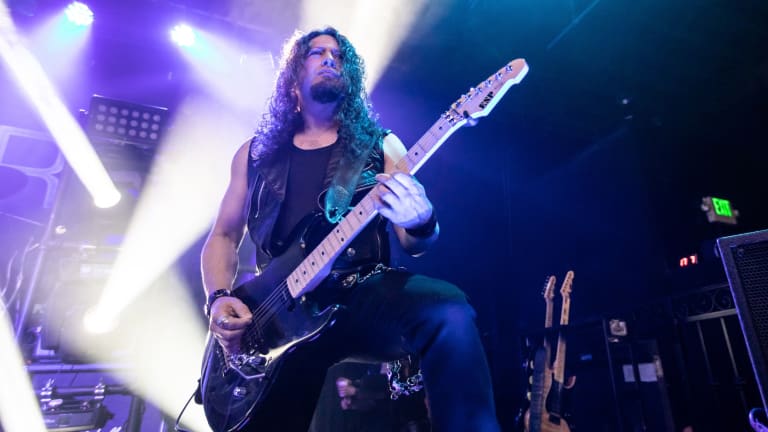 Exclusive: Michael Wilton talks 'all-encompassing' new Queensrÿche album, 'Digital Noise Alliance'
'It's got some very melodic moments, it's progressive, it's heavy metal and it's very album-oriented visual music'
Queensrÿche recently announced their forthcoming 16th studio album, Digital Noise Alliance, due for release on October 7 via Century Media Records. The record, which again sees Chris "Zeuss" Harris helming production duties, also marks the return of guitarist Mike Stone into the band's fold. While the group for now are remaining tight-lipped in regard to releasing any further information about the record (though they recently shared a short clip of a new track), Metal Edge secured an exclusive sit-down with Queensrÿche guitarist Michael Wilton for a sneak peek on what we can expect to hear.
Tell us a little about the sound of Digital Noise Alliance.
Michael Wilton: It's an album that kind of stretches and encompasses the whole music genre of Queensrÿche. It's got some very melodic moments, it's progressive, it's heavy metal and it's very album-oriented visual music that is going to be just a good all-around Queensrÿche album.
In a recent interview, singer Todd La Torre mentioned that the new album's sound was very much hugely influenced by the use of vintage gear.
Wilton: Oh, yeah, at least the guitars and amplifiers were, as they were all my old school Marshalls I was using back in the '80s and early '90s. I played through my traditional old-school 4 x 12s with the Celestion speakers. We also had this one situation where we inputted those into the Pro Tools Digital Audio Workstation with this thing called a Torpedo that simulates speaker cabinets. I had never heard of it before, but it was mind-blowing in a way that you didn't have to spend hours trying to mic a cabinet to get the right sound, as with this software you could move the microphone anywhere around like behind it, or in front of it and it's spot-on accurate. And there are so many cabinets you can play through, too.
Did the idea for making a new album occur while in lockdown?
Wilton: The whole writing process kind of happened that way, yeah. I was living in Seattle at the time, and when you're isolated like that it does weird things to your head space. I talked to Todd and mentioned that in all that time I had been writing lots of little riffs on the guitar. So, I went and visited Todd in Florida in late January of 2021. I had no idea he had also invited producer Zeuss to come down from Massachusetts, as I hadn't brought along any guitars with me. I was just going to go hang out with Todd in Florida.
But we then made a conscious decision between all of us that this album's process would not be songs being emailed to each, waiting for their approval back. This was going to a process where on-the-spot riffage, experimentation, improvisation and seeing what sticks was the way we wanted it made. So, I'd come up with a riff and Zeuss would record it and Casey [Grillo] would get on the electronic drums and put a drum beat to it, and we'd file it and move onto the next riff and so on. Then we would sit back and listen and if everybody was vibing on what we did during that day, we'd listen to all the parts and imagine where they would sit within a song structure and then kind of put them together from there. Eventually we had about 22 song ideas, and we had to wither that down to about 11 or 12 tunes.
Are you able to discuss or give us some song titles?
Wilton: All I can share with you is that the first song we recorded was called "Behind the Walls."
Any specific lyrical themes on the album?
Wilton: A lot of the songs are our perspective on the current unrest in the world, especially in the United States, and whatever the music dictated to us for the lyrics. Todd writes great lyrics, as does Eddie [Jackson], and I wrote some lyrics, too. I think as I said earlier, it's a full, all-encompassing Queensrÿche record that I think everyone is going to really enjoy.
Will you be touring in support of the new album?
Wilton: Yes. In the fall we'll be back touring again, and in 2023 I know we'll be touring on the record because it'll be released this October. We've already filmed a bunch of videos that are going to be coming out soon, with the first one due at the end of this month. And in the coming weeks we're going to film four more videos. We have a guy in Florida who is helping us out and really knows our music, and we've got the locations, though I don't think we'll be doing them outside as it's too hot, so we're probably go and do them inside.
Do you feel Queensrÿche has reached a point in its career where you all feel comfortable with each other and with what you've achieved and where the band is at?
Wilton: Yeah definitely. We've got a great chemistry right now and we've been touring live on that for a few years and it's been a lot of fun. And we're having fun playing live again after having been sequestered for a year-and-a-half without performing due to Covid. It's kind of a slow process getting back into it, but now that we've been on tour and we did that tour with Judas Priest recently, that was a good springboard for us to get back into the arena, per se.
Are you able to comment on the ongoing lawsuit with former drummer Scott Rockenfield?
WIlton: Not really because it hasn't progressed much. I really don't have anything to say about it other than it will definitely play its way out in the future. But everything is so slow in the legal systems so it's like, who knows?
It's coming up to 40 years since Queensrÿche independently released its self-titled debut EP. Looking back on it today, what are your memories of that time?
Wilton: I was 20 years old, and it was like my fourth job in my life. The whole scene back then was pop radio and there wasn't a lot of metal. All the metal was coming from England and Europe so we were listening to the imports that came in from the likes of Judas Priest, Iron Maiden, Tygers of Pan Tang, Accept and all these bands that you could only get their albums that way.
We wanted to write loud rock 'n' roll and loud metal, and we made a conscious decision to do a four song EP of original music. So we went into Triad Studios in Redmond, Washington, and because we didn't have a lot of money, we had to record during the graveyard shift, which was from 12 to six in the morning. But that's where we created the first four songs. We released it on our record label, 206 Records, which was actually the local telephone area code. We sold 60,000 units of that EP and then we were scooped up by EMI Records. The 206 Records pressing actually came out in 1982 and then the pressings from 1983 onward were changed to EMI Records on their covers.