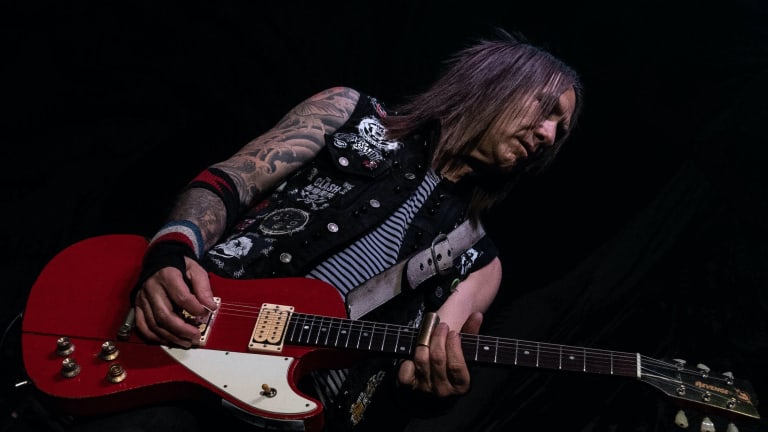 Guitarist Billy Rowe talks Buckcherry, his first-ever gig with Jetboy and hanging with Axl and Izzy at a W.A.S.P. show
'There was such a big buzz going at that time – it was the whole Guns N' Roses, Poison, Faster Pussycat, L.A. Guns era,' he says of L.A. in the mid '80s.
Billy Rowe is a rock 'n' roll lifer. He formed his first band, Jetboy, in San Francisco not too long after getting out of high school, and he hasn't looked back since. By the mid '80s, Jetboy had relocated to Los Angeles and were at the forefront of the second wave of Sunset Strip bands – among them Guns N' Roses, Poison, L.A. Guns and Faster Pussycat – taking the scene by storm, and within a few years they had signed to major label Elektra Records and released their debut album, the excellent, if underrated, Feel the Shake.
Jetboy disbanded after one more record, 1990's Damned Nation, but Rowe soon found a new calling – building guitars. In the 2000s, he started Rock N Roll Relics, and has today grown it into one of the most respected boutique builders in the industry. He has also reconvened with Jetboy for several albums and tours and recently became the newest guitarist in another band of longtime L.A. rockers, Buckcherry, making his debut on their 2021 album, Hellbound. Rowe and the band are currently out on the road in support of Hellbound, but he took some time to chat with Metal Edge about his past, present and future, from the first-ever Jetboy gig, to moving to L.A. in the mid '80s, to what's on tap for Buckcherry, including a new album.
In terms of your sound and style as a guitar player, you're such a perfect fit for Buckcherry. How did you wind up joining the band?
Billy Rowe: I had a relationship with a few of the guys. [Guitarist] Stevie D., he and I go back to the early days. We really didn't hang out, but I think one of the first shows he saw when he came out to L.A. around '86 was Jetboy and Guns N' Roses at the Whisky. Then fast-forward however many years later, he joins Buckcherry, and I met him, technically, through the bass player at the time, Jimmy Ashhurst, who I've known forever. I went to see him play with the band, I met Stevie, and we connected on old names and the scene and all that and became pretty good friends through the years when they had their whole revival.
Then it was a couple years ago that he asked if I'd be interested in joining. I was in San Francisco and I was figuring out my next move, and things lined up the way they lined up. I remember I was at my shop working and he texted me and asked if I was interested in doing some shows with the band. At first it was just some spot shows, because the whole Covid insanity was going on. But things evolved from there, and there was really great chemistry. So that's how it all started – just through friendships. And when they needed a guy to fill the slot, I was the guy they thought of. There were no auditions or anything.
Do you have a favorite Buckcherry song from before your time in the band?
Rowe: I've followed the band since the first record, and there's some great songs on that one. I love the second record, Time Bomb, too, and then all the way through Black Butterfly, Confessions… There's always something on the records where I'm like, "This is a great song." And you know, Josh [Todd] is great with melody and great with lyrics, so I was always listening and just digging the records.
What has been your favorite song to play onstage with the band?
Rowe: I like "Lit Up." I love "Ridin'." And "Crazy Bitch" is just a fun song to play, you know? It's pretty incredible to see how people react to it. There's something about that song where it's like a light switch get flipped in people and the energy shifts to this insane excitement. It's the whole rock 'n' roll vibe. It's pretty cool. And there's also a lot of great songs on this new record, Hellbound. The title track especially is a lot of fun to play.
Going all the way back, do you remember the first gig you ever played?
Rowe: I was in high school, or just going into high school. It was me and my good buddy Erik Lannon, who was also in American Heartbreak with me later on. We grew up going to school together, and we used to sit there and jam with a couple other friends of ours. So we played this, like, house party at his parents' house, and we just did a bunch of covers. Some Def Leppard, some Iron Maiden, some Motorhead. This is probably 1980. So that was my first show, but it wasn't really a "gig" show. My first club show actually would've been with Jetboy, in 1984.
Where was that?
Rowe: The Mabuhay Gardens in San Francisco, which was a Filipino night club that turned into this super-punk ground-zero spot in the late '70s. Iggy Pop, Blondie, the Ramones, all those bands would play at this place. It was kind of like San Francisco's CBGB for the time. So Jetboy, we actually formed in '83, and it was myself, [co-guitarist] Fernie [Rod] and Ron [Tostenson, drums]. We did one show with a different singer and a different bass player, and it was at Mabuhay Gardens. I think we called it Jetboy. That's like an unknown thing that's never really talked about, but that was the first show. And then probably a year later, Todd [Crew, bass] and Mick [Mickey Finn, singer] were in the band and we played the same club. I think it was June or August of '84 was our first gig with that lineup.
When you did that very first show, before Todd and Mickey were in the band, were you playing originals or covers?
Rowe: We did some originals, and we probably did a couple covers, too. I don't really remember – it's all actually coming back to me as you're asking me. But we had some music, and then Mick, when he came in, he wrote his own lyrics. Some of the earliest songs that we were playing, one was "Bad Disease," which made the first album [1988's Feel the Shake]. And there were other ones that are out there on demo releases and things like that: "In the Alley," "Car Sex," "Don't Mess with My Hair," "Little Teaser." Those were kind of the core "early-years" Jetboy songs that we played all the way up to getting signed.
Eventually Jetboy moved from San Francisco down to L.A. What were your first impressions of Los Angeles?
Rowe: Well by the time we moved there we had already been playing in L.A. for a year or more. Our first gig was at the Roxy with Doll and Madam X, which I think was around June of '85. And from that point on we would play L.A. at least every other month. We would do gigs in San Francisco and then head down. And there was such a big buzz going at that time – it was the whole Guns N' Roses, Poison, Faster Pussycat, L.A. Guns era. By '85, '86, that whole movement was just booming. The clubs were booming. So we had a good following within just a few months playing down there.
But prior to Jetboy, when Fern and I were looking for singers, we would drive down to L.A. with a friend of ours, this girl Diane, who was really into W.A.S.P. Anytime they would play, and it was mainly at the Troubadour, we would drive down with her and hang out. That was how we met Izzy and Axl in '83, '84. Once both our bands got going, we started swapping shows. So when we moved to L.A., we already had this community and this circle of friends and places to go. We were almost like an L.A. band.
So you met Izzy and Axl at a W.A.S.P. show?
Rowe: It would've been at the Troubadour. W.A.S.P. was playing and a lot of times we wouldn't even really care to go inside. There was such a scene outside, you could have just as much of a social thing outside the club as you would inside the club. I remember Izzy was leaning against a wall and he had that Andy McCoy, Nasty Suicide, Hanoi Rocks look. And that was everything we were all about. So we just started talking. Then this dude, Chris Weber, came up, and they had the band Hollywood Rose together. And then Axl was there, too. And we all just hit it off. We were all into Hanoi Rocks and Girl and Lords of the New Church and we just instantly clicked. I think that night we went up to Chris Weber's house and hung out, and the next day we went cruising around record stores. We became fast friends.
If you ran into somebody who had never heard Jetboy before and could only play them one song to try to communicate what the band was about, what song would you choose?
Rowe: That's a tough one because it's either you go to the early era of Jetboy, which was way more punk and loose, or the stuff I'm more into, from the first or second album. But I guess in the end I would have to go with "Feel the Shake." I know a lot of times when I hear that one it's surprising to me how good that song still sounds. It has a great hook in it. And it's got a little bit of the old-school sound in it, and also more of what the band really became about in its core years. It has a little bit of both.
Was there a band from the Sunset Strip scene that you though should have made it big but never quite got there?
Rowe: I mean, Jetboy would be one of 'em, I guess. Although we did get to a certain point. But besides that, it's so hard to say. One band for me, although they were a little bit later, was Junkyard. I always thought they were a great band. I still think they're great. I love what they do. But on the earlier side, that's a tough one. Some people would say Shark Island, but I never saw Shark Island so I didn't really know the songs. There was a band called the Joneses that was like a total junkie-rock band, that punk, Johnny Thunders, Hanoi-type vibe, but whether they should have been big or not, I don't know. Then from our hometown I would say the Sea Hags, who I thought were great. And we were good buddies with them. I remember Ron [Yocom, vocals] and I became good friends and we put 'em on as many shows as we could to get them to play with us. We got them their first show in L.A., actually, at the Scream. I thought they could have been something pretty great.
What's the best rock show you've ever seen as a fan?
Rowe: I mean, being a kid and seeing Kiss and Cheap Trick in 1977 was something I'll never forget. And seeing AC/DC and Van Halen for the first time, at a Day on the Green in 1978, and not knowing who they were, that was amazing.
You didn't know AC/DC or Van Halen?
Rowe: I think I knew Van Halen a little bit, because my neighbor used to crank that first record. But I wasn't totally sure who it was. Then going to the show, all the dots got connected and it was all over. But AC/DC, I did not know them at all. I think I'd maybe seen the Let There Be Rock cover in my buddy's brother's room, but that was it. But when I saw them live, that band just hit me like a lightning bolt. I went out and bought High Voltage first, then Powerage… I was hooked. It was amazing, for sure.
Finally, what's coming up in the near future for Billy Rowe?
Rowe: With Buckcherry, we're continuing on this Hellbound tour through summertime, and then I think there's going to be a little bit of a break in September or October. Then we're doing one of the Kiss Kruises, then Australia, and then I believe that's going to be it for the year. And in the meantime I have my guitar business with Rock N Roll Relics, and that's growing as well. But after we finish all the touring for Hellbound we'll also get started on a new record. Songs are being written now. So that'll happen. Buckcherry, those guys work like madmen. So we'll stay busy.