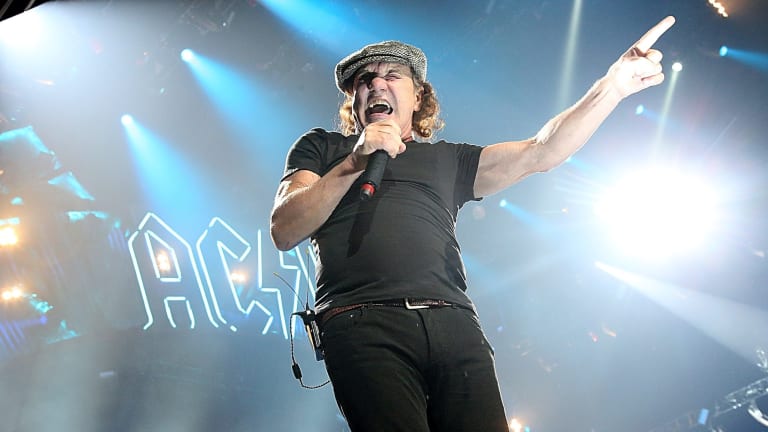 'Hells Bells and buckets of s**t!': Brian Johnson talks writing an AC/DC classic
The front man recalls hunkering down in the Bahamas with a machete, a speargun and a desk... and coming up with a legendary track
"You can write all the theories, but it actually happened."
Ah yes, those "theories." Brian Johnson has heard them all. How he didn't write the lyrics to AC/DC's Back in Black. That it was the late Bon Scott's words he was really singing on the fourth biggest selling album in the history of music, according to the Recording Industry Association of America. But, says Johnson, it's all a load of bollocks.
Sibling guitarists Malcolm and Angus Young presented the titles they envisioned for the forthcoming AC/DC songs when Johnson joined the group, but it was up to the North East England native to come up with the words to them. And he says he did it all on his own.
Well, almost. There was one track he had a bit of help putting together – but first, a little backstory is necessary.
It all started in April 1980, when Peter Mensch, AC/DC's then-manager, told the band the original recording locale of choice, ABBA's Polar Studios in Stockholm, Sweden, was a no-go because it was all booked up. Instead, they'd be heading in the complete opposite direction, to Compass Point Studios in the Bahamas.
"Where? Where the fuck is that? I was that thick, I really was," Johnson recalls to Metal Edge. "There I was, in the back of a plane, and people turned 'round and said, 'Hey…fancy joining a multi-million-dollar band?' And I went, 'You must be fuckin' kiddin'.' We had to watch the pennies then, you know? We're all sittin' in the back, all drinkin' beers, all smoking, just on our way to the Bahamas, which was eight hours or somethin', the longest flight I'd ever been on."
It was a seasonal 90-ish degrees in the enclave of Nassau, where Compass Point Studios was located – less than 200 miles across the Atlantic Ocean from Miami – but the tenderfoot Johnson was woefully unprepared with just blue jeans, a denim bomber jacket, his ever-present tweed cap and a faux leather overnight bag with two pairs of socks, a couple pairs of underwear and two spare t-shirts.
"I didn't even have any shorts," he says, laughing. "Then being whisked up this road with palm trees – oh my god, can you imagine – and an aquamarine blue sea. Just fucking ridiculous. I was learnin' me trade… it was a different life from the one [I'd come from]. All the time I was doin' it, I was well aware that two-and-a-half weeks ago I was playing at a workingman's club with my band Geordie II."
The band set up in concrete shacks, Johnson's with a single cot, a sink, a toilet and a little desk where he could sit and write. Each member was also given a machete and a speargun to keep at their side during the night in case any of "the bad men up in the woods, drug dealers with guns" showed up to cause any trouble. Despite those distractions, the singer was in full-on composition mode – until he hit a dry spot.
"I remember I had written about five songs, and the sixth one came in rough," Johnson says. "Malcolm said, 'Jonna, this song we're gonna call 'Hells Bells.' " And I said, 'Oh, 'Hells Bells,' that's interesting.' 'Cause up in the North East, if something really bad happens to ya, like you stub your toe or something, what we would say is 'Oh fuck, hells bells and buckets of shit!' That's what you would say, you know?"
Beyond the confusion over the nomenclature and slang between Johnson and the Australia-by-way-of-Scotland Young brothers, the former was suddenly feeling tapped-out lyrically.
"I'm sittin' there and [producer] Mutt Lange came to me little shed and he looked and he said, 'You all right Brian?' I said, 'I'm fine Mutt. I just got this fuckin' mental block,' " Johnson remembers. "I'd written like five songs in a short period of time and now I gotta get another one 'cause time was of the essence, you know. And I said, 'I cannot think of nothin'. 'Hells Bells,' I think I've written about everything you can write about.' He said, 'Don't worry, just relax. It'll come to ya.' "
And come to Johnson it did, with a bit of assistance from Lange and the approaching wet season in the Bahamas, which often brought with it sudden, strong shifts in the climate.
"Outside, the weather, there was no sun, which was the first time I'd been there and it wasn't hot. It was strange; it was just grey skies and all that," Johnson says. And then, in the distance, I said, 'What's that noise? It sounds like a naval battle.' Like two navies havin' at it together – the booming noise, you know? 'Boom…boom.' And Mutt, who was from Rhodesia as it was called [in Southern Africa], on a farm, he said, 'Oh, don't worry Brian, it's rolling thunder that's called.' I said, 'Is it? That's a good line' and I wrote 'rolling thunder.'
"Then, this fucking rain came down, the likes of which a Northern boy had never seen before. It was tropical, torrential, fuckin' rain. I mean, the drops would fuckin' hurt. And [Lange] said, 'It's pourin' rain.' I went, 'Oh yeah; rollin' thunder, pourin' rain.' Then the wind picked up, like a tropical storm does, and it fuckin' blew the palm trees over. In fact, Mutt stayed with us not because he wanted to, he just fuckin' couldn't walk back!"
Johnson continues, "I remember just goin', 'Fuckin' hell, is that a hurricane?' and he said, 'No, but it's comin' on like one.' Then the lightning started – this is true by the way – the lightning started flashing, right on the outskirts of the ocean, on the horizon. I went, 'Fuckin' now there's white lightning flashin' 'cross the sky.' And I just said what I thought: 'I'm only young, you know [laughs], I'm gonna die!' '
"And what I'd done was, without thinkin', was I'd just done the weather report. That's what it was – the fuckin' weather report! But that was enough to get me started. 'Won't take no prisoners / won't spare no lives / you're only young / you're gonna die… hells bells!' And that was it – and so I gotta thank Mutt for that. What a song."
What a song indeed. "Hells Bells," with its one-ton bronze bell tolling ominously to eulogize their former front man and kick off Back in Black, effectively bridges the gap between Bon Scott's Highway to Hell and the new era of AC/DC with Johnson. It helped drive the album to No. 1 in the UK and No. 4 in the U.S., where the band had barely cracked the Top 20 previously. Fittingly, it would be released as an official single on Halloween 1980, becoming an instant setlist staple and remaining one of the most recognizable tracks in the AC/DC catalog.