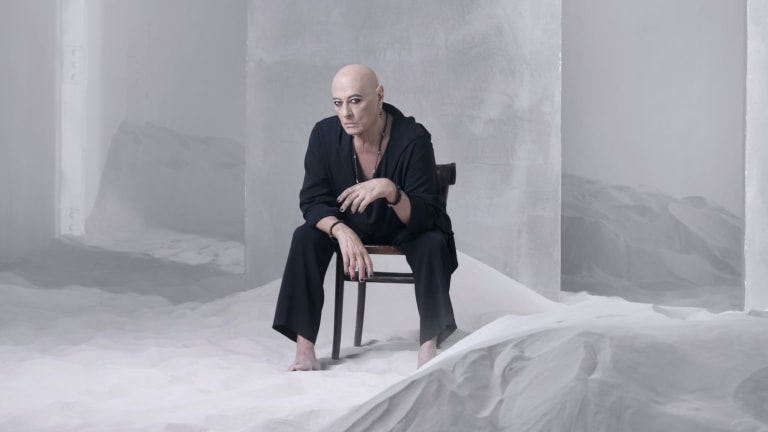 Joe Lynn Turner talks his heavy new album, (not) wearing a wig and his wild odyssey with Yngwie
'It's a time for truth,' the legendary vocalist says
Vocal dynamo Joe Lynn Turner has sold millions of records, played to countless fans and fronted some of the most influential rock bands in history. October 28 sees the release of his eleventh full-length album, Belly of the Beast. Joining forces with producer Peter Tägtgren (Hypocrisy), the New Jersey-born powerhouse conjures up the kind of heavy metal that not only makes you throw your fist in the air, but also makes you think.
This next chapter in Turner's career sees him making a crucial personal decision, too. After having worn a hairpiece throughout his career – Turner was diagnosed with alopecia at age three, and began wearing a hairpiece at 14 years old in order to deal with the "emotional and psychological damage from cruel bullying in school" – he has finally decided to let it go.
Turner sat down with Metal Edge to discuss his new album, his decision to forgo the wig and why he believes the art and music one creates is a "reflection of life."
Belly of the Beast is a heavy album. What led you in this direction?
Joe Lynn Turner: About five years ago I left the whole Sunstorm thing for a lot of good reasons because as an artist, I wanted to progress. I wanted to move on and do something else. I have the ability for different styles singing-wise and writing-wise. And when I hooked up with Peter [Tägtgren], it was the perfect vehicle for me to do, sort of like having been given a canvas to express these feelings, this new look, this new image and everything. I wanted a change and he gave me this vehicle as far as great musical compositions. I had a lot of lyrics intact but I altered them in order to fit some of our tracks and others which we wrote spontaneously. The chemistry was amazing. When the pandemic hit, we had to do recording and production virtually, which everybody else was doing at the time, too. We finished up with eleven tracks and are pleased with the mission we set out to do in regards to the vision, the sound, and everything we wanted to achieve, which we have accomplished on this first album.
The subject matter on the new album reflects your interest in esoteric, occult and eclectic philosophies.
Turner: Art is a reflection of life. And it should be a mirror. Someone once told me that art should be disturbing. It should shake you and it should move you, it shouldn't just leave you saying, "Oh, that's nice," and then make you walk away complacent. Whether you like it or not, you should not forget it. And that's the thing with the subject matter on this album. I started to look all around me and saw that for example, the Book of Revelations, which is not religious by any means, as the Bible is just a history book, if not a prophetic book. But too many people have connected it to a religion of sorts. It's just a story and there is prophecy within it and that prophecy happened centuries ago and it is happening again. There is the threat of tyranny, which is actually happening at the moment.
I think the subject matter is about personal freedom, too. Lyrically, it's also about geo-political situations, though not on every track. I'm all about truth and freedom and I'm not trying to be political, as politics is always a grey area. In other words, give me the facts as to what has happened and let's see if there's any justification for a war or a speech or for anything. Is he telling the truth or is it all BS? Everybody has their agenda in politics. I think people have lost the power to think critically in many ways. They just accept things as gospel, then reiterate that and parrot it into the world.
During the course of your career, did the fact that you wear a wig ever become an issue with any artist or band you worked with?
Turner: It was an open secret. I wasn't trying to hide it by wearing a wig, they didn't care if it was a wig or not as long as it looked good, which I thought it did and which is why I wanted it. But I just decided it was time. It's like a wine, no wine is good before its time. I'm older now and I can deal with that, but you still have to be courageous to do something like this. Plus, it's a time for truth, for people to accept themselves, to motivate and inspire people no matter what the challenge is.
Graham Bonnet is an absolute hero because he was spot on, he came right out, he scolded the business side of it and all of their false pretensions because he was a subject of all of that too with Blackmore where his hair was too short, etc. Because we all had to wear a uniform. And today they're still wearing uniforms, with the chains, the gear and the get ups, and the hair.
Earlier we were discussing the esoteric subject matter on your new album. I first came across your interest in these kind of topics after hearing your work with Yngwie Malmsteen on his Odyssey album, with songs such as "Déjà Vu" and 'Crystal Ball." How did you come to be part of that project?
Turner: Jim Lewis from Polygram had phoned me up and said, "Look, we want you to do with Yngwie what you did with Rainbow." Which was to make Yngwie commercial but still keep the hard edge. And Jim knew I had the songwriting abilities and all. So I went out to California and met Yngwie and he was like a trainwreck. I figured out psychologically I needed a whip and a chair like a lion tamer to find a way in so that he would welcome me. I guess because we partied heavy for three days and talked a lot, that sort of convinced him I was worthy.
Soon after that, I went back to New York to get some clothes and pack some stuff, and when I returned, Yngwie was in the hospital from a car accident. So instead of abandoning ship or anything I stayed in L.A. because with the Johansson brothers [keyboardist Jens Johansson and drummer Anders Johannson] I was the "elder" in the band. At one point we were going to have Bob Daisley and Eric Singer in the band but Yngwie was rebelling against that because he wanted his Swedish guys in the band who were amazing players, yet there was a lot going on.
I was the one taking care of him in the hospital. I was getting wire transfers of $80,000 from Polygram to keep him in ICU to save his life, otherwise they were going to send him down to the county hospital. On top of that, he had a manager who spoke in the third person, had a Rolls-Royce and carried around cocaine and a .44 Magnum.
So I stayed there and took Yngwie's tracks and I just wrote to them and Odyssey became a very successful album. It had accomplished what we needed; it was commercial but at the same time it retained his identity, and I think he plays brilliantly on it, regardless what people may say. But then he started to butt heads with me and there was no way I could stay in the band anymore, so I moved on.
Finally, who is your all-time favorite singer?
Turner: Paul Rodgers was my number one singer and still is. At first I thought he was a black guy because he had so much soul, which he took from Otis Redding, who I was listening to at the time as well. But as a singer, I think Paul Rodgers has just got it all.