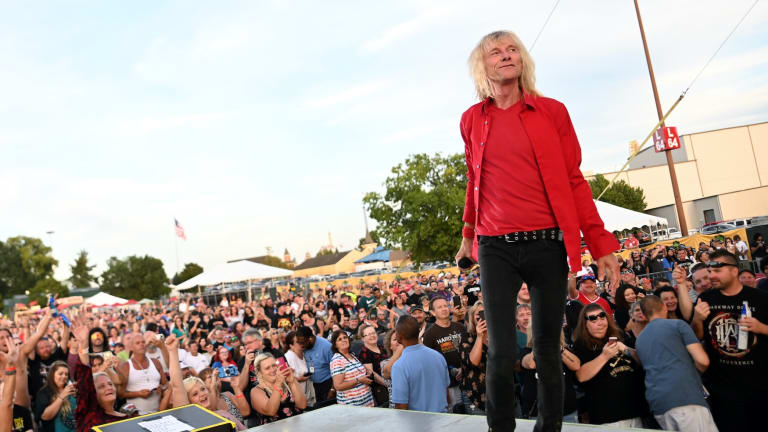 KIX front man Steve Whiteman talks 'Blow My Fuse,' breakthrough ballads and 'pushing that magic button'
'We refused to be one of those bands that packs up and leaves,' the singer says
They had all the pieces in place to breakthrough this time. But it didn't happen.
Midnight Dynamite, KIX's 1985 third effort, failed to dent the Billboard 200 albums chart, even though the band's AC/DC-style grind was deftly captured by Beau Hill, a hot producer who had recently helmed Ratt's Out of the Cellar, and the album featured sharp co-writing from Judas Priest collaborator Bob Halligan Jr.
"The record company didn't know what the hell to do with us," KIX front man Steve Whiteman recalls, referencing then-label Atlantic Records. "So we were pissed at that point. We thought, We are not just going to let this album die."
Although KIX hadn't connected with the mainstream yet, the band had built a following on the East Coast rock club circuit. They decided to hit the road. They played shows in their hotspots from Boston and Miami to build up cash, then used those funds to expand their touring to markets like Detroit, Chicago, Cleveland and Cincinnati. "Basically we paid for our own tour support," Whiteman says, "and we got a whole bunch of new fans and the record company saw that."
By the time KIX had their fourth album, 1988's Blow My Fuse, ready to go, Whiteman says label kingmakers "were finally believers and were ready to push that magic button," and put promotional oomph behind the band.
Things finally clicked for KIX. Blow My Fuse sold much better than the band's previous releases, eventually going platinum. "Don't Close Your Eyes," a haunting anti-suicide power ballad, became an MTV hit and approached the top 10 of Billboard's Hot 100 singles chart. In addition to Whiteman, KIX's vintage lineup featured guitarists Brian "Damage" Forsythe and Ronnie Younkins, drummer Jimmy Chalfant and bassist/keyboardist/primary songwriter Donnie Purnell.
Like many '80s hard-rock acts, KIX was dropped by their major label in the '90s, and band members tried out different side projects. When KIX reconvened in the mid-2000s, it was sans Purnell. Mark Schenker took over on bass.
The most recent KIX studio album was 2014's Rock Your Face Off. Since then, the band has focused on expanded anniversary editions of Blow My Fuse and Midnight Dynamite, with a reissue of 1991 LP Hot Wire up next. Additionally, KIX remain a potent live act. They have a run of shows to close out 2022, with more scheduled for spring 2023. Complete tour dates at kixband.com. On a recent afternoon, Metal Edge rang up the still-wiry Whiteman for a phone interview. Edited excerpts below.
Unlike many band from your era, KIX has always been based in Maryland, rather than Los Angeles. How do you think that this has impacted your approach to rock 'n' roll?
Steve Whiteman: We just refused to be, you know, one of those bands that packs up and leaves and starves to death because we had such a great following on the East Coast. We were making a pretty good living just going up and down the East Coast. We were all born in small towns, we have a lot of family around here and we were content to stay around here.
In addition to KIX, who were some of the other bands really working that East Coast market around that time?
Whiteman: Twisted Sister, definitely. Cinderella. Skid Row. And all those bands, other than Twisted Sister, they all opened for KIX at some point, and they went and blow our doors off in terms of record sales. But there aren't really too many from like the Maryland area that have been fortunate enough to break out of here.
In 2021, you released your debut solo album, You're Welcome, which is a raucous, fun record. Why did it take you so long to get around to doing a solo album? A lot of rock band singers stick their toe in that pool a lot earlier.
Whiteman: Well, being in KIX, it was not easy to get any of my songs on an album because [ex-bassist] Donnie Purnell, it was his baby. He started the band, it was his band, and he was really a hard-ass about sharing that. If I would get one or two songs on a record, that would be about it. So when KIX decided to put it down in 1995, I started a band called Funny Money and I finally got to write. I never called them Steve Whiteman albums because I wanted it to be a band situation. But I wrote, like, four or five albums in Funny Money, so it's not like I hadn't written anything before. It was just never under my name.
Your vocals on the classic KIX ballad "Don't Close Your Eyes" are powerful. Do you have any vivid memories from cutting that track?
Whiteman: We were so adamant about our demos that by the time we got into the studio, there wasn't a whole lot of work that needed to be done. I just had to remake the demo. And it sounded almost like what we did in the studio. Our preparation has always been very, very good so by the time we hit the studio, it's just do it and get out.
How many takes do you think "Don't Close Your Eyes" vocal was then?
Whiteman: Well, [Blow My Fuse album coproducer] Tom Werman had a unique way of recording vocals. He would have me sing the song three times all the way through, and then he would go back and then he would just put piece everything together. And I rarely had to go in and fix anything, but then I would go in and double the vocal track.
As you were recording Blow My Fuse, did you get the feeling that even if the record company mishandled the previous album, this one was so good there was no way it would be denied?
Whiteman: Honestly, we didn't know. We'd been disappointed three times before, so we were just hopeful that this was the one. We knew we had the material. And honestly, I think if it wasn't for MTV, that record company probably wouldn't have pursued it as hard as they did. The other thing, and I've told this story before, but when we were out on the road with Great White and Tesla, Great White's manager, whose name escapes me now for some reason …
Alan Niven [who also managed Guns N' Roses early on].
Whiteman: Thank you. He was on the side of the stage watching our show and when we came offstage he said, "What was that ballad you guys played?" And we told him. He said, "I'm gonna call [label executive] Doug Morris at Atlantic Records and he needs to put that out. That's a single." And that's what he did. He called Doug Morris and Atlantic Records and next week we're filming a video for "Don't Close Your Eyes." That's the one that really catapulted the album. I mean "Cold Blood" did well and "Blow My Fuse" did well, but "Don't Close Your Eyes" put it over the top.
What do you recall about making that "Don't Close Your Eyes" video that was so crucial for you all?
Whiteman: Well, they set a stage up in a big parking lot. It was near a river or something and as the evening came, with the lights for the video, there was a mist that just looked so cool, and it wasn't planned. It just showed up. And so the whole time we're singing that there was this mist going on behind us and it made it visually really cool.
Kix mostly plays bare-bones, no-frills rock. Does it bug you at all or seem strange then your band's best-known song is a ballad?
Whiteman: Well, whatever gets you there! I think the fact that it took us so long to break out and we worked so hard, so many hours and days and months and years on the road, that it kept us grounded. We appreciated it more when it when it finally broke. But it never really went to our heads, and it never really changed us as people.
I was watching some recent KIX live video clips and you've still got it. How have you been able to maintain your pipes all this time, especially given your aggressive vocal style?
Whiteman: Well, I taught vocals for 25 years. And I've always approached it doing it the right way. I've always done warmups and cool-downs, and I was blessed with a good voice to begin with. So I've just taken good care of myself. I'm not the singer I was when I was in my 20s, but I've found other ways of presenting this material so I could still do it at a high level.
Is it true Lzzy Hale from Halestorm was one of your vocal students?
Whiteman: A place called Ray's Music is where I began to teach her, and she was phenomenal. I just had to guide her and push her in the right direction. She had all the tools. She just didn't quite know how to get that power in her voice yet, so it was about teaching her all the warmup techniques and all the resonance area techniques, and she was a sponge. She took it all in and she took it very seriously. So don't give me credit for Lzzy Hale because she's amazing.