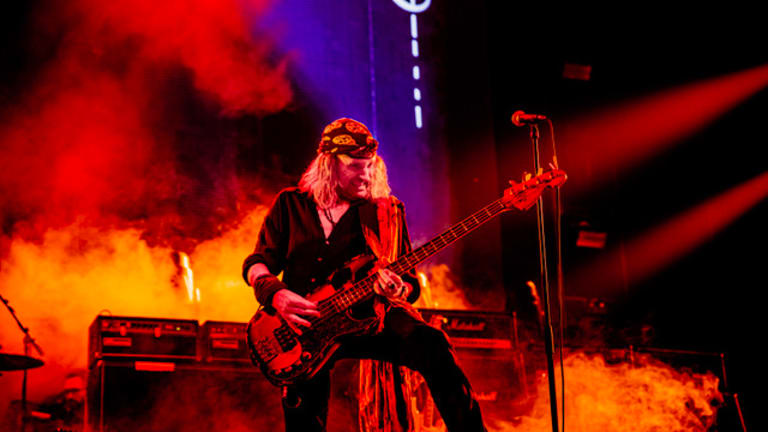 Krokus' Chris von Rohr talks poseur '80s bands, the 'weird' 'Screaming in the Night' video, and the Krokus album that should be burned
The long-running Swiss rockers are gearing up for their 50th anniversary celebration
As the founding member of Swiss heavy metal merchants Krokus, Chris Von Rohr is looking forward to celebrating the group's upcoming 50th anniversary. It's been a wild ride for Von Rohr and his cohorts, who originally formed as a progressive rock outfit, before morphing into a hard rock / heavy metal band that hit commercial pay dirt with the release of their seventh album, Headhunter, in 1983.
The band became MTV darlings with the heavily-rotated videos for "Screaming in the Night" and "Eat the Rich," before infighting and the excesses of rock 'n' roll saw the band implode in the latter part of the decade. But they soldiered on, and in recent years Krokus have an enjoyed a resurgence in popularity, with number one albums in their native Switzerland, and sold-out shows. We recently sat down with Von Rohr to discuss the past, present and future of Krokus.
What do you recall about your first time playing in America?
Chris Von Rohr: I think it was with Sammy Hagar in San Diego. We'd come over to the States, and America was always good to us and it was always open to us. When we landed there and played our first shows, we thought it was all very cool, the weather was great, the girls were great, the whole thing was great. We almost didn't want to go back home, which is why we changed over to an American management at the time, as we all wanted to try and make it from there instead of going back to Europe, which was a whole different scene altogether.
What do you remember about shooting the video for "Screaming in the Night," which became an MTV staple in the '80s?
Von Rohr: To tell you the truth, that video was made in San Francisco, and we didn't understand what the guy who was shooting it wanted to do. We were like, "Give us a fuckin' break!" Do we have to take some LSD to understand it? In the end, it was like a cult video, with a whole story to it. It's half a movie! Everything was so weird. Yet at the same time we had the "Eat the Rich" video, which showed more of the band just playing, which we preferred. I do know that the video cost us $250,000 to make, which back then was a lot of money!
Out of all the tours Krokus have done, what band was the best to tour with?
Von Rohr: We played with Judas Priest, whom we admired because they were a very tight band with a really great front man in Rob Halford. He also sang backing vocals on one of our tracks, "Ready to Burn," on the Headhunter album. We really loved Priest, and Priest and Krokus together were unbelievably great.
And the worst?
Von Rohr: Twisted Sister! And also, Quiet Riot…basically all those poser bands which had no voice and no, you know…I mean at the time there were so many hair bands and so many poseur bands and this and that, but we were more like a band like AC/DC or the Stones. We came out of that blues and riff rock thing, and we counted on a strong voice, yet with all those bands they just screamed! They had no real singers. Give me a break. It was not the quality we liked to hear. When we played with bands like AC/DC or Priest there was a certain quality there. All those poseur bands of the '80s, they were not our cup of tea.
What do you consider to be the quintessential Krokus song?
Von Rohr: As a band, we have a ballad side and a rock side. And so, from the ballad side it would be "Screaming in the Night," and from the rock side it would be two: "Heatstrokes" and "Bedside Radio." Songs which all have strong riffs but as well, very strong melodies too.
Over the years a lot of Krokus fans have singled out the Change of Address album as their least favourite in your catalog.
Von Rohr: I absolutely agree with that and not because I was not on that album, but because the band became something else, and there was too much cocaine around. The Change of Address album has nothing to do with the original Krokus sound, as on that album there were producers and the record company people saying things like, "Take the edge off the guitars," and "Take the edge off the singing voice," and that sort of thing. The band somehow was lost. If you don't have the right producer, someone who knows the heritage of Krokus and knows the roots of what Krokus is, then you will end up making an album like Change of Address. That album should be burned. It's an absolute pity.
What do you think has been the secret to being a band for almost 50 years now?
Von Rohr: The secret is, and this was the mistake we made in the 80s and that is, you need to give the band sometimes a break. In the '80s, when we started getting big, it was always the touring/album cycle nonstop, with no break at all. We were always together in a bus and only someone who has lived like that can really understand that you will get into trouble when you are that too close together. It's like being in a relationship, if you were with a woman for ten years in the same room, sooner or later it's not going to work out.
So, the recipe is that you get time off, maybe take three months off so everybody can go do what they want and then you can get together again after that and work. Then after you've made an album, take another break, and then come back and do a tour, and then take another break. But in the '80s everybody wanted to make money, the management wanted to do it, the record company wanted to do it, so they didn't give us the space. Plus, we didn't have the knowledge or the guts to just say, "Fuck you!" And, that happens to a lot of bands, it's the classic burnout on the road, burnout with drugs, burnout with women, not enough sleep. If you want to make a successful band, then that's what you need to do. Because of this, we now have more success, more earnings and more of everything than we ever had before in the old days.
Many people, especially those outside of Europe, may think that the band is not around anymore. That's clearly not the case.
Von Rohr: We as the band still tour very successfully, and we have had a lot of number one albums in Europe over the past 12 years. For example, there is the Wacken Live album that came out in 2021, the Hoodoo album that came out in 2010, the Dirty Dynamite album that came out in 2013, all very successful albums for us. Life went on with Krokus and the music continued, but not in America. In Europe we play the festivals but unfortunately the other side of the continent doesn't get it. We play where they want us.
Finally, what can we expect from Krokus in 2023?
Von Rohr: We have a couple festivals we're playing in 2023 and the year will see us prepare for 2024, which will be 50 years of Krokus! So, we're going to do some new songs, and we're going to release a big best-of album and 2024 will also see us hopefully come out to America for a tour.