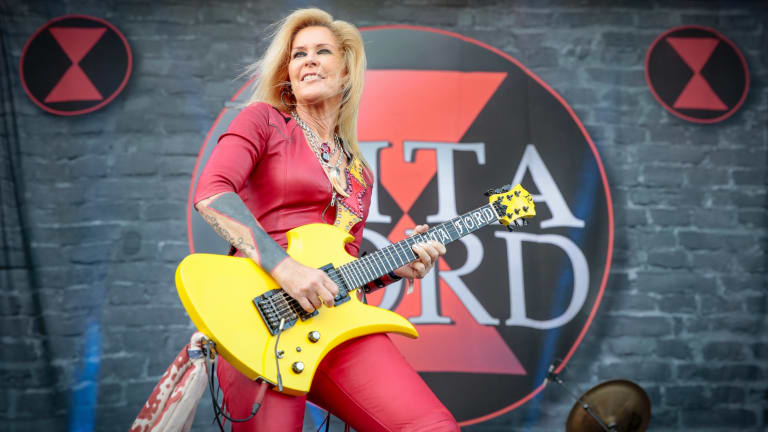 Lita Ford talks 'Kiss Me Deadly,' partying with Lemmy and that time she gave a dude $100 for his pants
The Runaways legend and solo star is back on the road and prepping a new album
"Back then," Lita Ford says, "people were like, 'Do we listen to her guitar playing? Or do we just pin her poster up on our bedroom walls?' Yeah, there were a lot of questions. I think the music industry is more secure with having a woman out front playing guitar now."
Ford knows a thing or two about playing guitar and being a woman out front. She's a true rock 'n' roll original. Ford was hard-rock's first female guitar hero and, thanks to her alluring charisma, the subject of millions of metal heads' crushes.
Ford first made her name by playing snarling solos while wearing a black catsuit as lead guitarist for the Runaways, the pioneering all-female Los Angeles rock band that also launched Joan Jett's career. After the Runaways disbanded, she work hard to establish a solo career. As detailed in her page-turner of a memoir, Living Like a Runaway, Ford took vocal lessons and choreography lessons to improve as a front woman.
In 1988, the talent and work paid off. Ford's third solo album, simply titled Lita, went platinum, and its combination of hot licks, sharp songs and rocker spirit make it as perfect example of hard rock in '88 as any other LP from that year.
Sales of Lita were juiced by two massive singles: "Close My Eyes Forever," a batwing ballad duet with Ozzy Osbourne; and "Kiss Me Deadly," a national anthem for getting one's kicks while one can. The deep cuts are strong, too. There's "Blueberry," a lusty ode to an all-night-do-right-man; "Falling In and Out of Love" a gleaming power-ballad penned with former beau Nikki Sixx of Mötley Crüe; and "Can't Catch Me," a rebel-yell cowritten with Motörhead's Lemmy Kilmister.
For the Lita album, the LP's hits, the Runaways and being a trailblazer for guitar-shredding women, Lita Ford should be in the Rock and Roll Hall of Fame. You want to talk about strong females in rock? They don't get much cooler, tougher or more raucous than Lita Rossana Ford.
Lita is Ford's masterpiece. But don't sleep on 1984 guitar-fest Dancin' on the Edge or later singles like 1991's shimmering "Shot of Poison." And the 2016 archival release Time Capsule contained rollicking analog-recorded material Ford cut in the late '80s and found again decades later in her closet.
Ford and her excellent solo band – guitarist Patrick Kennison, drummer Bobby Rock and bassist Marten Anderssen - are back on the road this fall. Tour dates and more info at litafordonline.com. The guitar legend checked in with Metal Edge on a recent afternoon.
I read on social media that you're working on a new album. What can you tell us about it?
Lita Ford: I don't really want to want to let the cat out of the bag, so to speak, but I'm trying to find it a home right now. Because it's such a good record and it deserves a really good label and a team of people that are going to support the record and support me as an artist. So, that's kind of what's been going on with this record. And we've had so many things that have happened in the making of this record. It's just been a hell of a frickin' ride making this record. All in an amazing way. And the songs, you know, will tell the story of all of it. I can't wait for you to hear it. I mean, it's really hard for me not to talk about it because I'm excited about it.
Your 2016 album, Time Capsule, featured some very cool unreleased archival material. I really like the songs "Where Will I Find My Heart Tonight" and "King of the Wild Wind." Were there a couple of those Time Capsule songs you were particularly stoked to finally get out there?
Ford: Yeah. I thought they were great recordings and the public need to hear them. I went in the studio with George Tutko, who was a fantastic engineer. I'd met him during the making of the Lita record and George was just so great at the studio. And while we were recording, a whole bunch of people came in. It was at Cherokee Sound in Los Angeles. The Cheap Trick guys were there, and Dave Navarro and Billy Sheehan. Everybody comes in and it's just like, "Oh my god…" They're all family, these guys, and we just had a really great time making that record.
You mentioned the Lita record and it's a stone-cold classic, kind of like a perfect album. I was curious about the use of synthesizer on the intro huge single "Kiss Me Deadly" from that album. The synth sounds awesome on there but since your music had pretty much always had a hard edge to it, were you hesitant at all to have synth so prominently on there?
Ford: Nah. I mean, keyboards, it just depends on how they're used, I think. If you look back at some of the some of the earlier bands like Deep Purple, Emerson, Lake & Palmer, say for instance, their keyboards were nasty. And you don't know if that's a keyboard or some grungy Strat, it's just so badass. And when we play live now, we don't have a keyboard or a keyboard player with us usually, so Patrick [Kennison] and I usually start the song together – he plays it on guitar, and I sing. But then when we play the Las Vegas, Los Angeles area, we bring out our keyboard buddy Michael T. Ross and when he hits that intro for "Kiss Me Deadly" the whole place shakes. The stage rattles and the whole building just vibrates and it's just badass. So I think it's all how you use a keyboard instrument or a synthesizer.
You mentioned Deep Purple. Something cool about your live show is in addition to your material you do some great covers, like "Burn" by Deep Purple, "The Bitch is Back" by Elton John and "Black Leather" by the Sex Pistols.
Ford: Well, "Black Leather" was written for the Runaways by [guitarist] Steve Jones from the Sex Pistols. The Runaways were into a lot of crazy stuff, so the song fit, and I know the Sex Pistols redid it and Guns N' Roses, so it's kind of made his way through rock 'n' roll history. And now we just love playing it live. It's so much fun playing those harmony guitar parts and the intro and we just rock it out. It's nasty.
You also do a great version of "Cherry Bomb," a Runaways classic everybody loves. Besides, "Cherry Bomb," what's a Runaways song you loved playing back in the day?
Ford: "Wasted" was fun. So was "Waiting for the Night." It had a good riff. You know, we just had a great time playing all those Runaways songs. That's when we learned, and we just had a blast playing all of 'em.
Speaking of that era, do you still have that Hamer Explorer-style guitars you played onstage with the Runaways?
Ford: I do. As a matter of fact Axe Heaven just made a mini guitar of the black Hamer. We just got them, so they're sort of hot off the press. We were selling them at the live shows. And they did such a great job. They've got all the scratches and everything on the back of the guitar. It's just super, super cool. But yeah, I still have them, the white one and the black one. You know, if it doesn't get ripped off, or somebody fucking steals it, I do take care of my shit.
Do you still take your classic guitars on the road?
Ford: I mean, you know, it doesn't do you any good keeping them locked up in a freaking closet. I like to tour with my stuff. People are like, "Is that a duplicate?" Well, no, it's not. It's the real deal. And that's what's so cool live. My [white B.C. Rich] double-neck, it's like a person comes out on stage. When the double-neck comes out people applaud and everyone looks at it like, "Whoa!" And if it could talk, it's got a lot of stories. I used it in "Close My Eyes Forever" with Ozzy and it was made in 1981. And it's just like an old pair of jeans. That guitar just fits perfect, Saran-wrapped on you and it just plays like god. [laughs] It is a person.
Why do you think B.C. Rich guitars have been such a good fit for your playing style, both the sound and the look of them?
Ford: Well, I was never really one to copy somebody. Because "Oh, I want to be like them and because he plays a Les Paul, therefore I should play a Les Paul. Or so and so plays a Strat and so I think, "Maybe I should play a Strat." Although I have a Les Paul and I have a Strat, they weren't Lita's guitars of choice because I just fell in love with the Rich Bitch [10-string] B.C. Riches and I fell in love with the Warlocks. And the Mockingbirds.
There are a couple luthiers that are still making guitars, like Neal Moser, who made my double neck, but a lot of the people who made these guitars aren't alive today. And those guitars can't be duplicated. But you know, I created my own style. And I think back then everyone was like, "What the hell was she playing?" And there were quite a few guitar players that did play B.C. Rich back then that were just badass musicians. Rick Derringer [the "Rock and Roll, Hoochie Koo" hitmaker and guitarist/producer on Edgar Winter Group hits like "Free Ride"], he was one of the first to play B.C. Rich
And Johnny Winter didn't play B.C. Rich, but he had the [Gibson] Firebirds. And they were weird. They weren't your norm, like what you'd see everybody playing, like Jimmy Page [with a Les Paul] or Jimi Hendrix on a Strat. They were just shaped different, but they worked for him, and he owned that shape, and he owned the style. And if you put a Strat on him, he would look weird.
One of my first Warlocks was Maurice, and I named him Maurice because he's just a bad ass. It's the black Warlock with the red hourglass on it. And when I first got Maurice, I was like, "I'm gonna put this guitar through the test and just beat the hell out of it and see what it can do." It's like getting a hot rod or your favorite sports car and just flooring it and trying to drive it into the ground. But you just can't. And that car comes back and laughs at you, like, haha, you know. "Go ahead, dish it out, because whatever you dish out, I can handle it."
And that guitar was the same for me. I tried beating it up and slamming down the Kahler [whammy bar] unit and pulling it up hard trying to break the strings and all kinds of stuff with the pickups and the feedback and the preamps. And I just I couldn't do any damage to it. It just came back and went, "Okay, now what do you got, bitch?" [laughs]
Speaking of really giving it to the guitar, your 1984 album Dancin' on the Edge has some really ripping lead guitar playing on it, and your vocals are howling too. That album had [late Ozzy Osbourne drummer] Randy Castillo and [Bon Jovi bassist] Hugh McDonald on it. What stands out about that period of your career, as you were building up your solo career towards the '88 Lita album?
Ford: It was a good time in my life, and I was still developing myself as an artist. And one of the really difficult things for me was … I never had a problem playing guitar. Playing guitar is like a gift from God. You know, it just comes natural and I'm always good at it. And so for me, the hard part was learning how to sing, and Dancin' on the Edge was kind of a transitional period for vocals for me. Although I had vocal coaches, I kept trying to do it my way. And I think Dancin' on the Edge was a challenge because you're trying to be a lead singer and trying to be a lead guitarist and be an entertainer at the same time… I have to say now in my life I feel like, man, I've got this.
Obviously by the Lita album you'd mastered the performance aspect of both fronting a band and playing lead guitar, as the "Kiss Me Deadly" music video attests. What do you recall about filming "Kiss Me Deadly" because that video is one of the most iconic from that era?
Ford: It definitely was. So, "Kiss Me Deadly" was done by Marty Callner, video director, and we filmed that in downtown Los Angeles in some huge warehouse somewhere. They brought in these great big blocks of ice. We were trying to do the fire and ice effect and just play around and not try to have any large effects and stuff.
You know, I do have a pretty cool story, though. One of the things in the "Kiss Me Deadly" video was my jeans. Those jeans have a story. I mean, my mother hated those jeans because she was a European woman who had gone through a lot in the war and she didn't like anything that was torn, or anything that was old or faded. She wanted everything to look new, especially on her daughter.
I was in the front yard of her house. And she yelled at me through the door, and she said in a very thick Italian accent, "Lita! Get in the house" And I'm looking around, I'm like, why? What happened? And she said, "I don't want the neighbors to see you in those jeans. And I thought, Well, Mom, they're already on MTV.
And I have to tell you where I got those jeans. I was coming from Lemmy's house in Hollywood when he lived over by the Rainbow, and Lemmy and I had partied a little bit that night and I couldn't drive and so I call my girlfriend to come pick me up. And she comes and picks me up and starts to drive me home. And all of a sudden, I see this young man who was a construction worker, climbing the telephone poles, working on the telephone poles. I'm sitting in the passenger seat, and I said to her, "Pull over. I need to go talk to this guy." She says, "What do you want to talk to him for?" and I said, "I need to buy his jeans."
His jeans were all shredded down the front. And they were naturally shredded. It wasn't done by a machine or a knife or anything because he wore them when he worked construction, climbing the telephone poles. They had this natural worn look to them and I had to have them. And he was kind of a little guy and I thought those are gonna fit me, so I got out of the car and after partying with Lemmy all night I was like, "Hey dude! I'll give a hundred bucks for your jeans."
He looks down and goes, "Hang on, I'll be right there." He hops down off the telephone pole, and he says to me, "A hundred bucks for these? I've got a second pair in the back of my truck. So I'm like, "Yeah, I'll take those two." I gave him a couple hundred bucks and he gave me a couple pairs of naturally shredded, torn up jeans and I took them home. I ended up giving them to a woman that was doing some clothing designs for me, where she touches stuff up and puts leather on things and beads and strings of suede and velvet. And so she took these jeans, and she rocked them out and put all this cool stuff on them, and I ended up wearing them in the "Kiss Me Deadly" video. And then everybody started doing the torn jeans and now we pay a ton of money for them.
You mentioned Lemmy, and on the Lita album there's the song "Can't Catch Me" which you cowrote with him. What do you recall about putting that one together?
Ford: Yeah, god. I mean, the song has the energy of Lemmy in it, you know? And I remember him writing …What's the hell's the line? [sings] "Don't try to put the strong arm on me." Because he was always like, "Lita's a badass" and back in the day people didn't really want to accept the fact that you were a female guitar player or that you are a female front woman. And they try to continuously pin me as a sex symbol, and I'm really good with being a sex symbol. But I was also trying to be a musician and wanted to be noticed as a musician and Lemmy noticed me as a musician. And he wanted to make a song that was basically saying, you know, you can't catch me, because I am a badass and I'm off and running. I mean, [quoting another lyric from the song] "I've seen shit and paradise." [laughs] I mean, you can see what kind of mood we were in when we wrote that. It was just a lot of fun.
What do you remember about doing the "Close My Eyes Forever" guitar solo?
Ford: You don't want to rattle off some solo just because you can play it. It was to be right for the song. And with "Close My Eyes Forever" I wanted to record a solo that you could sing after hearing it. You know, you could hum it in your mind, and it is one of those kinds of solos. And we play it today at the live performances and we do the big harmonies the double neck comes out and it's really wonderful. It's really dramatic and everybody knows it. They know in their head and in their heart.
"Close My Eyes Forever" was a top 10 hit, making it the most successful single for both you and Ozzy Osbourne. How did having a hit that big change your life?
Ford: Well, you're all over the radio and you get put on good tours. And we went out and toured with Poison when they had their biggest songs out on the radio. You know, it's just when radio really ruled the airwaves in the United States. If you get top 10 in America? That's it. You're there.
Finally, do you think the Runaways belong in the Rock and Roll Hall of Fame?
Ford: Probably. Yeah. But you know that's a whole lot of cans of worms right there, in many ways, shapes and forms. And we can still be trailblazers and not be in the Hall of Fame. I mean, I see it every night at our shows in peoples' kids and young girls that are influenced by the Runaways and it's just awesome.