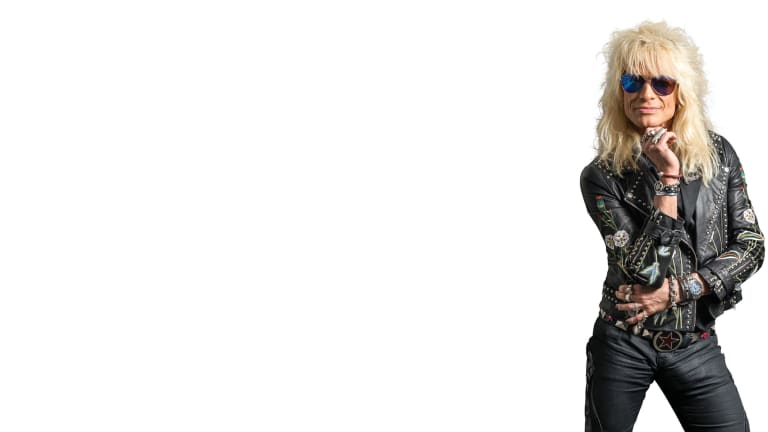 Michael Monroe is living it up at 60: 'It's too late to die young anymore'
The Hanoi Rocks legend talks his new album, old band, recording with Slash and never wearing spandex
Michael Monroe still has it. The Finnish front man's new album, I Live Too Fast to Die Young, oozes glam-punk cool. Yeah, the same kind that made Hanoi Rocks, his former band, a vital sonic and visual influence on '80s Sunset Strip rockers.
In 2022, Monroe's vocals have retained their voltage; his lyrics, still street-poet gold. The new LP's title track is a wry headbanger, accelerated by a snaky solo from Guns N' Roses guitarist Slash, a longtime pal. Glitter-stomper "Can't Stop Falling Apart" provides another apex. Opening track "Murder the Summer of Love" delivers metallic underbelly and mirror-ball choruses.
As with classic Hanoi tunes like "Tragedy" and "11th Street Kids," on I Live Too Fast to Die Young there's texture as well as wallop. "Antisocialite" is a stirring, wee-hours piano-ballad. New-wave shimmer and ray-gun guitar spills out of "Derelict Palace."
I Live Too Fast to Die Young may be Monroe's 12th solo album, but it also sounds like a band. Sami Yaffa, Monroe's running partner going back to Hanoi, is on bass; Rich Jones and Steve Conte bring dirty-blues strut; and drummer Karl Rockfist makes it all punch and swing. They've been Monroe's solo band for years, and it shows. This all crystalizes on a track like "Everybody's Nobody," which includes a soulful harmonica solo by Monroe.
This summer, Monroe and his band have been touring in Europe, supporting the likes of Guns N' Roses and Alice Cooper. A documentary about Monroe is currently in production. Recently, he checked in with Metal Edge via video-call from the Finland home he shares with his wife of 19 years and two cats. He looked, well, just like Michael Monroe. Thin as a razor and shining like a quasar. Below are edited excerpts from our conversation.
The new album is sequenced really nicely. What was your approach to fitting in the vibey songs with all the rockers?
Michael Monroe: With this album, I think we've renewed this band's sound in the best possible way. Song-wise, production-wise, arrangement-wise. And especially the songs, as there's a lot of variety. We had 34 songs last summer to choose from – to narrow it down to 11 is a lot of work, but it's a good problem to have.
But I chose these songs based also on having different types of sounds. "Antisocialite," we haven't had a song like that. There's a danger of it becoming the power ballad with big drums, and we wanted to keep it small and intimate, kind of like John Lennon's "Imagine." No unnecessary fills or anything. We're really happy with how it turned out. "Murder the Summer of Love," when that came about, I knew that was the first song on the album. "Murder the Summer of Love" is about killing an idea, not about killing a person.
And "Dearly Departed" is about losing someone near and dear and having to readjust your life to this situation, which all of us go through before too long in life, unfortunately. "Dearly Departed," that's an old song, actually. I wrote the lyrics in 2001 when my late wife passed away, but I never recorded it until now. I thought it was too sad and too personal and stuff, but now was the right time for it. Sami Yaffa had this idea not to have drums, just sort of haunting. When he sent me that idea I thought, yeah, this is the last song of the album for sure.
But the album, it just fell perfectly in place. This is really a special one. We did go to a new studio, new surroundings, a new engineer I've never worked with before, and it was a conscious risk. But it paid off, I think. The sound, the whole production, turned out really good. It has a lot of dynamics, and 11 songs is the perfect amount. The kind of record you want to hear again after it's over.
How did Slash get involved on the title track?
Monroe: Well, the title of the album, I just turned 60 and it's too late to die young anymore. The song "Live Too Fast to Die Young" is about reinventing an old cliché – it fits me perfectly. And then, I asked Slash to play. He hadn't played on the past four albums before this one, and I thought it would be a cool idea. I emailed him the song and said, "Would you like to play a solo on this track? It's going to be the title track of my new album." He said he'd love to do it, but he's really busy, and when do I need it by. I said, "Like, now." And he said okay, he'll see if he can carve out a day for it. Within two days we had the solo and it was great.
You've recorded with Slash and Guns N' Roses in the past – on a cover of the Dead Boys' "Ain't It Fun," on "The Spaghetti Incident?" album, and also the song "Bad Obsession," off Use Your Illusion I. What do you recall about cutting that one?
Monroe: I did the harp [aka harmonica] and the horn section too. Slash was in the studio for that, and clearly the musical director for that. The harp part, he wanted specifically for that part to be exactly what it was. I had fun doing that. And as it turned out, I had a tape of "Ain't It Fun" and played it for Axl and we ended up doing "Ain't It Fun" too, on the same session. So that led to that. Those guys were great to work with and it was a cool vibe. The Record Plant studio in L.A., they were keeping it open, and Axl was sleeping there in one room. I think he was sleeping under the piano.
You and Sami Yaffa have a long history dating back to the Hanoi Rocks days. Why are you two still so simpatico after all this time?
Monroe: We grew up together and we have a connection, you know? We're just like brothers. Everything we've done together has always been successful and fun and really worked out cool, from Hanoi Rocks to Demolition 23 to my solo stuff. He's just a great guy and we're the best of friends. And also, he's the best rock 'n' roll bass player on the planet at the moment, so definitely worth holding on to. I love that guy.
Speaking of Hanoi Rocks, what are your thoughts on the love the HBO Max series Peacemaker has shown the band? There has been at least a couple Hanoi songs featured on the show, and the main character [based on DC Comics superhero Peacemaker] even talks about how much he likes the band.
Monroe: Everybody was texting me. I was getting all these messages, "Have you seen this?," and I saw that clip and I thought it was cool. It's great to have that kind of recognition, in the coolest possible way. Playing "11th Street Kids" and "Fallen Star," especially, it was really a masterpiece. For Andy [McCoy, former Hanoi Rocks guitarist] to write something like that when he was like 14 or 15, it's incredible. I always felt that was a special one, back in the day.
There's one discrepancy though: we never wore spandex. We wore leather, vinyl, whatever it was, but no spandex. But that's a little thing. James Gunn [Peacemaker showrunner, creator] tagged me on an Instagram post about where that clip was. And I thanked him, and he says, "Hey, man, this is the biggest fan moment. I've been a fan for years."
So we exchanged email addresses and phone numbers, and now we're friends. And I sent him the new album. Actually, I sent him "Can't Stop Falling Apart," the song, because we were gonna make a video for it and I asked him if makes music videos. He said he hasn't done that yet, but maybe one day. We said, "Well, keep us in mind." But he loved the song, so I said I could send him the whole album if he wants. So I sent him the album and he loved it.
Also, the second Hanoi Rocks album, the one with "Fallen Star" on it, Oriental Beat, the original mix was really horrible back in '82, and the tapes were thought to be lost. But I found the tapes a couple of years ago. They're the original multitrack tapes, so we remixed that album. It's coming out November this year, and it's totally different. It's the sound it deserved to have. The original had a lot of great songs, but the producer completely screwed the mix up and we were too young to know. But now it's finally been remixed, for the 40th anniversary. It's not only the remix – it's the real mix.
A couple of your new songs, like "Can't Stop Falling Apart," have a bluesy feel. What's the key to doing bluesy rock in 2022 and having it still feeling fresh and urgent?
Monroe: By doing it without thinking about it. It just comes naturally.
And there's a tinge of new wave on the new song "Derelict Palace." To me, that's always been part of your music's unique color spectrum. What appeals to you about dabbling with that sound? Because a lot of hard rock artists don't.
Monroe: Oh, thank you. That's a nice way of putting it. I'm not conscious of any styles or directions we've gone for, just whatever sounds good. And that one has a lot of air and nice ear candy. It ended up reminding me of Lords of the New Church, Stiv Bators. [Monroe and the late Bators, who also fronted the Dead Boys, were friends at one point.] Little things, intertwining. It's actually one of my favorite tracks on the album. It's very different for us, too. So I'm glad to hear you think it's very Hanoi. Bob Ezrin said the same thing. I sent him the album and he said, "That's very Hanoi."
Well, Bob Ezrin would know – he produced the classic Hanoi Rocks album Two Steps From the Move. As someone who has worked with Ezrin, what's his magic as a producer?
Monroe: He had a great vision about Hanoi. He thought of us in the same way he thought of the Alice Cooper band. He showed us the difference between an amateur and a professional. Every night you don't necessarily feel like, "All right, everything's great. Let's go rock 'n' roll." You've got to psych yourself up to that. He came to see the band live at first, and then he came to meet us. He wanted to meet me first, just to talk about the live performance. Like, how many times did I climb up on the P.A.? I was like, I don't know. Maybe two or three. He said, "I counted seven." So what? "Well, it kind of loses its effect." And stuff like that from live performance, like what you do with your hands. "People follow your hands."
And then we went into the studio and did a lot of preproduction and it was very thorough. He really got into the process, like really hands-on, and he loved the band and loved our sense of humor. He was like one of us. So it was a great recording experience and a big learning process for me. Stuff that I still use today, in many ways.
When the accident happened [Hanoi Rocks drummer Razzle was killed in a 1984 drunk driving accident with Mötley Crüe singer Vince Neil at the wheel], and Hanoi broke up, he was totally devastated and really mad at the whole thing. Because he really wanted to work with us and really felt that we were like the Alice Cooper band, and we were gonna do many albums together in the future. But fate had other plans.
Obviously, losing Razzle that was incredibly tough. A lot of people know his name because of the tragic way he passed. But what did you love about making music with Razzle? What was cool about being in a band with him?
Monroe: He was a great guy, in the first place. And the way he played, he reminded me of Keith Moon and Neal Smith from the Alice Cooper band. He came to the first audition where we checked him out in platform boots. That's going to be hard to play drums with platform boots on! Technically, he wasn't the greatest drummer, but he had great attitude and we knew he'd evolve. And he had a cool style.
Him and Sami, back in the day, like on the Back to Mystery City album, there were no click tracks, they would just play it live. It was living and breathing. You listen to the tempos, some of the songs, like "Until I Get You," that song slowly speeds up towards the end. You don't notice it, but you can feel it. That was the chemistry and the magic in the band. It was a perfectly flawed kind of chemistry, and it was great. And he was a dear friend. If I was going through a rough patch, he'd come up to me and say, "I can tell you're in a bad place, but it'll be all right, you'll be okay."
He'd been in a speed-metal kind of band before and he had like two bass drums, and we were like, "Double kick drums, no way." He brought a second bass drum to a show, and at the venue we took the other pedal off before the show, and he was pissed off. But after that he realized it wasn't our kind of thing. But he was a fantastic drummer and really had his own style and human touch. He and Sami together were a perfect rhythm section.