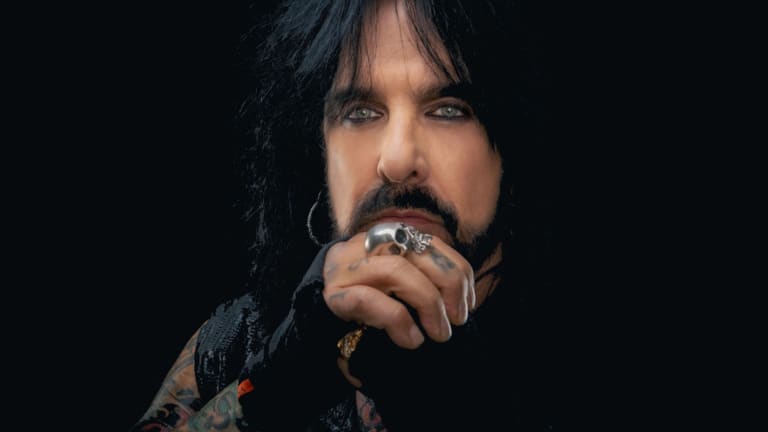 Infamous Firsts: Nikki Sixx talks fighting, fire and Alvin and the Chipmunks
'I feel pretty fortunate I got to be raised at a time where you could just be a little bit more of a troublemaker,' the Mötley Crüe bassist and songwriter says
Metal Edge has teamed with Nikki Sixx for an epic giveaway featuring a Schecter J-4 Sixx bass and a signed copy of Nikki's new book, 'The First 21.' Enter now for your chance to win!
From writing and recording multi-platinum albums to staging sold-out world tours to becoming a best-selling book author, Nikki Sixx has had, let's say, a rather full go of it over the course of his 62 years on this planet. And that's before you even factor in lighting himself on fire, descending into and ultimately conquering a harrowing drug addiction and – oh yeah – literally dying and coming back to life.
But for all the highs and lows, hijinks and headlines, and hard rockin' and hard livin', Sixx has managed to come out the other end, if not completely unscathed, certainly stronger. He's currently gearing up for Mötley Crüe's biggest live outing yet, the twice-postponed (thanks, Covid) Stadium Tour with co-headliners Def Leppard and support acts Poison and Joan Jett. And his newest book, The First 21: How I Became Nikki Sixx, recently became his fourth to hit the New York Times Best Seller list. Unlike previous tomes The Heroin Diaries and the legendary Mötley Crüe bio The Dirt, The First 21 fully bypasses the Motley superstar years in favor of a deep dive into the life of little Frank Ferrana as he embarks on the road to becoming big, bad Nikki Sixx. Not surprisingly, it's a road paved with plenty of pain, perseverance and all-out imprudence. Which is why Metal Edge opted to sit down with the Mötley songwriter and bassist to dive deep into some of the formative moments in his life and music career. 
With that, welcome to the debut installment of Metal Edge's "Infamous Firsts." Knock 'em dead, kid…
First Song I Fell in Love With
"I've talked to some friends of mine about this, and when I was super young we all had this 'gateway drug' thing with Alvin and the Chipmunks, because they used to put songs out that were covers. It'd be like, Alvin and the Chipmunks doing [the Rolling Stones'] "Brown Sugar" or something. I remember these kids having a record player, the kind you put the lid down and that's where the needle is and it connects on the little single, and just listening to this stuff. Just the sound of it was mind-blowing."
First Song that Made Me Want to be a Songwriter
"There were really two songs that set my mind on path of being a storyteller and a documentarian: One was Petula Clark's 'Downtown.' I can't place when it was, but I remember I was in Los Angeles – it was some of the rare times I was with my mom, and I remember sitting in a car with her, and every time this Petula Clark song came on I would like crank it up. I can still picture the dashboard and the radio in my mind. But I was just enamored by her telling this story in the song, and the idea of 'downtown.' Like, where is this place?"
The other song that did it for me as a storyteller? Jimmy Dean with 'Big Bad John.' I played it for my wife the other day, and she goes, 'So that's "Dr. Feelgood"…' Because lyrically, it's like a story, right? 'Jigsaw Jimmy he's runnin' a gang but I hear he's doing okay / Got a cozy little job sells the Mexican mob / selling packages of candy cane.' What's the difference of that and [sings] 'Big John... Every mornin' at the mine you could see him arrive / He stood six-foot-six and weighed two-forty-five.' You know, like talking about him. That kind of stuff really juiced my imagination."
First Book I Fell in Love With
"When I was a kid I lived out in the country and I was big into reading. I read a lot of books about hunting and trapping and these mountain men, and some of the people I read about actually correlate to where I live now in Wyoming. As far as the actual first book I loved, I literally can't remember. But I remember from a a very early age that I couldn't wait to get my history book in school so that I could see these pictures from all over the world. Like, there's Rome, there's Tokyo… Just seeing different places and different types of people. I remember thinking it was all so exciting. I never knew that one day in my life I would travel around the world and see a lot of these same places. It really spurred my imagination."
First Time I Got High
"I experienced marijuana, unfortunately, at sometime between six and nine years old. I can't remember exactly. My mom was with a guy named Bernie Comer, a trumpet player who played with Frank Sinatra. And for some reason in the '60s we just pulled up roots and moved to Puerto Vallarta for a year. Which is also a really cool experience. I have a deep love for Mexico still to this day because of that. But I remember down there everybody would be drinking, and the smell… I now understand what that smell was. And he asked me to try his stuff. Or kind of said, 'You should...' And you're a kid. You're like, 'Whatever you say. You're the authority figure.' I don't really remember how it felt; I just remember feeling weird. It was a really different time on the planet, man. That memory didn't really pop up again for me until I was doing some of the work on myself around The Heroin Diaries. I was like, 'Damn, you'd get arrested for that now.' "
First Apartment in L.A.
"My uncle, Don Zimmerman, brought me down to California [from Seattle], and I lived in his guest room for a second. I had this fake Les Paul and the equivalent of a Marshall stack and a stereo, and somehow I squeezed it all into this room. I would crank Black Sabbath and play along really badly. And meanwhile there's a mom and dad, two kids, mom's home all day, this was a thorn in their side. So my uncle got me out of there and helped me get my first apartment. It was a small place in Glendale, and he also helped me get a job nearby at Music Plus [record store]. I eventually made enough money to buy a hundred-dollar car. So then I had an apartment, I had a car…those were some of the best years of my life."
First Shitty Job
"The shittiest might have been as a dishwasher in this Greek restaurant in Seattle, with guys back there just screaming at me all day. It was small, it stunk and you're just covered in grease. But I'll never forget – there was a little cassette player there, and I'd like bring in stuff like Ted Nugent's first record. So I'd be washing dishes and just cranking [sings "Stranglehold" riff]. It was like, 'Fuck these guys!' But that job sucked. I'll tell you – to this day, even at home I'll walk by the kitchen sink, see the dishes and just go, 'Nope, ain't doing it. I'll eat off a paper plate instead!' "
First Gig in L.A.
"I remember playing in bands that lasted a day or a week. One band was called Rex Blade. We had a female singer, and we took a picture in this back alley where we spray painted 'Rex Blade' on the wall. [laughs] I don't even know what happened to those guys. But that's all part of the process. So my first actual gig was really with London, let's say '77, '78. And the Starwood was the first venue. We worked there in the daytime [cleaning the club], and we were just always there. It was kind of like our hangout. I remember walking down those stairs to the stage with Lizzie [late guitarist Lizzie Grey] and Dane [drummer Dane Rage] and I felt like 'This is what I do.' I hadn't even done it yet. But I knew."
First Onstage "Gag"
"Stuff like lighting my boots on fire, that didn't come until the Mötley days. But before that, when I was in London, it was all about trying to create the biggest show we could, but in the smallest place. Which was not unlike what we did in Mötley Crüe. So we used a lot of polka dots and weird stripes, and I remember figuring out how to do things like balloon drops. And we built these go-go boxes and put them the stage. They had hundred-watt bulbs in them, and you could put them on a chaser and they would chase. So we would stand inside of them and play, and the lights would be chasing, the balloons would be dropping…it was a big show in these small L.A. clubs. It was really fun for me."
First Fight I Got Into
"That's all the way back in Anthony, New Mexico, riding the bus to school. Kids would just be messing with me. And I remember filling my lunchbox with rocks and hitting these two guys that had been messing with me right in the face. I actually got rewarded for that, which is probably a bad thing to do. My grandfather was like, 'I'm proud of you for not letting anybody fuck with you.' I wonder how much of that influenced me later in life? [laughs] Because with Mötley Crüe it was like, 'No one's going to fuck with my band.' I had a fighting spirit. And when I met Tommy and Vince and Mick, they had a fighting spirit, too."
First Fight I Got Into… Because of the Way I Looked
"Well, that was probably happening all the way back on farms in Idaho. And then when I went to Seattle I started to hang out with these kids, we would call ourselves the Whiz Kids, and we'd spray paint our hair weird colors and buy clothes at thrift stores and deconstruct them. At that time, '74, '75, we'd take a bus to downtown Seattle and go to this weird place and get these big platform boots. So I was wearing stack boots and women's, like, 1940s dress suits, with spray-painted hair and fingernail polish and pierced ears. And by the way, a lot of people don't know this, but in the '70s if you pierced your ear on one side, it meant one thing and on the other side it meant another thing. And I had both ears pierced. So I don't know what. [laughs]
"But yeah, there was a lot of fighting around that time. A lot of calling me out in the hallway at school. What was interesting though, is through playing football in Idaho I learned that I was never going to let anyone fuck with me. I think a lot of that was percolating from some of the abandonment issues I had with my father. And my stepfather beat me. So no one was ever going put their hands on me. That was never going to happen again. So then I get to Seattle, I remember it'd be like, 'Hey, Alice Bowie!' And that was that. I had no problem either taking one in the face or giving one. And I was constantly being sent to the principal's office. But I was just like, 'Hey, I was defending myself!' "
First Fight I Got Into… With a Member of Mötley Crüe
"Oh, god. I mean, we used to drink a lot... Actually, Tommy and Vince used to get in the most scraps together. I was always kind of trying to stop it or talk sense into everybody. But you know, back when we lived up the street from the Whisky [a Go Go], we used to go to the club on punk night dressed like a cross between the New York Dolls and I don't know what, maybe early Aerosmith, just come stumbling down the street and get the same thing as I got in school – 'What's up?...' You know, whatever the insult would be. And we used to enjoy getting in fights. It became kind of fun. I was thinking about it recently, and you know what's a drag? First of all, I shouldn't be fighting at 62. But I also thought, you can't do that anymore. You can't get in a fight, can't get in a scuffle. Can't do anything like that. I guess that's probably a good thing. [laughs] But I feel pretty fortunate I got to be raised at a time where you could just be a little bit more of a troublemaker."
First Sunset Strip Band I Loved
"I really, really loved Quiet Riot. There was also a band called A La Carte that was super-cool. A three-piece. But Quiet Riot were different. They kinda had it right. Kevin DuBrow had a great voice, and of course we don't need to talk about Randy Rhoads and how influential he was. I used to really enjoy hanging around those guys and seeing them play. It'd be like 200 people in the Starwood, but to me, when I was that young I was just like, 'They look cool, they sound cool, and they have great songs.' The songs were important. I have a hard time with music where I can't really dive into the songwriting. EDM is an example of something that doesn't really connect to me because there's not the verse/chorus/post-chorus/explosive guitar solo/outro thing. But whether it's hip-hop or pop or different kinds of metal, if there's a great song I'm drawn to it. And Quiet Riot had all those elements.
"I'd hang out with Randy at his house, and Randy was such a gifted musician. Whereas I'm a pretty simple Cliff Williams, right-in-the-pocket bass player. And I remember Randy being like, 'If you like do this and you do that...' Just showing me a couple things. And at one point they were like, 'We're going to change bass players. Would you be interested?' I was thinking, why am I going to say no to this? This is everything I could ever want. But I kind of had my own ideas, which took a while but eventually happened. And who knows how it would have gone anyway? I would've joined Quiet Riot, Randy would've left and god knows if I would've gone continued with them or not. And maybe Mötley Crüe would've never happened."
First Time I Felt Like I Had "Made It"
"Playing the Whisky three nights in a row [in February, 1982] with Mötley was big, but around that time we had also started to build these stage sets and have all these ideas. We met these guys that were in drag racing and they got two dragsters onstage with us. We had this crazy drum riser and we started to build in all this production, like during 'Piece of Your Action' we rolled a mannequin out and Vince took a real chainsaw and cut its head off. I would be holding a chain that held the head up, and blood would just go everywhere. I remember doing that at the Santa Monica Civic [on November 17, 1982], and looking out from the stage… I can't remember how many people the Civic held. Probably something like 2,500. And the place was packed. We didn't have a record deal at the time, nobody was coming a-knockin'. And I was like, "We're doing this on our own." I just remember feeling like we'd made it, and we'd made it on our own terms. And that was a cool thing."