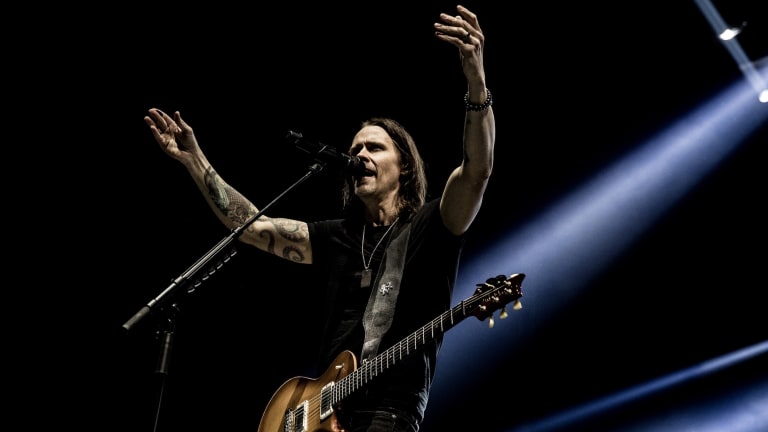 Myles Kennedy talks Alter Bridge's epic new album, jamming with Jimmy Page and his 300-foot freefall jump with Mark Tremonti
'I'm terrified of heights,' the singer admits
Even after a week of jamming together, Myles Kennedy didn't know if he had the gig to be this new band's singer.
Looking back some 19 years later, Kennedy knows the exact moment he, guitarist Mark Tremonti, drummer Scott "Flip" Phillips and bassist Brian Marshall finally felt like a band. The band soon to be known as Alter Bridge.
In an Orlando, Florida, rehearsal space, Tremonti and those three expatriates from modern-rock hitmakers Creed, who'd already tried out other singers, were playing a new song they'd written together, called "On My Way Now," which would become a beloved Alter Bridge obscurity.
"It was the first time," Kennedy recalls, "that managers, and there might have been some label people, had come to kind of see, what's this new guy doing? What's going on? And we played and there was just this feeling of acceptance, like, 'Okay, this is gonna be all right. Because no one was telling me anything. No one was giving me any indication if I was gonna get back on a plane and go home. It was very interesting, those first few weeks."
Kennedy, whose Washington alt-rock combo Mayfield Four had toured with Creed, soon received his official induction into Alter Bridge. But only after he completed a 300-foot freefall jump with Tremonti. "That was my initiation," Kennedy says. "And I'm terrified of heights."
Now, two decades and seven albums later, Alter Bridge have released their most aggressive collection of songs to date. New LP Pawns & Kings drops jaws immediately. Opening track "This is War" mixes sleek headbanging with Kennedy's dynamic singing and stacked vocals recalling the spooky grandeur of Ozzy Osbourne classic "Diary of a Madman." Meanwhile, "Silver Tongue" wields guitar thrash and metal-mystic melodies.
Asked why Alter Bridge is making music this intense this far into their career, Kennedy tells Metal Edge, "For me, personally, I would say a lot of it does have to do with just the fact these have been interesting times, and then that comes out in the music."
Cut with longtime producer Michael Baskette, whose credits also include Mammoth WVH, Slash, Ratt and Limp Bizkit, Pawns & Kings is anchored by a pair of sweeping epics: the title track and "Fable of the Silent Son." But while the music is ambitious, Pawns & Kings never sounds over-polished. That's no accident, Kennedy says. "When Mark and I first started talking about writing the record, one of the things we want to be very cognizant of was not over-producing. Once the songs were done, not to get in there and put on too many layers. And really make sure that the riffs and melodies and all that stood on their own, that the skeletons were strong enough to withstand everything."
To support their new album, Alter Bridge is currently on tour in Europe with Mammoth WVH (Wolfgang Van Halen has played bass with Tremonti's solo side project) as the support act. Alter Bridge begins a run of U.S. dates in early 2023. Tour dates, tickets and more info at alterbridge.com.
On a recent afternoon, Kennedy checked in for an interview via video chat. Whatever cereal he eats for breakfast, we should all pour ourselves a bowl. Now 52, the frontman – who's also a deft guitarist, as those who've seen Alter Bridge live know – doesn't appear to be aging at all. Maybe keeping busy is his secret. Kennedy balances Alter Bridge with fronting Guns N' Roses guitar legend Slash's solo band. Then there's his own solo work.
About 15 years ago, Kennedy's powerful pipes got him an audition with Jimmy Page, John Paul Jones and Jason Bonham, after Robert Plant declined to do a full tour after Led Zeppelin's one-off 2007 reunion concert. For all his talent, Kennedy's as humble and down-to-earth as rockers come. Below are edited excerpts from our 30-minute conversation.
The track "Fable of the Silent Son," from the new Alter Bridge album, is nearly eight-and-a-half minutes and changes mood a few times. Yet it sounds seamless. What's the key to putting together a longer track like that, so it doesn't feel like the band's just shoehorning in as many parts as they can?
Myles Kennedy: Sonic trickery. No, I appreciate that. For me, that was probably the hardest song to put together. That first two-and-a-half minutes was something that I been messing with in my studio for a while. I liked it. I didn't know where it was going to go and so I thought, well, maybe this will just be like an album opener, an intro to a song or something.
And then as I was going through other ideas, I had this second part with a certain attack to it, and I thought I would take that and put that with that first two-and-a-half-minutes and see where it goes. So that's kind of how it came to be. And once it was all said and done – I mean, it took a long time – I think at that point was about seven minutes long.
And then when we started on pre-production when we all got in the same room together, Mark had a really great idea for what would become the solo section. So it went from seven minutes to eight-and-a-half minutes, and it just became this epic journey. People seem to be connecting with it. And I think some of it also is just that lyrically, it deals with something that we can relate to, especially for those of us who've been on the planet for a little longer. You learn from your mistakes, and you kind of look at things in the rearview mirror and, at least personally, I try to convey those lessons learned to the next generation or to a younger person to try not to make the same mistakes I did. And that's really what the theme of that song is about.
The lyrics on Pawns & Kings rocker "Season of Promise" are about finding solace and renewal in music. What is some music that's done that for you?
Kennedy: Oh geez, so many. I mean, that's the beauty of music, right? It really can transform you, your entire being. It's powerful stuff. When I go back and think about the early music that really grabbed me as a child, Stevie Wonder is the first moment I can remember. He was on Sesame Street, and he was playing "Superstition." And I remember just thinking that is just so badass, although I'm sure I didn't use that word, because it wasn't in my vocabulary then. But I remember I really gravitated towards it. So that was one of the first memories I have. And then fast forward over the years, it's pretty varied. Elton John, I loved as a kid. Massive Beatles fan.
I was thinking the Jeff Buckley album Grace also probably did that for you, given his influence on you as a vocalist.
Absolutely. Did you ever see Jeff live?
Unfortunately no, he died [in 1997 at age 30 from accidental drowning after going swimming in the Mississippi River in Memphis] before I had a chance to see him.
Kennedy: Yeah, he was something special. He really was. I saw him a couple years before he died at a little theater in Seattle, and it was just incredible. He was such an important artist for me as a singer. Because when he came out, you know, grunge was king and a guy who sang like that, who was more of a tenor, that wasn't really embraced at that point. And when I heard Grace, I thought wow, listen to how he's using his voice, all of the inflections and what he would do with his high register, it was so inspiring for me
To me, the new Alter Bridge album's combination of gnarly guitar grooves and your ethereal vocals, that's the magic of your band, how those two fit together.
Kennedy: I appreciate that, I really do. That means a lot because it is a delicate dance. You know, we've spent a lot of time trying to figure out how to marry the aggression of these detuned riffs with the way I use my voice, so that it all works.
And when we first evolved, there was a certain kind of singing that was very popular at that point, that what I did didn't necessarily fit with. I kind of do what I do, and some people like it and some people don't, and I've become very aware of that.
So what you do when you understand you have like a polarizing instrument, is you just kind of try and find your space in the sonic canvas. Be honest with it. And don't try and be something that you're not. I think that was something that I learned early on. I'm not going to try and do whatever the flavor of the moment is, and just hopefully somebody like it.
Touching on other aspects of your career, the song "Fill My World" was one of my favorites off the latest Slash album, 4. It has kind of that stirring, soulful midtempo feel reminiscent of classic GN'R hit "Sweet Child O' Mine." For you, what makes that Slash song stand out?
Kennedy: You know, I kind of felt the same way when Slash sent me the demo with just the music on it before I added the melody and lyrics. I remember that piece of music really grabbed me. It happened really quickly, putting the vocal to it, because what he gave me was really strong.
What was interesting is when we were trying to figure out what songs are going to make the record, I think there was talk at one point that that song might not even be on than the record. And I remember thinking, oh no, we've got to put that song on there. Because there's something really special about that.
And so when we played it live, it was really wonderful to see how people were reacting, especially when people found out the narrative of the song, which was inspired by my dog, Mozart. It's written from his perspective about when we leave, wanting us to come back home. I'd be up there singing, and I open my eyes and people would actually have pictures in the audience of my dog. That was pretty crazy. He became famous there for a hot minute.
Since you've been in a room playing music with Jimmy Page and most of us never will be, how loud does Jimmy play? Is his guitar amp pushing lots of air?
Kennedy: It wasn't as loud as I thought it was going to be, so that was a good thing as a singer. It was very appropriate but still moving enough air to where I was getting goosebumps, you know? It was intense. And a beautiful experience that I will never ever forget.
On your most recent solo album, 2021's The Ides of March, there was a lot more slide guitar than I've heard on anything else from your career. As a vocalist, what appeals to you about playing and singing-to slide guitar?
Kennedy: You know what is about slide I like? It's kind of like singing. It's very expressive. It's very vocal.
You and Mark are the two primary songwriters in Alter Bridge. In a lot of bands with that dynamic, it can almost sound like two different bands from song to song, depending on who the main writer is. Not as much with Alter Bridge. Can you talk about how you and Mark leave space for Flip and Brian to put their sonic fingerprints on a track too, so it sounds like Alter Bridge and not a Myles song or Mark song?
Kennedy: Yeah, absolutely. It's funny, because I can be when I'm demoing, if I'm programming drum parts and doing the demo, I'm always aware Flip's not going to play this drum part. He's going to do what he's going to do. I'm not going to sit there and go, "That kick drum pattern isn't right. You've got to play exactly how I heard it when I when I wrote this." Because then it's a dictatorship. And that's not how we do things. We're a musical democracy, and that's the way we'll always be.
On the new album and elsewhere, Alter Bridge has a good feel for how much to stretch the band's sound without breaking it. You try some different things, but nothing so drastic that it sounds forced or calculated.
Kennedy: Man, that's a really great observation. Because, yeah, we do try to kind of spread our wings here and there and try new things, but I feel like we never take it into the realm of alienating our fan base. And that's the delicate dance. Just speaking for myself, I love jazz and r&b, and obviously Mark does as well, with the [Frank] Sinatra [covers] record he just did. But we're very cognizant of the fact that, like, "Okay, you've got other projects you can do to stretch out in that world. But with these four guys, this is what you do, and you can stretch to a point, but still has to retain those elements of your DNA, so that people still know it's you." And that's not always easy. Because sometimes you run the risk of going too far. And then people like wonder, "Why are they playing a polka song?"