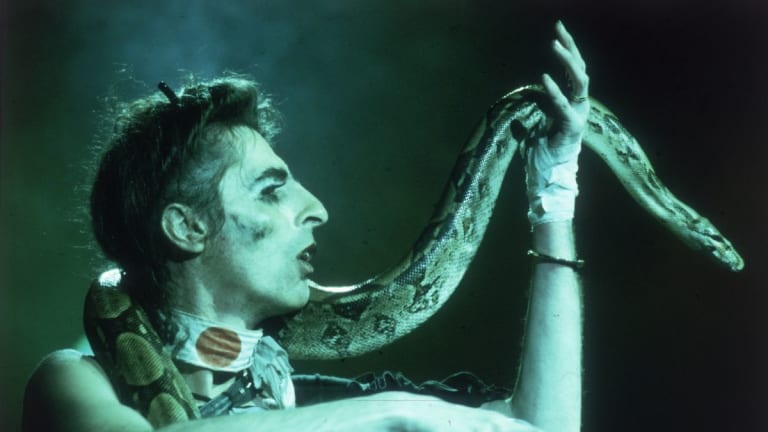 Alice Cooper's wild '80s albums are way better than you think
He may have been light years from "School's Out" and "No More Mr. Nice Guy," but the shock rocker's 1980s output still boasts some killer tunes – even the one about "Velveeta slapped on Wonder Bread"…
From the ghoulish makeup to the shocking onstage antics (yes, he really did throw a live chicken into an audience—though, admittedly, on accident) to the teenage outcast anthems like "School's Out," "No More Mr. Nice Guy" and "I'm Eighteen," Alice Cooper in his heyday was the consummate rock and roll icon. During his initial late '60s and early Seventies run, he was a little bit scary and a little bit weird (the Alice Cooper Band was originally part of Frank Zappa's Straight Records stable), and oozed a whole lot of charisma and star power.
By the second half of the Seventies, however, things had changed for Alice. He had split from his band and began recording more conceptual, less outwardly rocking albums like Welcome to My Nightmare and Lace and Whisky. By the time of the latter, he had also fully succumbed to an all-consuming alcohol addiction. In 1977, at age 29, he was committed to a long term psychiatric care facility. After emerging clean and sober, he made a concept album about his time there, 1978's From the Inside. But his commercial and artistic slide only continued (as did his physical and mental health), and by the time the '80s came around, Cooper was almost unrecognizable, both physically and artistically.
He continued to record—a lot, in fact—throughout the new decade, though it wasn't until the latter half of the '80s, when he reconnected with the persona he had established during his initial heyday, that he started to be regarded the way he still is today: as a bona fide rock 'n' roll legend. To get to that point, however, much of his commercially disastrous, if musically adventurous, early '80s output had to be more or less erased from his history.
But I'd argue that not only should this low period of Cooper's career be revisited, it should also be celebrated. The fact is that these records, beginning with 1980's excellent Flush the Fashion, contain some of his most inventive, creative and downright enjoyable work. Hopefully, this trip through Alice Cooper's career in the '80s will lead you, the reader, to come to a similar conclusion, and discover—or rediscover—some buried gems in the process.
Cooper's decade began with what is arguably the most underrated album in his canon. Though generally lumped in with his much maligned early '80s output—indeed, the album cover is even proudly emblazoned with the tag, "Alice Cooper '80"—for my money Flush the Fashion is as strong as, if not stronger than, much of his Seventies post-Alice Cooper Band output. Its ten tracks, which fly by in under a half-hour, are sleek, stripped-down rockers that were buffed to a sheen by Cars and Queen producer Roy Thomas Baker. The single from the album was the David Carron-penned "Clones (We're All)," which announced a shocking change in direction from Cooper both in its new-wave sound and in the futuristic, alien-like persona (helped along by his gaunt appearance at the time) he presented in the accompanying video. But the synthy rocker is also one of Alice's greatest tracks, so much so that it still appears occasionally in his live sets and has been covered by the likes of the Smashing Pumpkins.Other Flush the Fashion highlights included the awesome power ballad "Pain," the Devo-esque power-pop romp "Aspirin Damage," and "Dance Yourself to Death," which, with its Stones-y riff and parents-skewering lyrics ("They kinda compromise my social position / my cool-ativity is suffering too!") is as close to classic Cooper as Flush dares to—or needs to—get.
Cooper was still sober at this time (though he did reportedly have a cocaine addiction), but by 1981's Special Forces, he had gone back to the bottle as well. As a result, today he refers to Special Forces and the two albums that followed as his "blackout albums." "I wrote them, recorded them and toured them and I don't remember much of any of that," he has said. But while he looked like hell at the time (check out this live clip of his classic "I'm Eighteen" from Paris in 1981 for an idea of how drastically his appearance had changed), the fact remains that he still making pretty good music, even if can't remember doing it: "Who Do You Think We Are," the leadoff track from Special Forces, is a dark, menacing rocker that took a turn toward pop in the chorus; the album boasts a great, tightly coiled version of Love's "Seven & Seven Is"; and "Prettiest Cop on the Block" has a great glam stomp, not to mention a totally bonkers video.
The same can be said for 1982's Zipper Catches Skin, which found Cooper slipping even deeper back into his addictions, though is maybe even a stronger album that its predecessor. On the plus side, the album marked the return of guitar great Dick Wagner to the Cooper fold, but on the negative, Wagner also stated in an interview that during the Zipper sessions Alice would often retreat behind a curtain in the studio to smoke crack cocaine.
Despite his compromised state, Zipper is an engaging listen. Cooper continued exploring new wave and post-punk styles, and the sound was lean, punchy and straightforward—even while his lyrics were sometimes excessively bizarre. In "Zorro's Ascent" and "Make That Money (Scrooge's Song)" he inhabited the titular characters, with the former rounded out by a characteristically melodic Wagner solo and sound effects of a sword slicing through the air. The drippy, synthy ballad "I Am the Future," meanwhile, was used as the theme song to the forgettable flick Class of 1984, and "No Baloney Homosapiens" was dedicated to "Steve"—Steven Spielberg—"and E.T."
Zipper's second half was actually much stronger, comprised of a clutch of mostly sub-three-minute, tight, twitchy new-wave rockers that were both rocking and, at times, actually funny (to wit, this clever/stupid couplet from "Adaptable": "Now, you ain't no Hepburn and I ain't no Fonda/ But if you were drownin' in Golden Ponda"). Overall, Zipper was a fun, lighthearted and easy-to-digest album. It was also, apparently, entirely not what fans wanted from Alice Cooper. Zipper Catches Skin holds the distinction of being the first Alice Cooper record to not chart on Billboard at all.
All that said, when people point to a record from Alice Cooper's early '80s phase they want to highlight as a "lost classic," it's usually 1983's DaDa. This is in part due to the record's art-rock bent, from the title and the Salvador Dali-painted cover image, to the music's dark, dense sound, to the fact that it's a concept album (though Cooper later admitted he had no idea about what). What's more, DaDa marked the return of producer Bob Ezrin, who had helmed more or less all of Cooper's classic Seventies albums. And yet, while DaDa has its moments—the creepy, Broadway-ish "Enough's Enough"; the swelling, pomp-rocking "Scarlet and Sheba"; the goofy "I Love America" (on which Cooper declares, in faux-hick accent, "I love that mountain with those four big heads / I love Velveeta slapped on Wonder Bread!"), overall it's a slog to listen to, with little of the energy or hooks of its predecessor, Zipper Catches Skin. In fact, what DaDa most brings to my mind is another Ezrin-produced concept album gone awry from the same era—Kiss' Music from "The Elder."
Dada became Alice's second consecutive non-Billboard-charting album, and given his physical and mental health at the time he wasn't able to muster the strength to tour behind it—a shame, considering the myriad onstage conceptual possibilities that would have been offered up by the music. Malnourished, diagnosed with cirossis of the liver and close to death—Cooper said that at one point he didn't eat for 10 days straight—he was instead checked into a hospital in the fall of 1983. There, Cooper underwent two-and-a-half weeks of intensive care, finally kicking his dependencies for good.
And yet, it took him another three years to return to music. At the time, Cooper has said, he consciously stayed away from the Alice character, unsure if he could inhabit it sober. When he did reemerge, however, he inhabited the Alice Cooper persona more fully than he had in almost a decade. The version of himself put forth on Constrictor, released in 1986, could almost be described as Super Alice, with Cooper turning his Seventies performance-art approach into straight-up slasher-flick camp. The makeup was updated and intensified for the new decade, and the stage show, replete with resplendent gimmicks like the guillotine and the boa constrictor, was back in full force.
The music, meanwhile, was unabashed Sunset-Strip glam-metal, all cock-rock riffing, shredding solos (courtesy of the muscled-up, machine-gun-guitar-toting Kane Roberts) and massively reverbed, cannon-sized drums. With bands like Motley Crue, Ratt and the rest of Cooper's disciples packing arenas and notching platinum albums, Alice came back to cash in on the look and sound he had helped to create. At the same time, he upped his own shock-rock shtick with songs like "Teenage Frankenstein," "Thrill My Gorilla" and "He's Back (The Man Behind the Mask)"—the last one used, quite appropriately, as the theme song for the slasher flick Friday the 13th Part VI: Jason Lives.
Cooper's next album, 1988's Raise Your Fist and Yell, continued in a similar vein to Constrictor, if only differing in its tamping down of the keyboards in favor of a slightly heavier, more straightforward metal sound. Additionally, the horror aspect of the music was ramped up, as evidenced in songs like "Time to Kill" and "Chop, Chop, Chop." In fact, Cooper dove so deeply into this facet of his shtick that the accompanying tour, "Live in the Flesh," which featured plenty of theatrical blood and death, was censored in parts of Europe.
While Constrictor and Raise Your Fist and Yell are today regarded as the albums that sparked Cooper's rebirth, it could be argued that they're somewhat flat-sounding in terms of production, and one-dimensional as far as the music and image. They did, however, succeed in establishing Cooper as a commercially viable artist once again, setting the stage for one of his greatest post-Alice Cooper Band efforts.
That effort would be 1989's Trash. Like Constrictor and Raise Your Fist, the album continued the quest to rebuild the Alice brand from the Seventies. But unlike those albums, the Alice Cooper of Trash felt less like a vintage artist attempting to play catch up with his musical progeny and more like someone who was once again truly comfortable in his own skin—maybe for the first time that decade.
Furthermore, in contrast to the thudding "horror-metal" sound of Constrictor and Fist, on Trash Cooper gunned straight for hard-rock AOR gold, pairing up with songwriter Desmond Child and crafting some of the catchiest and hookiest music of his career. The big hit—and unequivocal standout—was opener "Poison," a slithery heavy rocker that shifted beautifully between major- and minor-key melodies, with an anthemic chorus and indelible guitar riff to boot. But the songwriting all around was pretty top notch (if a tad "of the era"), from the Technicolor blast of "House of Fire" to the soaring balladry of "Only My Heart Talkin'," the straight-ahead, Guns N' Roses-style riff-rock of "Why Trust You" (to that end, Cooper also did a great remake of his own "Under My Wheels" with Axl Rose during this period, for the soundtrack to The Decline of Western Civilization Part II: The Metal Years), and the closing "I'm Your Gun," which, in a nice "full-circle" moment, came off as something of a metal-ized update on the jittery new-wave sound in which Cooper had immersed himself at the beginning of the decade.
Only further cementing Cooper's "living legend" status at this time was the fact that the songs on Trash were outfitted with a number of high-profile guests, from Bon Jovi's Jon Bon Jovi ("Trash") and Richie Sambora ("Hell is Living Without You") to Aerosmith's Steven Tyler ("Only My Heart Talkin' ") and Joe Perry ("House of Fire"). The result was an album that sold more than two million copies and became one of the greatest successes of Cooper's career. It was also a fitting end to his rollercoaster 1980s, with Cooper having undergone a 180-degree shift from where he started—at least commercially and health-wise—in 1980 with Flush the Fashion.
But even though these days Trash is held up as a triumphant gem in what is viewed as an otherwise dismal decade for Cooper, the fact is that Alice's 1980s output boasts some of the most unique, imaginative, and, yes, best, material of his long career. So the next time you find yourself reaching for some vintage Coop, try putting the well-worn copy of School's Out or Billion Dollar Babies aside, fire up some Flush the Fashion, and strap in for a wild ride.