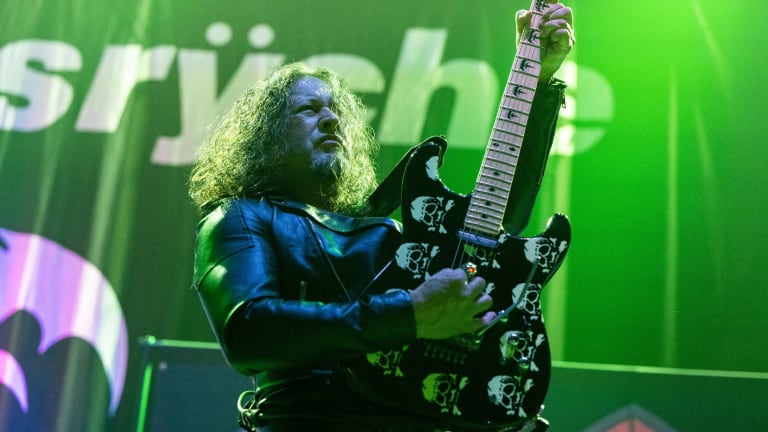 Queensrÿche's Michael Wilton on the 'vintage flavor' of 'Digital Noise Alliance,' the thing he would change about 'Rage for Order' and more
'We're holding up the flag for hard rock and metal,' the guitarist says
At this point in their career, Queensrÿche have nothing left to prove. That's what happens when you're 40 years, 16 albums and thousands of shows into your career. But for the prog metal veterans, staying active isn't just necessary, it's their livelihood – the fuel that keeps them excited to write, record and perform for their fans.
Earlier this year, the Seattle-area veterans hit the road with fellow metal survivors Judas Priest for two tour legs, which guitarist Michael Wilton says has energized the band after sitting on the sidelines due to the pandemic.
In October, the group released Digital Noise Alliance, an album that started to take shape as vaccines were being circulated. Prior, the group, like many others, were in a non-functioning creative state. But once 2021 hit, they were ready to hit the studio to work on their first album in several years.
Speaking from his home in Tampa, Wilton broke down Queensrÿche's latest record, discussed his favorite and least favorite moments from the band's albums and offered his thoughts on a kitchen-sink style tour with the band's former members.
How excited are you guys to be out there now with a record to support and to really get rolling?
Michael Wilton: It was kind of the plan, coming out of the crappy year. We timed everything so we could springboard it to January 2022. We were fortunate to get on the Judas Priest tour in the spring and then subsequently, the fall tour. It was timed perfectly with the release of our new album in October. It was a great way to get back out to the fans.
What was it like doing those shows? Did it take a bit to get used to it again or did you come out guns blazing?
Wilton: When you're supporting Judas Priest you want to give the songs that have the energy and may transcend to their audience. Any band would do that. For us, it was, "Let's hit them hard." Then, on the fall tour, we played a couple of new tunes and they went over great. It's just a great relationship with them. We get along, our crews get along and we are just happy. I grew up listening to Judas Priest, so what can I say? It was awesome.
And you guys turned 40 this year.
Wilton: Yeah. 40 years doing this.
How crazy is that number to you?
Wilton: There's moments in the day – especially when you get off the road – you stand your ground and say, "Hey, this is pretty cool." We're very fortunate we love doing what we do and we take advantage of the opportunities. We work hard and connect with our fans, and it seems to be going strong.
Could you have imagined when you were starting out in Washington that you'd still be doing this at this age?
Wilton: We were young, 20 years old when we started. At that age, you weren't thinking about what you're going to be doing at 50 or 60. We were kids with a lot of energy and a lot of ideas. A lot of it was timing. In the '80s, you had a lot of things flourishing, like MTV, radio, record companies, big tours, so you're in the right place at the right time. You keep looking for the next gig, the next record, the next song, and next thing, and that keeps you grounded. There's lots of temptations on the road, you can go down different avenues. But first and foremost we are musicians, we're not rock stars. So that keeps our head on our shoulders.
Of those early albums, what are some of your fondest memories and some where you feel you could have done something different?
Wilton: The first seven albums were us finding our identity, and branching out and experimenting and pushing the envelope. We were sponges, we were learning a lot. I think I love everything we did. But, if I have to make fun of something, maybe my outfit on the Rage for Order album. I think I would have opted for a leather jacket. But, you know, it is what it is.
What was it like making Digital Noise Alliance? How do you continue to keep things fresh?
Wilton: At the start of the pandemic, we were in really crappy moods. I didn't have the headspace to write an album. It wasn't until the vaccine started coming out and it was deemed safe to travel that we decided to meet up, in January 2021. The conclusion was to do this one different than we did with The Verdict and to go old school again. Like, let's all get in a room and let's write together, let's all start fresh with songs, riffs, ideas – nothing regurgitated, and see what happens. We started building songs from guitar riffs, and when you have everybody in the room, everybody's got their ideas and their input. Decisions are made quicker. In the early days, when [former guitarist Chris] DeGarmo and I would be in a room, I'd show him my riffs and he'd show me his riffs and we'd figure out what we could do. There was no internet or iPhones. There were computers, but we couldn't afford them then. But here, we'd take one idea as far as we could go, then on to the next idea and the next idea.
Was this one session?
Wilton: No, we got together four or five times. By then, we had 20 to 22 ideas. It started taking on this vintage flavor – this idea of improvising, solos, new parts, and it puts you on the spot. By the time we got to the end of 2021, we had picked about 12 ideas and 12 songs. We started recording in January 2022. The recording took about seven to eight weeks. It has been an interesting journey, but so far it's all working out. It's not super easy to tour right now and you're faced with tons of challenges.
Like what?
Wilton: There's so many hard rock bands on tour trying to make their living. A lot of the clubs and theaters and places that they play closed down. You have all these different challenges. Everybody expects it to be how it used to be, but it's like, 'Well, not exactly.' It's going to take some time. The cost of touring is tough. Everybody is facing inflation problems and fuel problems. Our bus costs twice as much to fill up. That eats into your show but we've learned to survive and are dedicated to the cause – we're holding up the flag for hard rock and metal.
With this being the band's 40th anniversary, for future landmark anniversaries, would you ever consider enlisting former members for a kitchen-sink type of tour?
Wilton: For us, we're focused on what's working for us right now, which is a balanced set list. To do full albums, that's kind of a Hail Mary, end of your career kind of thing, at least for me. I think celebrating certain songs from those albums is definitely what we do right now, and bringing in new Queensrÿche from the Todd [La Torre] era as well. We're still putting out new music and touring on it, and you've got to do it in the best way possible that connects with your fans. If you're not connecting with your fans, then it is game over.