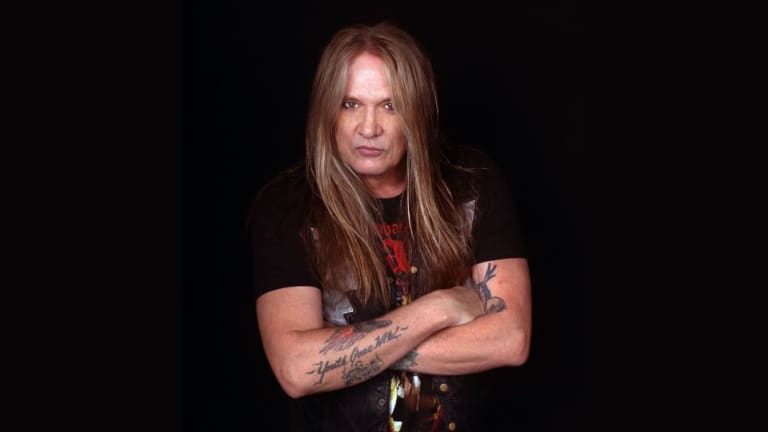 Sebastian Bach talks stage fright, puppy love and writing a song (not that song) called 'Don't Cry'
'I guess it was a pretty good title,' he says of the piano ballad he penned at 14 years old
If there's one thing that's beyond question about Sebastian Bach (other than, that is, his ridiculous, multi-octave howl of a voice) – it's that whether he's onstage, on screen or even on Broadway, the guy is a born entertainer. As for some of the pivotal moments he experienced on his way to stardom, Metal Edge sat down with Bach to hear about them first hand for this installment of Infamous Firsts.
Bach, for his part, was back home after wrapping his most recent tour, this one a 30th anniversary celebration of the release of Slave to the Grind, the chart-topping 1991 album he wrote and recorded with Skid Row. But he was also celebrating something else at those shows – the fact that he was actually playing them. "After 2020, the worst year of our lives, it felt really good to finally be back on a stage, rocking out with people who were happy to be there," he says. "It was a dream come true again."
And he's planning on keeping that dream going. "There are lots of things happening," he says when asked about the future. "I'm just not allowed to talk about it yet." That said, Bach assures, "There's a bunch of plans for 2022… that I can't tell you!"
First Song I Fell in Love With
"That was the the Osmonds' 'Puppy Love.' Or maybe it was 'I Think I Love You,' when I was five watching The Partridge Family. [laughs] But I did buy Osmonds records. I loved 'Puppy Love.' My mom would make me get on the kitchen table and sing it for her friends. So that's definitely one of the first ones. I also loved Elton John, but before that it was the Osmonds and the Partridge Family.
First Song I Wrote
"That would have been in the band Kidd Wikkid, when I was 14. It was called 'Don't Cry,' and it was a piano ballad that I wrote when I was 14. It was like, [sings] 'Don't you cry, no no no... baby don't you cry....' But I never used it because I didn't think it was that great. And then Guns N' Roses comes out with a song called 'Don't Cry.' I go, 'I guess it was a pretty good title at least!' "
First Gig
"It was with my first band, Anthem. We played the school dance at Lakefield College School [in Ontario, Canada]. I was very nervous and I didn't want to go onstage. On my way to the stage I ducked into the cafeteria and I said, 'I can't do this.' Everybody in the band was five years older than I was, and they grabbed me by the scruff of the neck and literally threw me on the stage! We did songs like 'Wino' by Lynyrd Skynyrd, we did 'Free Bird' at the end of the night. I think we opened with The Stones' 'Under My Thumb.' We may have done a Rush song. Things like that."
First Time I Got in a Fight
"I used to get in fights all the time at recess. It was a fun activity, you know? We didn't have cell phones, so we beat each other up! [laughs] What would we fight about? Who knows? Bubble gum. Girls. Snow. We used to play King of the Mountain on the snow all the time. Who's gonna get to the top of the snow bank first? That could lead to some fights…"
First Shitty Job
"My first job was working in my dad's art space. But my first shitty job? I did landscaping for two weeks and I got fired because I thought the engine of the lawnmower was loud enough for me to sing while I was working. So I was cutting somebody's lawn and singing Judas Priest songs at the top of my lungs. And the guy in charge ran over to me, he said, 'Fuckin' stop that! You gotta get the fuck outta here!' [laughs] So that didn't last too long…"
First Time I Did Something Illegal
"Well, smoking pot used to be illegal – I remember the first time I did that! It was by the creek by my house, with my friend Jordan. And then the second time was in Walnut Creek, California, out near the Record Exchange store where Kirk Hammett of Metallica worked as a teenager. I used to hang out there, this was after Kirk had worked there, and that was the second time I ever smoked. Second time was better than the first." [laughs]
First Concert
"It was [Canadian rock trio] The Stampeders, who had a hit song called 'Sweet City Woman.' It was at a high school in Peterborough [in Ontario] called PCVS [Peterborough Collegiate Vocational School]. I was eight years old, and I think I went with my babysitter! I don't if I was a big fan or anything, but that song was a huge hit and they were playing right down the street. So we just went. But you know, not long after I saw Triumph. I saw Joan Jett. I saw Kiss in '79. I saw Van Halen on the Fair Warning tour. I got to see a lot of good shows as a kid."
First Time I Felt I Had "Made It"
"That was probably when Skid Row played the Rosemont Horizon in Chicago, opening for Bon Jovi [on March 24, 1989]. I asked the crowd to stand up and… 20,000 people stood up! [laughs] I remember thinking, wow, that's an amazing feeling… So that's probably the first time I felt that. Wasn't the last."