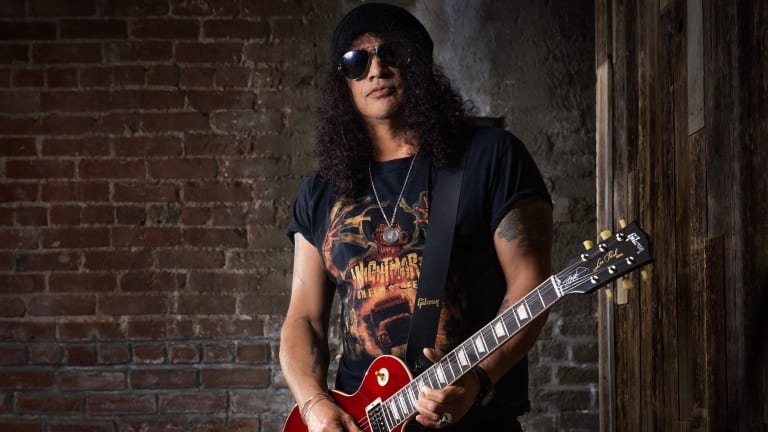 Slash on his favorite Conspirators songs to play live, the L.A. band that should have been bigger, and that time he split his pants onstage
'Essentially I was just wearing leggings on each leg and there was nothing in the middle,' he says
More than 35 years into his long and rather illustrious career, Slash remains the ultimate road dog. Which is how he likes it. "For me, playing live has definitely always been the pinnacle," he tells Metal Edge, checking in from – where else? – somewhere on the road, in between dates on the current Slash Featuring Myles Kennedy & the Conspirators U.S. jaunt in support of the band's recently-released new album, 4.
And speaking of that record, Slash even took the live experience into the studio this time. He and his band – which, in addition to Kennedy includes bassist Todd Kerns, drummer Brent Fitz and rhythm guitarist Frank Sidoris – recorded the new songs more or less live off the floor, which he says is "something I've always wanted to do." The results speak for themselves, as 4 is arguably SMKC's most energetic and immediate offering to date. You can catch the band playing much of the new material onstage on this current tour, but if you miss it, don't fret – smart money would bet that Slash will hit your town again sooner than later.
In the meantime, Slash caught up with Metal Edge to talk 4, his favorite Conspirators songs to play live and the worst (or just most recent) mishap he's had onstage. Not surprisingly, the top-hatted one took it in stride. "It's all just part of the game," he says coolly.
What was the best thing about recording 4 in a live scenario?
Slash: That's actually sort of a multifaceted question. When you get into a room with your guys and you're all playing together and you're playing off of each other, I think that's the most comfortable scenario. You want to be within touching distance of everybody, and be able to hear what everybody else is doing and see what everybody else is doing. It's something I've always wanted to do, and I've never really done it in the studio, until now. I've always felt isolated with headphones on, more so than even playing in the control room. So being able to just play live in the room, with the amps there and everything pretty much like how we play all the time, it was very liberating. So that's the first thing. And then another thing is just the sound of it. It sounds much more like a band than if we were all in there separated, and with headphones on.
You guys are currently out on the road in support of 4. In the past you've talked about how your favorite Guns N' Roses song to play onstage is "Paradise City." Do you have a favorite Conspirators song?
Slash: There's a few of 'em. Especially because we're fresh in it. Right now, the biggest song in the set for me is actually one off this new record, a song called "Spirit Love." It's just really sleazy and heavy and it goes over really well live. And "Halo" [from 2012's Apocalyptic Love] has always been a good one. We just put that back in the set and I realized how much I missed it being in there. But I could go on…
What's the secret to how the Conspirators work together as a unit? Is there any equivalency to how Guns N' Roses worked together in the early days?
Slash: You know, I just never think of the two in the same sentence. I mean, Guns was the way that Guns was. It had its own really, really special chemistry and there was no rhyme or reason to how that all worked. It just worked. With this band, it's a certain kind of chemistry as well. But it's different people, so it's a different chemistry. But it still has a certain flow to it that is very natural and fluid. So in that way I guess it's sort of similar, in that it's something you don't really think about. But if I tried to compare them, they're completely different. With the Conspirators, it's just very, very simple. Everybody knows how to play and what to play and everybody's got their thing that they do. I'll introduce something to the band and everybody will have their own interpretation of it and just do it. It's very organic.
You came up with Guns N' Roses on the Sunset Strip. Back then, was there a band that you always loved that you felt should have been bigger?
Slash: The first band that comes to mind is Redd Kross. Because in my mind, at that time, those guys just seemed to have it totally together. And they were just a really great example of the kind of L.A. band that I liked, you know? They seemed to have a pretty big following and they were a very cool, sort of "exclusive" type of band. They weren't like Poison or something like that. They were very specific unto themselves and definitely gave off the impression that they didn't give a shit whether you liked them or not. They just did their thing. I don't know any of the details, but it seemed like they were poised to crest that wave and then it just didn't happen.
Do you remember the first gig you ever played?
Slash: It was at a place called Al's Bar, and it was with a sort of rockabilly, rhythm and blues type of band. The guitar player and singer was a friend of my dad's. I was probably 16 or 17, and somehow I managed to talk my way into going and jamming with those guys at a 21-and-over club in downtown L.A. I got up and played… I think we did a Stones song, a Creedence Clearwater song, and another one that I can't remember. My first gig in front of a public audience. I had played some garage stuff and keg parties before that, but that was my first real sort of gig.
How did you feel doing it?
Slash: Oh, I loved it, man. It was great. For me, playing live has definitely always been the pinnacle. It was always the whole point of all of it. As much as I love playing guitar for the sake of guitar, it has always been a means to an end, and that end is actually getting up onstage and playing. Which is probably why I'm such a touring addict even after all these years, you know? The whole point of doing it is to be able to play live.
What's the craziest mishap that you've ever had onstage?
Slash: I just had one the other day where the complete middle of my pants fell off. [laughs] They split all the way from the top of the front to the top of the back. So essentially I was just wearing leggings on each leg and there was nothing in the middle.
Sort of like wearing assless chaps.
Slash: Yeah. That was the first for me. I'd never really had that happen before. And it happened in, like, the third song. So I ended up wearing what was sort of like duct-tape briefs for the rest of the show. We tried to tie it all together, but as we wore into the set it just ended up all sort of coagulating around my crotch.
Sounds painful
Slash: Well, I mean, all things considered it would've been a painful experience, but then at the end of the set I jumped off the drum riser and it just came off all together. But it was already the last song, so before I did the bow onstage at the end of the set I just had to hold my t-shirt down.
Everything worked out in the end.
Slash: [laughs] Somehow or another. It always does.