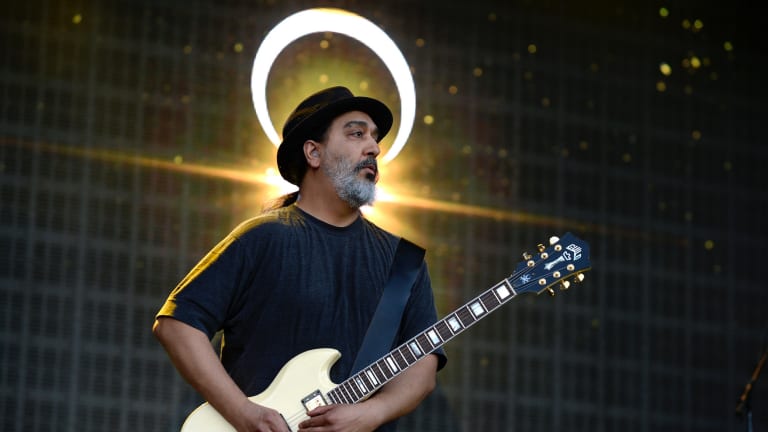 Soundgarden's Kim Thayil talks early Guns N' Roses, hanging at the Cathouse and creating 'head-spinning' music
The guitarist is always looking for 'that thing that puts you on edge and makes you uncomfortable'
Beginning in the mid 1980s, Kim Thayil and Soundgarden began conjuring a colossal, overwhelming powerful hard rock sound that stood, if not in complete opposition to what was happening in the mainstream world, at least in marked contrast, with an undeniably warped and singular approach to riffs, rhythms and songwriting structure and arrangements.
By the turn of the decade, the music being created by Soundgarden and their Pacific Northwest brethren would become the de facto sound of popular hard rock. Which is not to say that Soundgarden, who were arguably the most art-damaged and psychedelic of the bands that were saddled with the grunge label, didn't also comingle with more straightforward hard rock and metal acts, touring with the likes of Guns N' Roses and Skid Row, to name just two.
"At that time, our audience was a lot of young guys with denim jackets with a Motorhead patch sewn on the back, or maybe a leather jacket with a denim vest over it, or maybe just t-shirts," Thayil tells Metal Edge. "But all the bands were really accommodating to us."
Soundgarden, of course, went on to score massive mainstream success with albums like 1991's Badmotorfinger and 1994's Superunknown, and singles like "Black Hole Sun" and "Spoonman." Since the tragic death of front man Chris Cornell in 2017, the surviving members – Thayil, bassist Ben Shepherd and drummer Matt Cameron – have continued to play on various projects both together and separate, as well as oversee various Soundgarden catalog releases. Thayil took a break from his schedule to sit down with Metal Edge to talk about the band's history – including the time he and Cornell braved the Sunset Strip to check out Guns N' Roses at the Cathouse, the infamous club owned and operated by Riki Rachtman and Faster Pussycat's Taime Downe – as well as some of his favorite Soundgarden deep cuts and what the future holds.
Soundgarden were one of the opening acts on Guns N' Roses' Use Your Illusion tour. When was the first time you ever saw Gn'R live?
Kim Thayil: Well, they had played Seattle at a venue that we had played before called Gorilla Gardens, and I remember a big flyer that said, "Guns N' Roses from L.A., featuring Duff McKagan from the Fartz." Because Duff was a bit of a local hero. And I think it said that – either Duff from the Fartz or Duff from 10 Minute Warning, one of those two bands he played in. And it was like, "Hey, local guy moves to L.A. and is coming back and playing this small punk-rock-metal venue with his new band!" At that time, Guns N' Roses was not a household name. We just knew that it was a band that Duff was playing in and that was that.
So what did you think?
Thayil: Well, I didn't actually go to that show. So the first time I actually saw them, Soundgarden was in L.A. because we were meeting with the guys at SST Records – Greg Ginn and Chuck Dukowski from Black Flag – and we were at their offices in Long Beach. Then I think we came up to L.A. and had a meeting later that day with the folks at Geffen, because we had been talking with an A&R person there who had expressed some interest in us. And at that meeting Geffen may have actually paid for a hotel for us for a night or two. And they said that they had an artist, Guns N' Roses, who we had heard about by now, we'd seen them in magazines, whatever, but they said they were playing at a place called the Cathouse. They told us, "They're really starting to take off. Their record is going to be gold probably by the end of this week." I remember that distinctly. It was like, "Wow, this band we kind of heard of that Duff plays in, they're gonna be gold at the end of this week!"
Pretty exciting
Thayil: Yeah. So we went to the Cathouse to see a band that was about to ascend meteorically, but had yet to. And it was just Chris [Cornell] and I, and maybe a couple people from the label, promo people to escort us and keep us in beer. [laughs] And the positive takeaway was how amazing they were. They seemed like a train that was about to come off the tracks, but was just powerful and going full speed ahead and never actually coming off the track. They were on that edge. We both said, "Wow, these guys are really good!
What did you think about the Cathouse?
Thayil: We didn't really dig the scene. We thought it was kind of clowny. And Chris and I were kind of joking about that – the hairspray, the spandex, just making fun of that shit. You know, we were in our ripped-up jeans and t-shirts, what seemed like regular to us, and then here we are at this kind of costume party. But the takeaway was how great the band was. Everyone was incredibly charismatic, and as a unit they were tight and loose at the same time, if that makes any sense. It's the kind of thing I would see in a punk rock band, or a band like the MC5. With Guns N' Roses, there was this element of wildness, this careening, that was just amazing.
Soundgarden songs like "Black Hole Sun," "Outshined" and "Spoonman," are rock staples by this point. What are some of your favorite songs from the band that aren't as well known?
Thayil: Well, there's stuff I like to listen to with headphones on. There's stuff I might like to listen to when driving. And then there's something I might like actually playing. It's always fun to play "Slaves and Bulldozers." It was fun to play something like "Beyond the Wheel" or "Incessant Mace." As far as listening, I always loved the song "Nothing to Say" off of Screaming Life. And there's a few things on Superunknown, like "4th of July" and "Limo Wreck." I also really like the song "Tears to Forget," which is also on Screaming Life, just for the way it's constructed. It's fun to play acoustic guitar, of all things. Although it's a hardcore song, I wrote it on acoustic. And I like playing it by myself on acoustic.
Then as far as playing with the band, it was a lot of fun when we were doing that sort of loose and careening thing that I described seeing in Guns N' Roses. So again, songs like "Slaves and Bulldozers" and "Beyond the Wheel" really allowed for the band to kind of explore that – the spontaneous elements and the wild elements.
How about I pick one: "Holy Water."
Thayil: Oh, yeah. We actually rarely played that one live. We played it live once. I think we didn't do it more because, well, it didn't do the things I just described. But listening to it, I probably like that song more now than I did even back in the day.
In general, what would you say is the thing that drives you as a musician, and powered the music you've made with Soundgarden?
Thayil: Well, I personally like music that stimulates a sort of internal dialogue and exploration. In some ways, it's about being psychedelic or trippy – back in the punk-rock days, we referred to it as being "head spinning." You know, "Oh, this song's great, it'll make your head spin!" I think those elements are the elements that I've always enjoyed the best when it comes to songs. And when it comes to bands, it's the ones that consistently know how to tap into that. And surprisingly, there aren't a lot of bands that could do that. Some of the early metal and punk bands certainly could. Zeppelin did it. The Stooges did it. MC5. The Butthole Surfers and the Meat Puppets were great at it in the '80s. It's hard to put my finger on, but it's that thing that kind of puts you on edge and makes you uncomfortable, but also invites you in. It hits you in the head and the heart. Really good bands can do it within their set. A really good song can do it all at once.
So I think for Soundgarden, as a band, there was some objective for us to be able to write those songs that moved us in those ways that we learned to understand were interesting and pleasurable. And fortunately, Chris and Hiro [Yamamoto, original bassist] and I, when we formed, we had similar understandings of music and the work that certain bands did. And we gravitated towards what we liked and tried to pursue that.
Finally, what's coming up for Kim Thayil?
Thayil: We'll continue to address the Soundgarden catalog, whether it's greatest hits records or live things or anniversary box sets, things like that. I've done a lot of work in that regard regarding our catalog, and we want to continue doing that. And Matt [Cameron, Soundgarden drummer] and Ben [Shepherd, Soundgarden bassist] and I enjoy playing together with other people, so we'll probably continue to work together [recently, Thayil, Shepherd and Cameron collaborated with singer Brandi Carlile to record the Soundgarden songs "Searching with My Good Eye Closed" and "Black Hole Sun"].
I've also guested on a few different records during the pandemic. Mastodon has a new album out [Hushed and Grim], and I play on a track there. It's the song "Had It All," and I do the solo. It's a tribute to the band's manager and friend [Nick John, who passed away from pancreatic cancer in 2018], so I was like, "Okay, I have to treat this right. I have to be as reverent as possible, while at the same time addressing the song and my style." I'm pretty happy the way it turned out. And the Mastodon guys are famously great guys, too. Other than that, there's a few other friends' projects that I've been working on and recording on as a guest, and you'll probably see those in the course of the next year. So there's things happening, always.