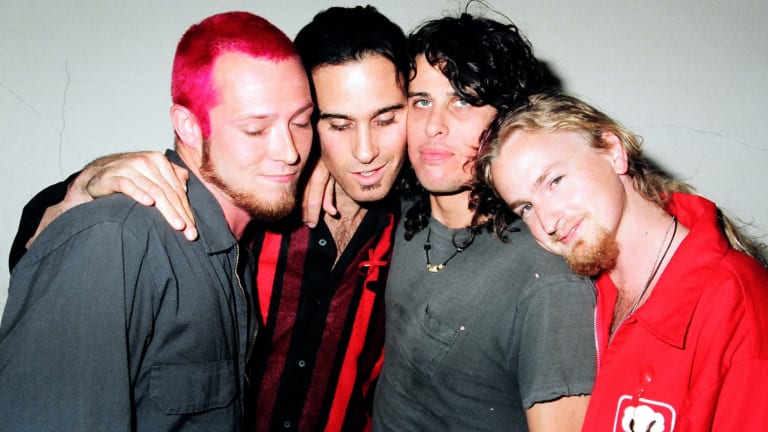 Stone Temple Pilots' Dean DeLeo on the first song the band played together, the new 'Core' 30th anniversary reissue and 'chasing the demo's tail'
'It really takes me back to a time and a place,' the guitarist says of the STP album that started it all
The Jimmy Page haircut. The Les Paul. The classic-sounding riffs. When Stone Temple Pilots first landed on MTV with their debut single and video, "Sex Type Thing," it was obvious the band's guitarist, Dean DeLeo, was different from other "grunge band" six-stringers.
STP was different than other grunge bands too. They were more indebted to classic '70s acts than the '80s underground, although alternative bands like Jane's Addiction also figured into STP's sound. In addition to DeLeo, the Los Angeles-via-San Diego quartet's classic lineup featured serpentine frontman Scott Wieland, DeLeo's brother/muso-deluxe Robert DeLeo on bass and beach-haired beat-machine Eric Kretz on drums.
STP's 1992 debut album, Core, was flush with ace tracks. In addition to "Sex Type Thing," the LP spawned smash singles like the paisley "Wicked Garden," moody "Creep" and lush "Plush." The speedy "Crackerman" and snarly "Dead & Bloated" also received airplay.
From the start, Stone Temple Pilots was a fan's band. They obviously weren't a critics band, although with increasingly brilliant albums like Purple and Tiny Music … Songs from the Vatican Gift Shop, STP won over piles of haters. The early criticism against the Pilots was they aped Seattle band Pearl Jam, who broke big a year before STP did. These accusations often centered around "Plush." But the roots of those accusations were superficial. Weiland's exaggerated facial expressions onstage in the "Plush" video clearly were jocking Pearl Jam throat Eddie Vedder's style. But sonically, Weiland's vocals were inspired by Jim Morrison's blotto-shaman-holler rather than Vedder's post-sea-shanty bellow.
Time proved Stone Temple Pilots were the real deal. Now-classic songs from subsequent STP albums like "Vasoline," "Interstate Love Song," "Trippin' on a Hole in a Paper Heart," "Down," and especially glam rocker "Big Bang Baby" attest to that. The group also earned a rep as one of the best live acts of their time. At least when Weiland was on.
The rest of this story isn't fun to type. Weiland wrestled with well-chronicled substance issues over the years, which dramatically strained his personal and professional relationships with the DeLeo brothers and Kretz. The band fractured multiple times. Weiland formed the supergroup Velvet Revolver with Guns N' Roses then-expatriates Slash, Duff McKagan and Matt Sorum. Velvet Revolver produced solid singles but never quite managed to come up with a classic album. Meanwhile, the DeLeos and Kretz tried their own new bands, inserting other singers who weren't nearly as interesting as Weiland. Eventually, three-fourths of classic Stone Temple Pilots joined forces with Linkin Park frontman Chester Bennington for touring and the 2013 album High Rise. In 2015, Weiland was out of STP and VR and on a solo tour when he was found dead on his bus from an overdose in Minnesota.
The charismatic Scott Weiland may be gone, but the music he, Dean, Robert and Eric created together only grows more powerful with each year. About five years ago, the surviving members of STP connected with new singer Jeff Gutt, who visually and vocally channels Weiland. Together, this current version of STP has added to the band's legacy, with peacocking 2017 single "Meadow," the 2018 full-length Stone Temple Pilots and 2020's Perdida, the acoustic album the classic lineup always wanted to make but never got around to.
Core is now 30 years gone. Originally released Sept. 29, 1992, STP's debut album has received a new luxe four-LP vinyl reissue, via Rhino Records, including two LPs of demos and live rarities previously released digitally and on CD but now available on vinyl for the first time. You can pick it up now in the Metal Edge shop.
Recently, Dean DeLeo checked in with Metal Edge to reminisce about Core, the album that started it all, three decades on.
Dean, what do you recall about the genesis of "Sex Type Thing"? That track rocks so hard, and your guitar sounds gnarly.
Dean DeLeo: Well, I can tell you how that riff kind of came about, that descending kind of intro riff that kind of reoccurs throughout the song. I was out in my driveway and had the windows open in the house, and I don't know what I was doing, pulling weeds or something, and "In The Light" off of [Led Zeppelin's] Physical Graffiti was on. The wind was blowing, and I could hear it coming through the windows and I heard the [guitar] lick where it's like [sings "In The Light" verse guitar riff]. You know the lick I'm talking about? Well, the "Sex Type Thing" lick fits in between all that. It's counterpoint to that. That's what I heard when I was listening to that song coming through my windows, and it wasn't a real direct sound. And my wheels started turning, that counterpoint. So I ran in the house, quickly grabbed my guitar and kind of transcribed what was going on between my ears onto the guitar. I knew I was onto something. I think I called Scott or Robert immediately and was like, "I've got a little thing here, check it out." The rest of it came shortly thereafter.
Speaking of Scott, one of the extras on this Core reissue is the famous acoustic version of "Plush" you and Scott played on MTV's "Headbanger's Ball." It's a spine-tingling performance. What sticks out to you from that experience?
DeLeo: We were on the road at the time touring the Core record. Scott and I left the tour, we had like a two-day break, and he and I jumped on a flight with that guitar that I'm playing there. My mom got that guitar when I was about 16 and I gave it to my son on his 16th birthday. That's the guitar I played on all the records, that acoustic. It's a Yamaha FG-160.
But as I said, we had a couple days off on that tour and Scott and I flew up to New York. I can't say we were in the best of health. A little rundown. And I didn't even check the tuning on the guitar. I think I'm tuned down a half or whole step or wherever the guitar was at. I just kind of tuned it to itself. But I have to say, that performance that Scott and I did really, really shows what a singer he was. He was truly an incredible singer, man. Very, very gifted. And lyrically, you know, it's funny because my wife had her iPod on random and "Still Remains" came on off the Purple record and I'm just reminded often of that guy's brilliance. And he's sorely missed.
"Dead & Bloated" opens Core and hits right in the teeth right from start. What's a vivid memory from cutting that one?
DeLeo: Well, I think there's a lot of people that do know this, but, for those that don't, that vocal intro right from the get-go, you put the record on and that vocal comes in, right? I had my Les Paul turned up quite loud going from my amps and Marshalls into the iso [isolation] booth for the guitars and Scott actually sang that into the pickup of my guitar.
With all the band's hits, it's easy to forget how many home runs there were just on Core. They say we've got your whole life to write your first record …
DeLeo: That's exactly it, man. That is exactly it. We had a long time to write that stuff.
Your guitar tone is a little more metallic on Core than on subsequent STP albums. Who are some of your heavy-metal guitar touchstones, or at least who were they back then?
DeLeo: The first thing that comes to mind when you use that term, heavy metal, it's not a term that I ever used but for that style of music. If you want to listen to something really heavy, I mean, go back to Sabbath, man. That's where it started for me. I was born in '61, so as a kid in the '70s, when I heard those early '70s records to me that was like soul-penetrating. What those cats were doing on those early records, that was heavy to me.
What's the first song you, Robert, Scott and Eric ever played together?
DeLeo: I had just joined the band. They asked me to come and play some solos on some stuff and one of Scott's best friends [Corey Hicock] was in the band as their guitar player. And it was evident to Scott what he wanted his guitar player to sound like. Whatever I was doing at the time, that's what I brought in to the bag of tricks, you know. Sadly, Scott was given the daunting task of telling one of his best friends he no longer has a gig. And I was kind of given the task at hand. And the first song we wrote together as a band was all four of us in the room was "Where the River Goes."
For you, what are some gems among the rarities on the Core reissue? The demo for "Naked Sunday" is really cool.
Dean DeLeo: Yeah, I remember that one in particular being nice. You know, man, the problem with the quote-unquote demo is, and I think we're all guilty of that, is you try to chase it. You're like, is what I did as good as what we did on the so-called demo? All we need to do is add an N and an S at the end of "demo" or just an N. That's actually what it becomes, you know, I like to call it "chasing the demo's tail."
The demo of "Wicked Garden" is ferocious. Where did STP cut demos back then, like at your house or Robert's apartment or a studio?
DeLeo: So the "Wicked Garden" one was done at this studio, I believe it was called Sound Castle and I think at this point in time, it's safe to say and I won't get anybody in trouble, but there was a dear friend of ours at the time named Tracy Chisholm and he kind of worked at Sound Castle. When everybody was done with their day, God bless Tracy, his day was just beginning with us. So, it was one of those sessions where we kind of strolled in at like 10 PM and went till about 7 or 8 AM the next morning, and Tracy is pulling an all-nighter. And the "Naked Sunday" demo was done there as well, like that.
Of the live stuff, it's pretty rad to hear the band play the song "Lounge Fly" off Purple at the Reading Festival in 1993, before Purple was even released yet.
DeLeo: Did we do that then? Oh, wow. But I will tell you, I have to go back to "Naked Sunday," man, and there was a moment … Okay, the section of the song where Scott does that "an eye for an eye, a tooth for tooth"? We were kind of sitting around and there was that space there, and I remember this like it was yesterday, man. I could see the wheels turning, you know, and he goes, "I got something for that section," and he went up to the mic and did that. And it was just one of those moments, the kind of thing where the hair on the back of your neck stands up. You're like, "Oh, that was pretty good."
So many of the Core songs still get played on the radio. When you hear one of them come on today, what runs through your mind?
DeLeo: I'm not much of a radio listener, but when with my wife and my daughter they like having a radio on when we're out driving around. And when one of those songs off that record comes on, yeah, it really resonates. It really takes me back to a time and a place. A much younger day, a more innocent day. And of course, it evokes a lot of memories of a guy who's no longer with us that was very responsible and played a big part in all of that stuff. So, it's a very melancholic sort of thing.