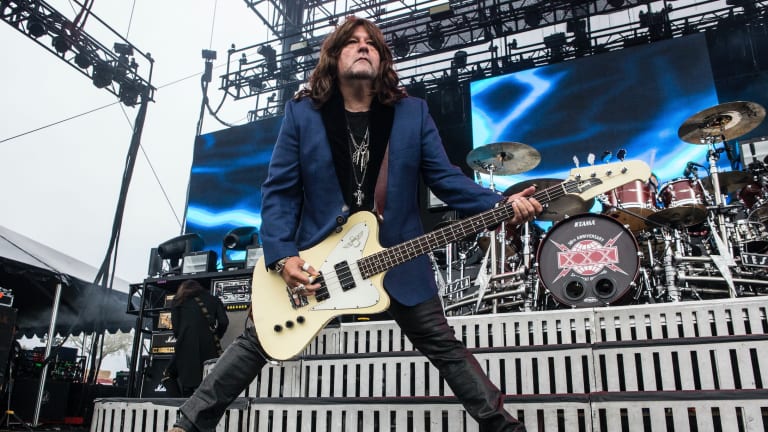 Tesla bassist Brian Wheat talks new music, his favorite records and that 'other' Tesla guy, Elon Musk
'He sent us some t-shirts and we sent him some,' Wheat says of the billionaire
Currently in the midst of a summer tour of the U.S., Tesla bassist Brian Wheat checked in with Metal Edge during a stopover in Oklahoma to chat about the band's new single "Time to Rock," their future plans and 40 years of playing loud, proud rock 'n' roll with Tesla.
Your new single "Time to Rock," which you've been previewing on your current tour, is a great tune. Being a guitarist myself, I love the talk box at the start of the song, which is very reminiscent of Peter Frampton.
I didn't write the song, so unfortunately, I can't really comment too much on it. I just played the bass on it. But I do know that Frank [Hannon] likes Peter Frampton, and so he likes the talk box. I don't know if it was a direct attempt at paying homage to Peter Frampton or not. And though Frampton did play one, so did Joe Walsh, Jeff Beck and Joe Perry as well.
Are there plans to record a new album? Frank stated in a recent interview that, going forward, the band is going to self-produce their future material.
There are no immediate plans to go in and do a record with somebody. I just think that at this point in our career if we feel like doing a track, we'll do one and if we don't, we won't. We've made so many albums, and so when and if we feel like making another album, we will. If at that time we decide we want to produce it ourselves or work with someone, we don't know yet.
That's the thing about us – we don't think too much about these things. We go by how we feel right now. We play shows – we have to, because that's how we earn our living, We're a working band, that's the main thing. Thank god we've got such a great fan base, and fans who support us as we can still go out and play to 2,500 and 3,000 people a night selling our own tickets. That's where the testimony for the band is at really, that after almost 40 years we're still able to go out and sell tickets and put on a show where people aren't going, "Oh, they don't sound good." Because when that happens, that, for me, will be the end.
I once read an interview where the writer labelled you "the thinking man's hair-metal band."
I think it's bullshit to put any label on us, it's just someone's opinion, some writer who sits back and chews on pencils and goes, "Oh, I think I'll go give this a clever little name." I mean, "hair band," "rock band" "blues-based rock," whatever you want to call us… we are what we are. A thinking man's band? I think they would say something like that about Rush. I think Tesla has always been more guttural. It just comes from the gut. We've never really thought too much about any of it, like Five Man Acoustical Jam wasn't calculated, it was just an accident. We don't sit and think, "If we did this, we could be successful doing this or that." We just enjoy playing music together and that's what keeps us going.
The Tesla car company has come into the public consciousness in such a big way in the last few years. Has Tesla the band reaped any benefits from sharing the same name?
Not really, no. When people ask me, "What group are you in?" and I say, "Tesla," I usually get the response of, "Oh, the car company!" And I reply, "Yeah, I'm the fuckin' vice president!" [laughs] But to answer your question, no, there has been no cross-branding between us and the Tesla automobile company. We've had some roundabout communication with Elon Musk, where he sent us some t-shirts, and we sent him some, but we've never met him, and we don't have Tesla cars. I like what he is doing, but he has nothing to do with us and our music.
Your drummer, Troy Luccketta, has taken some time off from the band. Will he be returning at some point?
I can't talk about that. I'm not going to say yes and I'm not going to say no. All I can say for now is that Steve Brown is playing drums and is doing a great job.
The music business is constantly evolving. Streaming is king now. For a band that came up in an era when physical product sales were paramount, how has that impacted you?
The music business has been affected for a long time, a lot of which has stemmed from streaming. We're not even at to the point of digital downloads anymore, where at least when they were downloading they were actually buying the music! But now you're in this model where people are just streaming music and you don't make any money off it. Even with the artists that do get half-a-billion streams, if those streams were actually half-a-billion downloads instead, that would be half-a-billion dollars. That model is how the business has evolved and what it has turned into.
Did you ever think when you formed the band some 40 years ago, you'd still be here doing what you're doing?
No. That's that thing I'm most proud of. That we managed to survive and do all of this. We never had that one big, huge record, you know? A record that sold ten million copies or something. I always kind of wanted that when I was young, but if I look at it now, okay, I could have had that, but it could also have been all over in a couple years after. Or I could have the cred where you consistently do what you do, which is what we've done. Which is why we're sitting here close to 40 years later and we're still viable.
Looking back over the Tesla catalog, are there any particular albums that you consider your favorites?
I like all of them for one reason or another. If you asked me to pick a favorite from the first part of the band, before we broke up and reformed in 2000, I would say Psychotic Supper. That's when we were really at the peak of what we were doing. After we got back together, there's a few I really enjoy. Like Into the Now, because we were all back together and in a good head space and all working towards the same goal. That was a really good album. And the Real to Reel record we did when Dave [Rude] joined, that was a lot of fun after we had been through a dark time. As far as the studio albums that we made with Dave from 2006 on, I really do enjoy Forever More.
Lastly, what is the status of your other band and side project Soulmotor?
It's funny you should ask that, because I have about 18 new songs done. I was planning to put that record out but then we had the pandemic so I didn't do it. It was no use putting out a record if I couldn't go out and play shows. Then I put out my book [2020's Son of a Milkman: My Crazy Life with Tesla] and now this year when I'm done with Tesla, which will be around the end of September, my goal is to get the new Soulmotor material out either at the end of this year or in the early part of next year. And hopefully then go out and do a dozen shows in America.