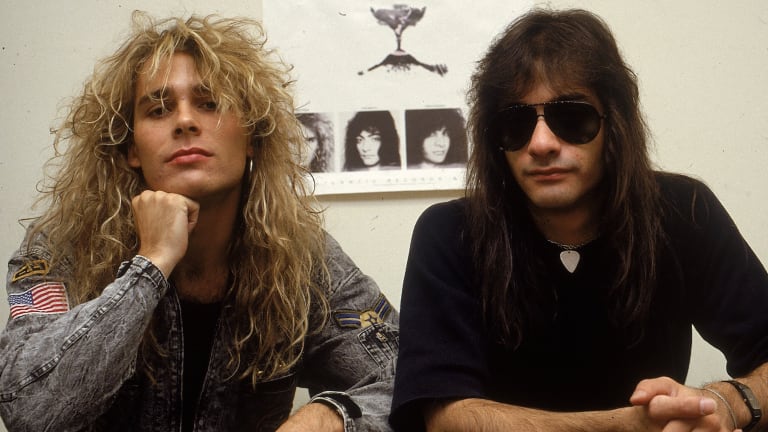 'The band rehearsed in the basement': Vito Bratta, Mike Tramp and more tell the full story of White Lion's rise
Metal Edge celebrates the 35th anniversary of the release of 'Pride' with an exclusive excerpt from the hard-rock oral history, 'Nothin' But a Good Time'
When White Lion burst onto MTV screens with "Wait," the ultra-hooky first single from their 1987 full-length, Pride, it was clear that, between the massive melodies, pin-up good looks of singer Mike Tramp and, perhaps most of all, insanely accomplished guitar work of Vito Bratta, viewers were witnessing the arrival of a new contender for pop-metal's exceedingly in-demand crown.
But while, at least to the casual fan, it appeared as if the band had appeared on the scene fully formed, the fact was that White Lion had spent years paying their dues, toiling in the clubs – and club basements – of New York City and recording on shoestring budgets for tiny independent record labels… before ultimately landing a deal with Atlantic Records and, well, toiling some more. Eventually, however, White Lion had their moment, and Pride prevailed.
Now, to celebrate the 35th anniversary of the album, originally released on June 21, 1987, Metal Edge presents a special excerpt from the hard-rock oral history Nothin' But a Good Time. In the following story, Tramp and Bratta, along with bassist James LoMenzo, drummer Greg D'Angelo and others who were there to witness the band's rise – among them DJ Eddie Trunk and Atlantic Records executive Jason Flom – tell the White Lion story, from the youth clubs of Denmark to the basements of New York City to MTV stardom and "the moment of White Lion that would never come again."
MIKE TRAMP (singer, White Lion) In my local youth club in Denmark, I took part in theater and music. I just sat with an acoustic guitar and played some simple Bob Dylan songs around the campfire. Maybe half of the chords were wrong, but everybody was having a great time.
VITO BRATTA (guitarist, White Lion) I was in a band called Storm in high school — like '78 or '79 — and it was all originals. It was insane stuff, because you had one guy who was into David Bowie, one guy who was into King Crimson, one guy that was into Rush, and one guy who was into Van Halen. Nicky Capozzi, who played on White Lion's first album, Fight to Survive was the drummer. We played around Staten Island and then we broke up.
MIKE TRAMP Then, when I was just 15 and a half, I was asked to join a successful band called Mabel who were all 10 years older than me. They had been a harder rock band but then suddenly decided to go light and have a Leif Garrett-looking singer. I asked my mom if I could leave school. She was basically in shock, but I think just because she was a divorced mother raising three boys in a rough neighborhood, she figured, What was there to lose? After a couple of years of touring all over Europe, we moved Mabel to Spain. The distortion had gotten turned back on the guitars because when we heard Van Halen's "Runnin' with the Devil" our jaw was dropped. We met an American at a discotheque in Madrid who said, "I'll be your manager and you can live in my house in New York." We sold everything we had and a month later we left. On the flight over, there were about 300 American teenage girls that had been on a school excursion in Europe, and I was testing all kinds of names on them. By the time we landed, we were called Lion, which soon became Danish Lions.
EDDIE TRUNK (DJ, That Metal Show host) Vito was already kind of revered as a guitar player when he was in Dreamer.
VITO BRATTA I was obsessed with the guitar. I would get to shows early and just practice. I remember the night that I first saw Mike Tramp, I was in the dressing room at L'Amour's just playing and playing.
MIKE TRAMP Danish Lions was playing with Dreamer at L'Amour, and about 11 o'clock at night, in through the door walks this guy with sunglasses on, real long black hair, and a broken guitar case with a Stratocaster hanging half out of it. I thought, What a fucking douche bag. We had these little practice amps and he says, "Man, can I plug into one of those?" And I say, "Yeah let him plug in and make a fool out of himself." And he plugged in and just ripped through every Van Halen, every Randy Rhoads, every fucking solo that was ever great and my jaw dropped. I said, "This is a guy I need to play with."
VITO BRATTA When Mike walked into L'Amour that night, it was like a real major rock star just came in. People just spun their heads and were like, "Holy shit, is he somebody?" And the girls were just, like, melting. He was a beautiful person.
BRUNO RAVEL (bassist, Hot Shot, White Lion, Danger Danger) Like somebody off the cover of a romance novel.
MIKE TRAMP Vito and I formed White Lion and I was playing manager and fucking running around trying to knock on people's doors. I said to Vito, "I don't know where to go, I'm out." He said, "I might know someone." That's when he called Michael and George Parente, the owners of L'Amour. Vito go off the phone and said, "They need to hear some original songs." The next night Vito came over to where I was living in Queens. We just looked at each other and he started playing guitar and I started singing and the first song we wrote was "Broken Heart." Songwriting is one thing Vito and I have never, ever disagreed on — even for a second.
VITO BRATTA All you have to do is write a chord change, get Mike to listen to it, and he'll write that song with you. He's able to do that.
BRUNO RAVEL One day, I got to practice, and Vito, he was sitting in a chair in front of his amp noodling around, practicing. And I showed up and I walked up to Vito and I said, "Hey, Vito, Greg told me that you and Mike are writing for the record." I said, "I don't know if you're interested, but I got a ton of ideas. If you want me to show you any of them, I would be glad to sit down with you and maybe we could write something." He was like looking down at his guitar, and I remember he just stopped playing. And he looked up at me, and he said verbatim, he said, "You're the bass player. Play the bass." And then he looked back down at his guitar and continued noodling. That's when I knew it was time to move on.
EDDIE TRUNK The owners of L'Amour had a management company, Loud and Proud, that nurtured White Lion, Overkill, Tyketto and Tora Tora. They would start putting these bands on as opening acts and bring them along slowly. White Lion got to the point where they could fill L'Amour before they even had a record deal. There was a great buzz on them. I mean, you had a great-looking lead singer that the girls loved and an incredible guitar player who was kind of like a new Eddie Van Halen. That combination was very powerful and those guys worked it to the hilt.
MIKE TRAMP Our managers sent us to Germany in January of '84 to make Fight to Survive because they'd done a deal with a producer and a studio, one of those "You guys come over, pay for your flights, you live in the studio, if you get a deal you pay me, if you don't, we're even" deals.
VITO BRATTA I've read people say that my playing improved and changed so much between Fight to Survive and our next album. But what happened was when we got to the studio they told me, "We need to get the bass and drum tracks down and they have to follow somebody, so play the guitar so that the bass and drummer can follow you. Then we'll go in later and we'll replace all the guitar parts." So I do that. And then they said, "Okay, we're gonna do the vocals. And then at the end we'll come in and redo all the guitar." Oh, wouldn't you know, at the end, it's like, "Guys we took a little more time on the vocals, so we don't have time to redo the guitar." I was like, "You mean my first album is a guide track?"
MIKE TRAMP Two weeks after we got home we signed a record deal with Elektra Records. The wheels started turning with the album photo shoot, and meetings with the record company and then out of the blue one day at rehearsal, we get this phone call from our manager who said, "I've got good news and bad news." And this became something throughout our whole career, they always would say. "Well the bad news is Elektra has dropped you. The good news is you get to keep the money."
VITO BRATTA It was just crushing. And you don't ever get answers from these people. Maybe Elektra thought we were too corporate, like we weren't grassroots enough, which was ridiculous because we were paying our dues like crazy. It was one of those situations where it was better off if it didn't happen than to give it to me and then take it away. Because at that age, you think that record deals are something that only famous people get, not realizing that the reason they're famous is because they had a record deal, not the other way around.
GREG D'ANGELO (drummer, White Lion) The band rehearsed in the basement of L'Amour, and the funny thing was, the basement was also an open drain for water with a drastically pitched floor that these guys had to stand on. There were days when we would go to rehearsal and it would be raining, and there was water streaming in that floor. It was not pleasant.
JAMES LoMENZO (bassist, White Lion) The new bass player had at the time, Dave Spitz, left to join Black Sabbath. I went to audition at L'Amour and I have to say I was a little disappointed when I saw that the Nicky Capozzi was gone and that Greg was the new drummer. Not because I was even aware of whether he was a good or a bad drummer at all. I just thought Nicki was a great drummer. Anyway, we went through a couple of songs, and I found that I really liked what they were doing because it didn't sound anything like metal music to me. It sounded like pop music.
GREG D'ANGELO James played great and he had this giant Alembic bass. He was really a good complement to Mike in a lot of ways, particularly in his appearance. He had great hair.
MIKE TRAMP We had a third manager, Richard Sanders, who got us connected to JVC Victor in Japan. He managed to do a licensing deal with them and Elektra Records and they did major push on the band. So the band broke in Japan and through the underground in Europe. Fight to Survive starts being imported to record stores in New Jersey, Staten Island and New York.
EDDIE TRUNK I started going out to the shows and watching them develop. I took them to John Zazula at Megaforce when I started doing A&R for the label and said, "I think these guys could hit, we should sign them." And he just didn't get it. I mean, Megaforce was Anthrax and Overkill.
GREG D'ANGELO People were paying upwards of a hundred bucks for a copy of this Japanese record. We had tried to buy the masters from Elektra, and they were not having it. Somehow, this guy in Pennsylvania, with this label called Grand Slamm talked his way into getting the rights and he sold, I want to say, 100,000 copies.
MIKE TRAMP And suddenly we were an album band.
VITO BRATTA We finally came up with enough material to make another White Lion record — pretty much all of songs on Pride — and we said, "Let's go back to Germany and do this new album." That was in the summer of '86. We did it the same way we did Fight to Survive. Same producer. Same studio. Same everything. But when we came home, I said, "This is terrible. I hate this record." Fight to Survive was good for 1983, but by 1986 there were enough albums coming out like Slippery When Wet and Night Songs by Cinderella that it just didn't cut it. I think everybody agreed. But it was used to help us get signed to Atlantic.
JASON FLOM (Atlantic Records) I went to Baltimore to see them the first time. It was '86 and it was the year before I went to rehab and I was just a fuckin' mess. So, I made time to go see them in Baltimore and I was going to see this other band called Mannequin. And I was getting ... I was trying to do the right amount of drugs to get myself out of the apartment and to an airport. I missed the flight and then I missed the next flight, and I missed the next flight. I ended up catching the last flight, which stopped in Pittsburgh and I had to take a puddle jumper from Pittsburgh to Baltimore. I got there really late as you can imagine. I'd been supposed to see the Mannequin guys first, and the managers were waiting at the airport for hours. But I didn't have time now because I had to go to the White Lion show. It was really an awkward situation because these guys are waiting for me at the airport and you're like, "Can you take me to White Lion?"
VITO BRATTA Jason Flom is 20 minutes away from us in New York City and he's gonna come to see us in Baltimore? Where we played like twice and there's 20 people in the place? I think he just liked to travel.
JAMES LoMENZO We came out, we jumped all over the place like idiots like we did in our superhero costumes, and I remember Jason actually right in front. It was obvious, because he so didn't belong there, and he had a girl or two under each arm, and he was basically using them for support. And the next day we were being signed to Atlantic Records.
JASON FLOM Those guys weren't really partiers but I ended up staying up late with them. And that was the night that I made the decision to sign them.
MIKE TRAMP We went to L.A. to record Pride with Michael Wagener. He's always been a band guy, and he just made us feel at home right away. This is the moment of White Lion that would never come again. The magic of the real first album. The one we love by every band.
MICHAEL WAGENER (producer) Vito and I hit it off. We were talking about the same things even in terms of cars and stuff like that, and we were shooting for the same thing. He played the solo to "Wait" in one take while we did the drums. I was sitting there and I was like, "Well, you're done with that solo!"
JASON FLOM Pride was dead on arrival and then one radio station in Minneapolis broke "Wait." It's a little miracle.
MIKE TRAMP When the video for "Wait" had come out, I think June or July, they would play it at like 4:00 in the morning. But one time they had played it at the right time and it got serious response. Atlantic hadn't gotten a word of it, but they had heard that MTV was not going to put it on Dial MTV. I was up at Atlantic Records, this Danish boy with no real clue about how things work, but also fearless. And I picked up the phone and I called MTV, and I just kept getting turned on to another person, until finally I got some person that felt like they were in charge. And the following week, they added the video and it rose to the top.
VITO BRATTA I mean, when you show up at shows and people are just like, "God, that solo to 'Wait,' that solo to 'Wait...' " I'm like, "God almighty. I've written other songs!" And then you go onstage, and when it comes time to do that solo to "Wait," you freeze. I did that one time on CNN. We were playing some outdoor stadium in Texas and the cameraman from CNN goes, "I'm here to see your band but I love that solo to 'Wait.' So I'm telling you we're gonna go live right when you hit that solo." And I froze. First time ever, I didn't play the solo. I just stood there. And the guy's just shaking his head.
JAMES LoMENZO Mike's lyrics definitely did portray people being overrun somewhere else in the world and how we should be concerned about it. I'd tell the guys, "He's been living in Denmark. He's been looking at the world through a different lens." I actually appreciated that. I think it made me feel really comfortable to have somebody who's kind of thinking a little bigger than the size of somebody's jeans. It definitely wasn't, "I'm gonna slide it in, right to the top."
MIKE TRAMP "When the Children Cry," has followed me ever since. Look at the lyrics, the lyrics are even more current today than they were back then.
JAMES LoMENZO That song put us in a place where even more people came out. And we could tour on our own merit, and do theaters on our own. And that was a big deal.
VITO BRATTA The Pride tour consisted of three parts. The first part was Aerosmith, the Permanent Vacation tour. At one point, we had a higher charting album than them. Then there was AC/DC, I think their Blow Up Your Video tour. And then it ended with Stryper in tertiary markets.
MIKE TRAMP We started in June, and we finished in November a year-and-a-half later. We'd been to Japan, Europe… we'd played so many shows. We never even knew we had money in our bank accounts.
GREG D'ANGELO There were no drugs, no booze, no nothing. We were clean as the driven snow back then. At least, most of us were.
JAMES LoMENZO We were pretty much out there on the road just hitting it hard, and it could be exhausting. Especially when you're a little younger and you kind of play both sides against the middle. You know, you do your shows, and then you celebrate those shows.
VITO BRATTA The other guys could have a fun day off if they wanted to. They'd be knocking on my door, "Hey, you coming down to the pool?" No. I spent the entire time in my hotel room working on the next record. So at the end of the Pride tour, I had a cassette with the entire Big Game record recorded.