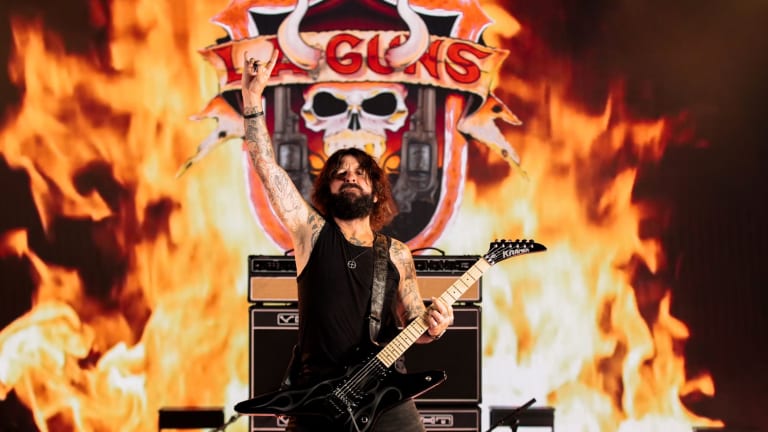 Tracii Guns talks rocking at summer camp, wearing leopard-skin dolphin shorts and ripping and tearing with L.A. Guns
The guitarist delivers tales from the Strip in the latest installment of Metal Edge's Infamous Firsts
Back in the '80s, rockers from all corners of the U.S. and beyond made the pilgrimage to Los Angeles in search of glammed-up, big-riff glory. But Tracii Guns is a Hollywood O.G. Growing up within the city limits, he caught an unsigned Mötley Crüe laying waste to the Whiskey and other L.A. clubs, formed Guns N' Roses with Axl Rose, and then tore up the Sunset Strip – and, later on, the world – with his own band, L.A. Guns.
These days, he continues to rip and tear with L.A. Guns, who have been on a hot streak since Guns and longtime singer Phil Lewis re-teamed several years ago, releasing a trio of albums, The Missing Peace, The Devil You Know and 2021's Checkered Past, that constitute some of the most varied, hard-rocking and downright musical work of their close-to-40-year career.
And he's far from done yet. Guns and the band recently wrapped a successful summer tour with Cinderella's Tom Keifer and Faster Pussycat, and are deep in the recording stages of the follow-up to Checkered Past. What's more, Tracii recently released his first signature model guitar with Kramer, the Tracii Guns "Gunstar" Voyager, and has now teamed up with Metal Edge to give one away to a lucky winner.
As for what makes the Tracii Guns "Gunstar" Voyager so cool?
"It looks awesome in pictures, man – that's all you need to know," Guns says with a laugh. "But basically, It's like a Les Paul with a Floyd Rose [tremolo] and a star-shape body. That was always the idea behind it. So we were able to put all those specs together and make it work. And it turned out great."
You can enter to win the Kramer Tracii Guns "Gunstar" Voyager here. Below, Tracii takes us back to Hollywood and the Sunset Strip to tell us how it all began for him.
First Song I Fell in Love With
"Well, 'Whole Lotta Love,' was the first song that made me want to play guitar. But for the first song I fell in love with, I'm going way back and the one song that sticks out to me is "Bang a Gong" by T-Rex. It was different than everything on AM radio, you know? My mom would drive me to nursery school, and I was probably, four, maybe five years old, and it was on every morning. I would wait for it to come on. It had this different feeling about it, and those little open-string hits grabbed me as a tiny kid. It was just right for me.
First Song I Wrote
"It was called 'Sunshine,' and I wrote it when I was six years old, in the room that I'm laying in right now. I remember it clear as day: 'Time for song / time for measure / now it's summer / now it's pleasure.' My friend Danny Tull actually wrote the words later, but the chords were just simple D, Am and C, over and over again. And what I would do is, the first 12 bars were arpeggiated, and then the next 12 bars were strummed. And then the last 12 bars were me just banging it out, like it was end of 'Stairway to Heaven' or something.
First Band I Played With
"That would be my summer-camp band with Danny Tull and Dave Melford. I think we were called Whoopie Cat. Because the line in [Led Zeppelin's] 'Misty Mountain Hop' was, you know, 'would we care,' but everybody thought it was 'whoopie cat.' So that's what we called our band. We did 'Mongoloid by Devo, we did 'Stranglehold' by Nugent, and I think we did "Stairway to Heaven.' Those were our three first songs. And then two weeks later I think we added in 'Purple Haze.' We would take all the gear out of Danny's garage and put it in the backyard and his sister's friends would come over and we'd play."
First Gig
"That was with Whoopie Cat, at our summer camp. I had my first Les Paul Custom, a blonde one, and a little Zeus practice amp, and Danny had a Peavey bass and, like, a Polytone 1x10 bass amp. We didn't have real drums, so Dave played on trash cans. That was our gear. And we played in the camp's amphitheater. So picture, like, a 200-seat amphitheater… with two little hippie kids and a guy sitting behind trash cans. At JCA Malibu camp. Nice Jewish boys. And the chicks dug it. [laughs] The chicks still dig it."
First Shitty Job
"I worked as a plumber for my dad and my grandfather. I did that from the time I was nine until the day I quit, when I was 15. And it was literally shitty. What happened was, I was working with my cousin, Willie, on a toilet stoppage at a Los Burritos, right where Sunset and Hollywood joined in East Hollywood. The Los Burritos was attached to a Sears, so we couldn't turn the water off or tell people not to flush the toilet or anything like that. So my cousin said, 'Hey, you gotta go down in the hole, you gotta cut the pipe out, and then I'll go in and I'll replace the pipe.' So I cut the pipe, somebody flushed the toilet next door… and all the fucking turds came flying out at me! That was my last day. I got on the bus back from my dad's shop, I walked in the front door, and he goes, 'What are you doing here?' And I said, 'I quit.' He goes, 'What are you gonna do?' And I said, 'Oh, I'm gonna play guitar.' And he said, 'Okay.' That was it. [laughs] I became a guitar player that day."
First Time I Got Wasted
"It was at the house I'm in right now. I was 16, and me and [early L.A. Guns singer] Mike Jagosz got a bottle of Southern Comfort. I had a Volkswagen bus, and we drove back up here to the house and snuck the bottle into my bedroom. And not only did I get wasted, I had the shits all night. It was awful, man. Maybe that's why I don't drink that much. [laughs] Me and alcohol, we go light."
First Sunset Strip Band I Loved
"Mötley Crüe? I mean, that's too easy. So I'll go with a band called Wizard. I don't know if they ever played the Strip, but they played the Troubadour. They were a three-piece band, kind of a cross between, like, the James Gang and Rush. And Van Halen, in a way, because it was two brothers on guitar and drums. And then they had a bass player. I loved them. But then Mötley Crüe came out and my whole life changed."
First Gig with L.A. Guns
"The first gig as L.A. Guns was on the Strip, at Gazzarri's. I wore leopard-skin dolphin shorts and stiletto heels. And I played a white Gibson Flying V with a Kahler [tremolo] on it. That had to be, I'm guessing, '81, '82? Real early. Mike Jagosz was singing, and I don't think Danny Tull was playing bass. I think it was Rick Akiyama, who used to call himself Rick Mars. And [future Guns N' Roses member] Rob Gardner was the drummer.
"The gig was great, and two things happened. One was, it was the first time I've been duped by the music business. We did the gig, people loved us, and some guy came up to me with a business card and said, 'Wow, you guys are great. Can I contact you and get you some other gigs? And we can make a record.' And I said, 'Yeah!' I gave him my number and he never called me. I waited for, like, a month, going, 'Grandma, this guy's gonna call! He's gonna call!' So that happened. And then the other thing that happened was I got gonorrhea from the Gazzarri's waitress."
First Extravagant Purchase with Money Earned from L.A. Guns
"It's all relative, but I started buying vintage guitars instantly. Maybe the first substantial guitar was Walter Egan's 1959 Stratocaster. I bought that for 1,800 bucks. Which was a lot of money! It had an Alembic preamp in it. And then I played it on Arsenio Hall or Rick Dees or something. It was really cool."
First Time I Met Axl Rose
"The first time I met Axl, he had just flown in from Indiana and he was staying with… it was his ex-girlfriend or current girlfriend, this chick Jane. And we drove over to meet him. I only met him briefly and he was super nice. I was 17. 
"And then the first time I heard him sing was when L.A. Guns, Hollywood Rose and Poison all did a show together. This was pretty soon after I met him. L.A. Guns and Hollywood Rose were playing downstairs and Poison was playing upstairs. It was their first gig in L.A. I remember I kind of was hanging out with Axl, and then he got up to soundcheck and he blew my face off. I was like, 'Holy shit!' Cause Mike Jagosz was a really great singer, but he had kind of a Klaus Meine, Dio thing going on. Axl had more of this Robert Plant, bluesy thing, and I really never heard anybody sing like that. Because that wasn't what was fashionable at the time. I told Izzy [Stradlin], 'Man, that guy, wow!' He goes, 'I told you...' "

First Time I Felt Like I Had "Made It"
After L.A. Guns signed our record deal, I remember I walked into the plumbing shop and told my dad, 'Hey, we signed today.' And he goes, 'Well, this is the day you stop maturing. 'Cuz now you're gonna be catered to for the rest of your life.' So maybe that was the 'I made it' moment. But I dunno. I played the Garden. I played the Forum. My bills are paid. I guess I made it!"