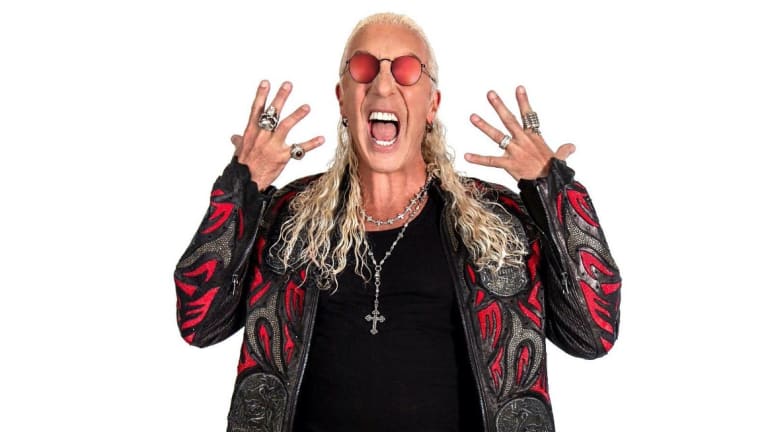 Dee Snider will not be stopped!
Life lessons from the Twisted Sister legend: 'I always overdo it'
"You Can't Stop Rock 'n' Roll." "We're Not Gonna Take It." "I Wanna Rock." Dee Snider has written his fair share of fist-pumping, multi-platinum metal anthems over the years, and in the process has left an indelible mark on modern popular music.
But as another legendary artist once sang, it's a long way to the top if you wanna rock 'n' roll. And to be sure, Dee's journey, as he outlines in this installment of Infamous Firsts, has been filled with plenty of twists and turns – hell, in an alternate universe he could've just been the dude who once played with Snider's Spiders and then screeched his way through that weird "Running Mad" tune.
Instead, of course, he teamed up with Twisted Sister, recorded one of the biggest rock albums of the '80s in Stay Hungry, had his face plastered all over MTV, magazine covers, and even the halls of Congress, and became the rock legend we know and love today. And at 66, he's still doing it. His most recent album, 2021's Leave a Scar, recorded with Hatebreed's Jamey Jasta, is arguably his heaviest to date, chock full of raging, serrated speed metal anthems. And he continues to tear it up onstage and even onscreen, where, among other appearances, he guested as himself (performing "I Wanna Rock") in the smash Netflix series Cobra Kai.
As for what he'll do next? "No plan," he says. "I'm making it up as I go." He tells Metal Edge about a few things that happened along the way.
First Band I Fell in Love With
This is a boring one because it's so many artists of my era's first, and that's the Beatles. I don't know if it was "I Want to Hold Your Hand" or "Twist and Shout," but it was one of those songs. They just captured the imagination. They captured the world's imagination. And they certainly launched me on my life mission to be a Beatle. Although I quickly found out you couldn't be a Beatle. So then I became a 'Snider Spiders.' But then the guys decided they didn't like the idea that my name was the name in the title. But anyway, yeah, the Beatles.
First Album I Bought
Again, the Beatles. A Hard Day's Night, the soundtrack to the movie. I don't know if it was with my own money, but I'm sure it was hard-earned in one way or another because my parents didn't just give you things like that. You had to really do something special to earn it. Like when I got my first pair of Beatle boots, which were huge in my elementary school, it was because I had gotten a letter from the principal saying to my parents that academically I was in the top 15% of the school. My parents were so blown away they said, "What do you want? We'll get you anything you want as a reward." And I was like, "Beatle boots!" I got 'em for being smart!
First Band I Played With
That would be Snider's Spiders, in third grade. It wasn't really much of a band. We had a guitar player and the rest of us just sang. [laughs] But in our minds we were a band. And as I went through elementary school, we got a guy who had a drum set, and then a guitar player. But the toughest thing to get was a bass player, because nobody appreciated bass. So there was no bass player until junior high, I think. I may have even played bass at one point.
First Song I Wrote
It was called "Running Mad." This was, like, 1974, and I was 19 years old. I wrote for my band, Harlequin. We were a three-piece power trio with vocals, the way God intended it. Very Zeppelin, very Montrose. So it was just, you know, vocalist singing at the top of his range, drummer hitting as hard as he could, bass pounding away and a guitar player plugged into two Marshall stacks on ten. Old school, and very metal. Or, I guess they called it hard rock then. I'm trying to remember the words… [sings] "Because you yearn to be… running maaaaad"! It was this pre-Bruce Dickinson high-pitched scream. Needless to say, Harlequin broke up shortly thereafter.
First Gig
It was with a band called Brighton Rock. Two guitar players, singer, bass player, drummer, we had all the pieces. And we were so ahead of ourselves that we booked a gig at a local church dance. It was three months in advance, so there was plenty of time to prepare. But we never rehearsed until the day of the gig, at the church. [laughs] We were so terrible that we decided we were undeserving of a glorious name like Brighton Rock, so we went around to all the posters that were hanging in the church and we changed our name to Garbage. When it was time to play, we were introduced as Garbage. And we were. We were actual garbage.
The really tragic thing about it is that my father, who was very against me and music – he wanted me to play baseball – he decided to come down to see me perform for my first show ever, unannounced. So unbeknownst to me, while Garbage was humiliating itself in front of a stunned audience – mouths open, no response – he's there. And when we finally walked offstage and went in the back room and were hanging our heads in shame, my father walked in. And he just looks at me, shakes his head, turns around and walks out. It was tough for me to recover from that one. It was incredibly scarring. [laughs]
First Shitty Job
I've had many shitty jobs, and the shittiest was literally shitty. I cleaned bathrooms at the beach, which is probably the worst place in the world to be the bathroom attendant. I mean, God knows what was going on, some of the explosive things that were happening in that bathroom! And then it's mixed with sand and sea water, and it's hot and there's no AC. This was Jones Beach on Long Island, and you're wearing a prison gray canvas uniform and you just have to stay in the bathroom and wait for what's coming. The only upside is the money was better. When I first took the job, I was picking up the garbage on the beach, and that was just miserable because it's like, used diapers and condoms and it's just gross as hell. Now you move into the bathroom and it's another type of gross, except you're being paid more.
First Time I Got in a Fight
I wasn't a tough guy in school, but I became a tough guy out of necessity. My first real fight, I moved from Freeport to a new town, Baldwin, on Long Island. I was in fifth grade, and I thought I was pretty badass. I thought I was pretty cool. And this guy, Robert Hamburger, who everybody called Hammy – that should have been my first warning –he made some comment to me, and since I'm the new kid I come back hard, you know? It's like the first-day-in-prison kind of thing – you take out the biggest guy. So then it's the usual stuff: three o'clock, outside, the new guy's fighting Hammy!
So three o'clock comes, I'm saying "I'm gonna kick his ass!" And Hammy, we're in fifth grade, so I'm 11 years old, but he's probably like 16. Because Hammy had been left back a few times. I think he had a mustache. And he literally lifted me off the ground and threw me into a wall. Like, through the air. I found out later that Hammy, at seven years old, had lifted a manhole cover off to get a ball that had gone down a sewer. He had crushed his fingertips putting it back down, but he had actually managed to lift the thing up! Of course, that would've been good information to know before I picked the fight. And that fight sort of changed my life's course for quite a while, being the guy whose ass was publicly kicked and humiliated. But it was also a big motivator.
First Time I Got Wasted
I'm a pretty straight guy, and the first time I got wasted is why I'm a straight guy. When I was 14 my parents went to an adult party, and it was one of those adult parties where another adult has a kid the same age, so the parents stick the two of you in the basement to hang out together. So me and this other kid are hanging out, shooting pool or whatever, and my father, who has decided at 14 that I'm a "man," says, "Hey, you want a whiskey sour?" I'm like, "All right. What's that?" And so he makes me a whiskey sour. But since I'm only 14, it's basically all sour mix, just a splash of whisky. So I finished it and I'm like, Wow, I'm 14. I'm a man." You know? So I go up to the bar and I go, "Can I get another whiskey sour?" And the guy behind the bar goes, "Hey Bob! Your kid wants a whiskey sour!" My dad yells back, "Yeah, sure!" Assuming the guy would be hip and would know I'm only 14. But no, this guy starts mixing me real whiskey sours.
Cut to later that night, I'm in the basement. I'm laying on the ground. I'm puking. I can't move. I remember other kids pointing and laughing, and a little voice in my head going, "Lord, if you ever let me walk again, I swear off demon alcohol!" And true to my word, I walked again and that was it. I said, "That's it. Man's gotta know his limitations." And mine is, I don't know when to stop. I always overdo it. I realized that at a young age.
First Time I Put on Makeup
Before Twisted Sister I was into glitter rock, so I wore some glittery stuff. I remember putting on a rhinestone mole at one point. [laughs] But really, it was probably the first Twisted Sister gig. Twisted had been a band that started out wanted to be the New York Dolls, so I was putting on some very rudimentary makeup – a little gray on the eyes, some red on the cheeks – but not really committing. It wasn't until Suzette came around and she started pushing me to go whole hog, as they say.
And you know, early on I would get in fights, because I was very defensive. I would get very confrontational when people would call me names. I would stop the show, like, "Who said that?" But you know, I was wearing Daisy Dukes with stockings and thigh-high leather boots. What were they gonna call me? Macho? But I was very touchy about it.
First Time I Felt I Had "Made It"
So right after Twisted Sister finished the Stay Hungry record and it was being released, there was a delay in the United States due to the size – you had to allow six to eight weeks for the record to really get to radio. The technology wasn't where it is today – it wasn't instantaneous. Until it got to all the stations, until it got in rotation, there was this delay. Whereas in Europe, because the countries are smaller, the delay was not the same. So we took off for Europe and we started touring there and the effect was more immediate. While we were over there we were hearing that the record was starting to pick up in the States, but because we were so far away it didn't feel real. 
So anyway, I come home from Europe and my wife, Suzette, she is the woman who brings me down to Earth every time. The first thing, as soon as I walked in the door after touring Europe and feeling pretty good was, "We need milk. Go get some milk." I'm like, "Wha? Isn't there a roadie to do..." "Go get milk!" "Okay, okay…" So I get in the car and start driving, and I turn on the radio… and "We're Not Gonna Take It" is playing. And I go, "Oh wow, that's cool. I wonder what's playing on the other rock station?" And I hit the button, and "We're Not Gonna Take It" is playing. Now I say, "All right, there's three rock stations in New York. "What are they playing on the third one?" And, bam! "We're Not Gonna Take It" is playing. The trifecta. And I said, "Holy shit, this is happening."
Then shortly after that, there was a near mob scene at a grocery store when my wife and I went shopping with my son. All of a sudden, people were arriving in cars and on bicycles from all over, because it was announced that Dee Snider was in ShopRite! It's like "I can't go get milk anymore, honey! I'm a rock star!"