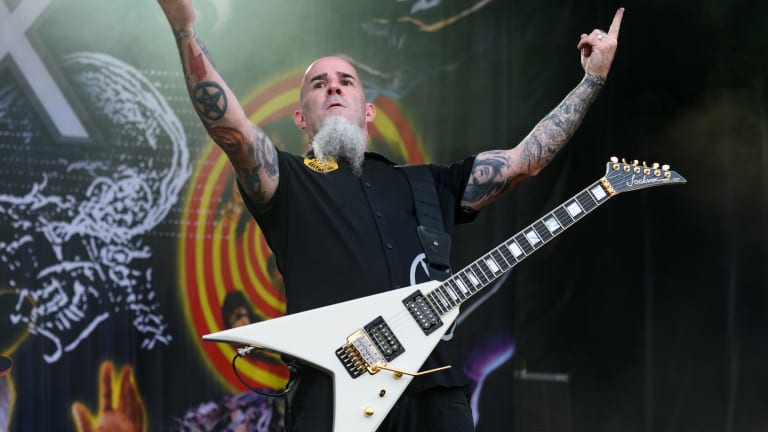 'We're getting close': Scott Ian and Charlie Benante talk new Anthrax album
'I can tell you we have 11 musical arrangements, and there's lyrics to some of them,' Ian says
The last time Anthrax put out a new album was at the end of February in 2016 with the well-received For All Kings. That's seven long years for thrash metal fans to wait. But it's not like the band hasn't been busy since it dropped.
After wrapping up the touring cycle to promote the record, they got tapped to support Slayer's worldwide retirement run. Then the pandemic happened. Last summer the group got back on the road with a co-headlining jaunt alongside Black Label Society that did so well they're doing it again, having kicked off a fresh leg Jan. 17 which goes through late February. And now there's drummer Charlie Benante's side gig with the reconstituted Pantera and dates scheduled through 2024.
So, are we ever getting some new music from Anthrax?
"We're getting close!" Scott Ian tells Metal Edge. "I can tell you we have 11 musical arrangements, and there's lyrics to some of them. Obviously, I'm going to be working on more words and we're getting there. I'm hoping at some point we'll be able to get into the studio [this year] and record them."
It's a streaming market these days though, one with high content from artists and low attention spans from listeners. That factor leads Benante to posit an alternative, one that leads to a spirited exchange between the two.
"What if it wasn't a full album?" the drummer suggests. "If we released six songs and then we released another six songs. I know from a record company's point of view that really doesn't work, but in these days…"
"Yeah. It's all so different now," Ian says, jumping in. "Slipknot's saying now why even make full albums anymore. I get it. I get all sides of it. I still love a full album, but at the same time I totally understand the idea of what's the point of giving someone 11 songs. Most people don't listen to albums anymore. So, yeah – why not parse it out? I don't know. All I know is at some point in the next few months we'll probably have 14 or 15 things and then we'll have to decide when we're going to record it and how we're going to release it."
Artists looking at different ways to not only get music out to fans in the modern era but be sure they actually listen to it is nothing new. Nearly a decade and a half ago Ian Astbury of the Cult put forth the notion of "capsule" releases, putting out three or four new songs out at a time, when they were freshly recorded. While many in the industry were quick to pshaw the idea, it suddenly doesn't seem that outlandish.
"Think about it," Benante says. "If Anthrax released five songs and you have these five songs, and you absorb it in such a different way nowadays, too. I think that may be the way to go, rather than give everybody 11 songs and it's like, 'Oh – I only had a chance to listen to the first four or five.' I don't know. I just think maybe the business model is different."
"And even for us, playing songs live it's like, you put out a record with 10 or 11 songs on it with the idea that, 'Oh man, I can't wait to play this one live and I can't wait to play this one live,'" Ian adds. "On For All Kings, we definitely didn't play all of those songs at any point. I think there's maybe six songs on the record that got played – and that's it. I almost feel like you're wasting them. I understand album tracks, but if you put out just five songs it would be easy to play all five of those on a new tour."
"And easier to digest, too," Benante agrees. "You would appreciate it more if it was just five songs and, 'These five songs are fuckin' killer. I can't wait for the next five songs,' knowing that we will release another five or six."
The two go silent. Ruminating on the discourse and perhaps the fact that by the time the new album comes out, it will be the longest stretch between Anthrax LPs. Suddenly Ian speaks up.
"What would be better: five songs every, say, six to nine months, or one full album in six years?"