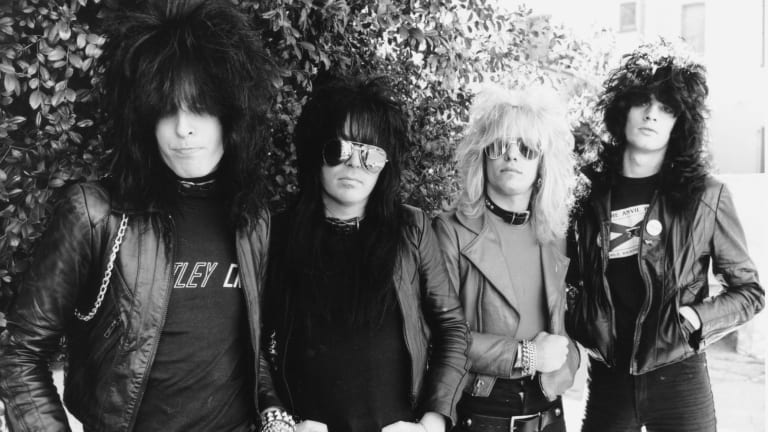 What's the big deal about the Leathür Records version of Mötley Crüe's 'Too Fast For Love'?
Album engineer Robert Battaglia takes us inside the studio sessions, while superfan Tracii Guns tells us what makes TFFL so great more than four decades on
It's fascinating to hear famous musicians before they "made it." Back when they were still raw, young and hungry. Listening now to Mötley Crüe's debut album Too Fast For Love, which Elektra Records brought to the masses in 1982, is very much that.
From gashing opening track "Live Wire" to dramatic closer "On with the Show," it's the sound of one of rock's most dangerous bands being born, in the person of singer Vince Neil, bassist Nikki Sixx, drummer Tommy Lee and guitarist Mick Mars. But also, Too Fast For Love is the genesis of glam metal itself. Damn near as pivotal as Van Halen's 1978 eponymous bow in the shaping of '80s hard rock.
These charms are even more evident on the original version of Too Fast For Love, which the Los Angeles band self-released on their own Leathür Records label, in 1981. There were only 900 copies made of that first Leathür vinyl pressing. More than 30 years later, those copies go for hundreds – and sometimes thousands – of dollars. The second, third and a reported fourth pressing often fetch hundreds or more as well. Even a 2005 reissue of the Leathür version ain't cheap these days.
Visually, the Leathür version of Too Fast For Love differs from the more well-known Elektra release in several ways. On the cover, Mötley Crüe's early italicized logo is smaller and right-justified, versus the larger and centered red logo on the Elektra pressings (while the original Leathür front cover is completely black and white, on later '81 Leathür pressings the text, like the Elektra version, is in red).
There are differences in the Leathür photography as well, including an overzealous retouching of Neil's hair to counteract a blown-out lighting effect. Different poses are struck by bassist Sixx. A pair of aviators often sits in the middle of the back-cover photo, but sometimes the layout is sans shades. The fan-run site motleymuseum.com does an excellent job breaking down the myriad differences in Leathür Records pressings.
Mötley cut the original Too Fast For Love for only a few thousand bucks. So unlike landmark rock debuts funded with label money that ended up sounding supersonic, Too Fast is endearingly garage-y. Even the Elektra version, punched up with a remix overseen by British studio warlock Roy Thomas Baker, known for his work with Queen and the Cars, is charmingly raw.
The Leathür Records mix sounds shaggier. Maybe even a little more European. If you love Mötley Crüe, chances are this is your favorite Too Fast. It was mixed by German knob-twiddler Michael Wagener, who'd later produce Skid Row and mix Master of Puppets, among other awesomeness.
On the Leathür Records Too Fast For Love, the vocal reverb is more in-your-face. Some of the background vocals are different as well. Canned applause pops up during the "Live Wire" outro, while the title track has a daydreamy intro that Elektra later snipped off. Elektra also introduced electric guitar earlier on power-ballad rocker "Merry-Go-Round" than on the Leathür original, which begins fullly acoustic.
But outside minutia, as L.A. Guns guitar hero Tracii Guns notes, "on the audio side of things, I don't think the master or the mix is that much different," between the Leathür and Elektra versions. "They sound really similar." But Guns, who has owned Leathür pressings since he was a 15-year-old student at L.A.'s Fairfax High School, adds, "What I missed [on the Elektra version] is they omitted some of Vince's high screams and things like that." An example is the "Come On and Dance" outro, which is truncated from the original. Of Mars' guitar solos on the album, Guns says, "They were like little songs, you know? But with that really raw sound, which was very compelling."
Track lists are another key differential. The Leathür Records version has "Public Enemy #1" in the second slot, the song's groovier pace a perfect follow-up to the riotous "Live Wire." Elektra demoted "Public Enemy #1" to track three, in favor of "Come on and Dance," a rocket-launcher off Leathür Records' side two.
But the most glaring change is Elektra's deletion of the standout track "Stick to Your Guns." The song, previously self-released as Motley's debut single with "Toast of the Town" on the flipside, shapeshifts though a witchy intro, cowbell riff-fest and metallic jam.
Of the "Stick to Your Guns" Elektra omission, Guns says, "It's just like, wow, come on! But I understand that was a Kim Fowley song and all, and they might have had some weird issue there." In Sixx's pre-Mötley days, Fowley, an infamous Sunset Strip fixture and manager of female rock pioneers the Runaways, reportedly asked a young Sixx to write material for new-wave stars Blondie to record. Sixx came up with "Stick to Your Guns," which he sold to Fowley for $100 and 50 percent publishing.
Too Fast For Love's original sessions took place at Hit City West, located on West Pico Boulevard in L.A. Artists who'd previously worked at Hit City included r&b star Bobby Womack and Beach Boys singer Mike Love. For Too Fast, the primary recording engineer was Glenn Feit, his first-name misspelled "Gleen" in the liner notes. Additional engineers on those sessions include Avi Kipper and Robert Battaglia.
Battaglia, who goes by Bert and now resides in Nashville, recalls Mötley "seemed to be ready. They already had a following." As far as the dynamic between the famously combustible band, Battaglia says, "they certainly were friends." He recalls Sixx being, a "sweet, nice guy." Lee's drumming? "Interesting and really powerful. He had more energy than you could even imagine." Mars, he continues, seemed more seasoned than the others, including in "the way he carried himself."
Battaglia says Neil and the entire band always showed up at the studio like they were about to go onstage. "Their hair was done, and there were metal spikes, leather jackets and chains. They told me they would buy girls' jeans. They were what they were. That aura, yeah."
Hit City West was, as Battaglia remembers it, "a medium-sized studio, in price and gear." He says Too Fast For Love was cut on a Soundcraft console, to an MCI 24-track analog tape machine, and that the best vocal mic they had back then was a humble AKG 414. There was a small lounge area equipped with a then-nouveau Pac-Man arcade game that the Mötley guys played between takes. As far as the band's now infamous decadence, Battaglia says, "I never saw a drug or partying or even a beer" during the Hit City West sessions.
Guns, for his part, purchased his vintage Leathür Records pressings – he bought two of 'em, just like he bought two pairs of Vans, 501s or anything else back then – at L.A. record store Licorice Pizza, across the street from legendary Hollywood venue Whisky a Go Go, following a Mötley gig. He recalls paying around eight dollars for each copy of Too Fast For Love. Decades later, Guns got to play some of those songs, including a raucous version of "Live Wire," with Sixx in their early 2000s supergroup, Brides of Destruction.
Back in '81, Guns dubbed Too Fast onto a cassette tape to play in his car, a '56 Chevy pickup truck. "I had my surfboards on the ladder rack," Guns recalls. "And every day that summer I'd put in the cassette. I would sing every one of those fucking songs – I didn't care who was in the truck with me. I'd be screaming along at the top of my lungs, then I'd get out and go surfing. Fuck, it was awesome."