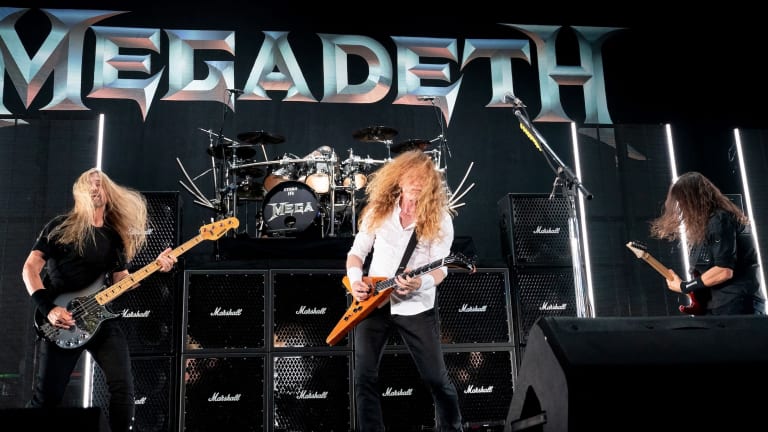 10 best heavy albums of 2022
From Slipknot to Megadeth, Dead Cross to Meshuggah, this year gave us plenty of head-banging goodness
2022 served up a treasure trove of amazing new music, and the heavy stuff was no exception. From old-guard staples like Megadeth to young upstarts like Vein.fm, radio-friendly concept albums to good ol' death metal, the year gave metal fans plenty of ear candy. Here's ten of the best - and heaviest - 2022 had to offer.
Slipknot, The End, So Far
Corey Taylor has to be one of the most talented vocalists in metal, and he shows his full range on Slipknot's latest. The album opens with the clean, melodic "Adderall" and then gives you whiplash with track two, "The Dying Song (Time to Sing)," which punches you in the mouth with the typical Slipknot aggression we are all used to. This time out, Slipknot incorporated everything that has made the band legendary, and also grew up a little. "Yen" is "Vermillion" but in grad school. If you were looking for a solid Slipknot album, this is it. If you were looking for a great band continuing to evolve, this is it. If you just want to start a sick mosh pit and let off some steam, The End, So Far (whatever that means) fit the bill.
Vein.fm, This World is Going to Ruin You
Vein.fm is like Slipknot's even angrier little brother meets Deftones' disturbed nephew, and their sophomore effort, produced by Will Putney (Fit for an Autopsy), is as heavy as you'd expect. Grinding and persistent in its rage, This World is Going to Ruin You is a cathartic treasure. Heavy and chaotic songs like "Versus Wyoming" and "Lights Out," along with more accessible but equally brutal tracks like "The Killing Womb" round out a ferocious 12 tracks.
The band finally allows for some release at the end with "Funeral Sound," which could almost pass for calm if you weren't paying attention. Because it's dark as hell.
Ghost, Impera
Ghost can be polarizing, but you cannot deny that this record is catchy as hell. Plus, it reminds us of some good ol' '80s arena rock, and in 2022, we'll take that where we can get it. While not a linear story like some concept albums, Impera is loosely about the cyclical nature of history, more specifically the rise and fall of empires. The theme is there, yet the songs stand alone. "Spillways" and "Call Me Little Sunshine" are memorable as singles, and one can envision a stadium full of Ghost fans singing along. You can picture "Twenties" being staged, as it is reminiscent of other popular rock operas. Impera is probably heavier in subject matter than it is in weight on the metal scale, but not including it in a list of noteworthy 2022 metal releases would be a sin of omission.
Animals as Leaders, Parrhesia
Parrhesia is a rhetorical term that basically refers to speaking the truth at your own risk, and we suppose this album does this somehow, even without any lyrics. The credit is due to the masterful musicianship of Tosin Abasi, Matt Garstka and Javier Reyes. "Gordian Naught" is a masterclass in precision, while "Red Miso" is a lesson on how to make incredibly complex time signatures exciting to hear. All of the songs on this album are both complicated and melodic. You don't have to have a degree in music theory to enjoy Parrhesia, but it is sure going to help if you want to play any of these songs at home. Produced by Periphery's Misha Mansoor, this record is a triumph of virtuosity and musicianship. Call them prog, metal fusion, djent… Animals as Leaders had elements of all of these, and they show off all these styles and more on Parrhesia.
Megadeth, The Sick, The Dying…and the Dead!
Almost 40 years in, The Sick, The Dying…and the Dead! is as true to the Megadeth sound as 1984's Killing is My Business… and Business is Good! Even though the album lineup – Steve Di Giorgio on bass, Dirk Verbeuren on drums, Kiko Loureiro joining Dave Mustaine on lead guitar –isn't one a Megadeth fan would recognize from the '80s, the sound is unmistakable.
And indeed, this album sounds amazing. Dave Mustaine and co-producer Chris Rakestraw created a something so sonically pleasing one could almost forget all the controversies leading up to it, in particular the departure of longtime bassist, Dave Ellefson. Mustaine's characteristic riffs and Loureiro's blazing leads on tracks like "Night Stalkers," "We'll Be Back," and "Dogs of Chernobyl" make it a fun listen, and with guest vocals from Ice-T and Sammy Hagar, and a killer cover of the Dead Kennedy's "Police Truck," listeners can stay engaged to the very end.
Lamb of God, Omens
If you crave some classic thrash but also want something fresh and new, Lamb of God has you covered. From "Nevermore" and "Vanishing," which open the record with some straight rage, through to "September Song" at the end, it is nonstop pit fodder. Omens will please the old school-thrash fan as well as the younger audiences. It doesn't break any new ground, but you don't really have to innovate if you're doing what you do this well.
Korn, Requiem
Requiem is a nü-metal triumph in 2022, starting strong with "Forgotten," which is heavy, rhythmic, and catchy – exactly what we hope and expect to hear from Korn. First single "Start the Healing" solidifies their signature sound, but also shows them still advancing musically. Not bad for a band who has been doing this for 25 years. "Let the Dark Do the Rest" is a more melodious, accessible tune that is totally radio-friendly, and "Hopeless and Beaten" is on the other end of the spectrum, grinding out a more ominous tune for those who like the heavier stuff. Davis' lyrics are still dark, but we wouldn't expect any less from Korn or of an album named after a Mass for the Dead.
Meshuggah, Immutable
Meshuggah released out their first album in 1991, but they somehow keep getting better, and the music keeps getting smarter. And while many people cringe at the term "djent," it's also exactly how a good deal of Immutable sounds. While the band offers a nice break partway through with the sublime, almost hypnotic "They Move Below," Immutable is a grind in the very best possible way, moving like a freight train for an hour before soothing you with the closing track, "Past Tense." Truly a masterwork.
Dead Cross, II
Some people call Dead Cross a supergroup, which is technically correct, but they probably would prefer the label "super-villain group." For those unfamiliar, Faith No More's Mike Patton and Slayer's Dave Lombardo combined their powers with Michael Crain and Justin Pearson from Retox, and they dropped their second album a few days before Halloween 2022.
The combination of these musicians results in some heavy metal, punk and hardcore magic. This is music that is fast and relentless, and sometimes even creepy, but it never gets boring. II is smart and gets your heart pumping. "Heart Reformer" punks it up with some great lyrics (Sweat it out like it's yoga in hell / I eat shit for a living / even though it doesn't pay / Namaste) while "Strong and Wrong" and "Nightclub Canary" lean toward the hardcore, "Reign of Error" could be classified as thrash and "Ants and Dragons" defies categorization. You even get a nice little nod to Slayer in "Christian Missile Crisis." A late but truly worthy entry in the 2022 heavy pantheon.
Revocation, Netherheaven
Netherheaven is that kind of heavy that you feel in your guts. Dave Davidson's guitar work is nothing less than dazzling, as is the rest of the record. A true death-metal album, it starts off heavy as hell with "Diabolical Majesty" and runs through eight apocalyptic songs (highlights include "Nihilistic Violence" and the pulverizing "Galleries of Morbid Artistry") before ending with "Re-Crucified," featuring George "Corpsegrinder" Fisher from Cannibal Corpse and the late Trevor Strnad of the Black Dahlia Murder, to whom the album is dedicated. And for those that worship the Boston band's technically superb progressive chops, see the instrumental "The 9th Chasm." Revocation's eighth album is a home run.