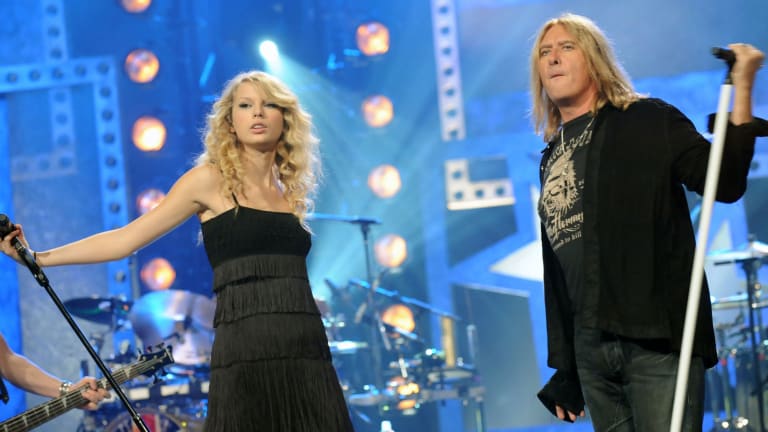 10, like, totally awesome pop-star covers of '80s hard rock classics
From Taylor Swift and Miley Cyrus to Maroon 5 and Mariah Carey, some of music's biggest mainstream acts have serious '80s love
The biggest hard-rock bands of the '80s had a strong pop sensibility, with tons of hooks and melodies to go along with all the riffs, power and attitude. In more recent decades, some of pop's top stars have, in turn, tapped into their own fondness for '80s rock. It's there visually, in the stage spectacles and flamboyant looks that pop has lifted from rockers, and also musically, via bombastic dynamics and lead-singer swagger. Sometimes pop stars go straight to the source. Below are 10 pop acts who've covered '80s hard-rock songs, either live, in the studio or both.
Taylor Swift, "Pour Some Sugar On Me"
When Taylor Swift's mom was pregnant with her in 1989, she listened to a lot of Def Leppard; as a child, Taylor became a fan, too. In 2008, at age 18, she fulfilled a lifelong dream of performing with Def Leppard. She teamed with the band for a memorable episode of CMT Crossroads, the TV show matching country acts with musicians from other genres for odd-couple live performances. The Swift/Leppard episode found them doing rockers like "Photograph" and "Hysteria" together, as well as some Swift tunes. A show-closing version of "Pour Some Sugar On Me" was the highlight. At the time, Swift was the hottest young country artist going. But she wasn't the world dominating pop-star and improved vocalist she'd become later. On "Sugar" her charisma and youthful verve combine with Leppard's sharp chops for an electrifying moment.
Shania Twain, "You Shook Me All Night Long"
Growing up in Canada, Shania Twain was already singing country songs at local bars by age eight. But as a teenager she was drawn to rock and sang in bands. Little did she know, she'd grow up to marry the man who produced some of her favorite rock music: Mutt Lange, the mastermind behind hit AC/DC and Def Leppard albums. Together in the mid '90s, Twain and Lange combined to transform her into a crossover juggernaut, a clear precursor to Taylor Swift. During Twain's 2003 TV special Up! Close and Personal, she connected the dots, with an acoustic version of AC/DC's "You Shook Me All Night Long." Backed by future Robert Plant collaborator Alison Krauss and Krauss' bluegrass band, Twain brought fun feminine energy to AC/DC's 1980 classic. She also notably changed a certain naughty line to "I wanted to run, but I was already there."
John Mayer, "Panama"
John Mayer got famous as a guitar-pop heartthrob via early 2000s hits like "Your Body Is a Wonderland." He went on to do some well-received blues-rocking and jam-banding, all while continuing to be unfairly handsome. But give the man credit – he can also bust out some legit Eddie Van Halen licks. Onstage in 2008, Mayer covered Van Halen's raucous hit "Panama," with singer David Ryan Harris handling the Diamond Dave vocals. Mayer got into character too, going shirtless and jumping around onstage while playing his guitar, a la vintage EVH. When it came time for him to nail Eddie's solo, screams from female fans nearly drowned out the shredding.
Demi Lovato, "You Give Love a Bad Name"
In 2008, former child actor Demi Lovato released a well-executed pop-rock debut album. On tour, she covered Bon Jovi's "You Give Love a Bad Name," the gold-standard of well-executed pop-rock. Just 16 then, Lovato worked the stage and vamped it up like Jon Bon Jovi used to in the band's iconic '80s music videos, her vocals a shopping-mall spin on JBJ's denim-fox persona. Lovato's backing band clearly had a ball on "You Give Love a Bad Name," and her guitarist totally nailed Richie Sambora's dazzling lead work.
P!nk, "Janie's Got a Gun"
Elite female pop singers often have impressive vocal ranges. The ability to get believably gritty can be hard to find though. Since pop is by nature often smooth and accessible music, it's just not part of the job description. P!nk, however, brings an edge to the mic. The mononymous singer tapped into that energy during her performance of Aerosmith's "Janie's Got a Gun" at the 2002 MTV Icon show honoring Bad Boys from Boston. Steven Tyler's vocal on that 1989 track, which won Aerosmith their first ever Grammy, requires dynamics galore. With Aerosmith themselves watching on from the audience, P!nk and her band met the challenge, the song's classic music video playing on a screen behind them. From his seat, Tyler grooved along in approval.
Maroon 5, "Patience"
For Halloween 2011, Maroon 5 singer Adam Levine dressed up as Use Your Illusion-era Axl Rose, sporting a biopic-worthy costume. About four years earlier, Levine did a more subtle and musical Guns N' Roses tribute, covering the band's 1988 acoustic ballad. It was a faithful arrangement, down to Rose's cowboy-whistle intro. Things got dicey later in the song though, when Levine enacted a note-for-note rendition of Slash's guitar solo using with mouth noises, a la Bobby McFerrin. Levine redeemed himself during the outro, belting Axl-esque "whoa oh" 's and the "this ti-yi-yi-yi-yi-ime" finish.
Miley Cyrus, "Every Rose Has Its Thorn"
Hannah Montana turned out to be a rock 'n' roller at heart. For her 2013 album, Can't Be Tamed, former Disney star Miley Cyrus cut a cover of Poison's "Every Rose Has Its Thorn." The album version is Auto-Tune-pop, fine for what it is, but a cold shadow of the country-melancholy that makes the Poison original so great. Cyrus' live version of "Every Rose" was much more flesh and blood. Backed by a full guitar-based band, she tore into the bridge and outro vocals, all while wearing leather pants and hanging onto the mic stand like it's 1988. In years since, Cyrus has taken her pop music to edgier places, especially visually. Her last studio album veered more toward rock, even boasting a guest vocal from Billy Idol on the song "Night Crawling." Her 2022 live album, ATTENTION, meanwhile, included a rad cover of Blondie's "Heart of Glass." If Cyrus ever cuts a whole full-on rock album, we bet it'll be bitchin'.
Carrie Underwood, "Mama, I'm Coming Home"
American Idol winner turned country star Carrie Underwood has proven she can go toe-to-toe with rock greats. She's guested onstage with the Stones and in-studio with Aerosmith. Her biggest vocal influences include Freddie Mercury and Axl Rose. This year, Rose and Underwood have sung Guns N' Roses songs together on at least three occasions. First, there was Underwood's headlining set at California's Stagecoach Festival. Then, GN'R's stadium shows in London. Recently, Underwood dropped her version of the 1991 Ozzy Osbourne hit, "Mama, I'm Coming Home." Carrie's cover is part of an Apple Music exclusive live EP. In a preview clip, she gives Ozzy's power ballad some Nashville twang.
Mariah Carey, "Bringin' On the Heartbreak"
Mariah Carey's 2002 album, Charmbracelet, included a luxe-pop cover of Def Leppard's power ballad, "Bringing' On the Heartbreak." Jane's Addiction guitarist Dave Navarro was brought in to add guitars and appear in the video. The keyboards-and-beats-heavy sound was faithful to the 1981 original's arrangement, and the vocal performance was impressively limber. But overall, the rendition was completely un-rock. It definitely didn't win Carey many, if any, new fans among Def Leppard die-hards. Except, that is, for the band itself, with both Leddpar singer Joe Elliott and guitarist Phil Collen defending Carey's version. Back then, '80s bands weren't benefiting from nostalgia nearly as much as they do now. While doing press for the band's then-current tour, Collen told one interviewer, "She's on our side, and it's an honor she's done it. Really, that's the only way we're getting played."
Sheryl Crow "Sweet Child O' Mine"
Crow's folk-rock, Rick Rubin-produced version of the Guns N' Roses smash, "Sweet Child O' Mine," appeared as a bonus track on her Grammy winning 1998 album, The Globe Sessions. Soundtracks were a big deal that decade, and Crow's "Child" was featured in the Adam Sandler comedy Big Daddy. She also performed it at Woodstock '99, the now-infamous mega-festival. The studio cover's hippie-dippy guitar fills didn't make anyone forget Slash's tasty leads on GN'R's original. But Crow's soulful vocals inhibit Axl Rose's vulnerable lyrics like a warm, safe place.