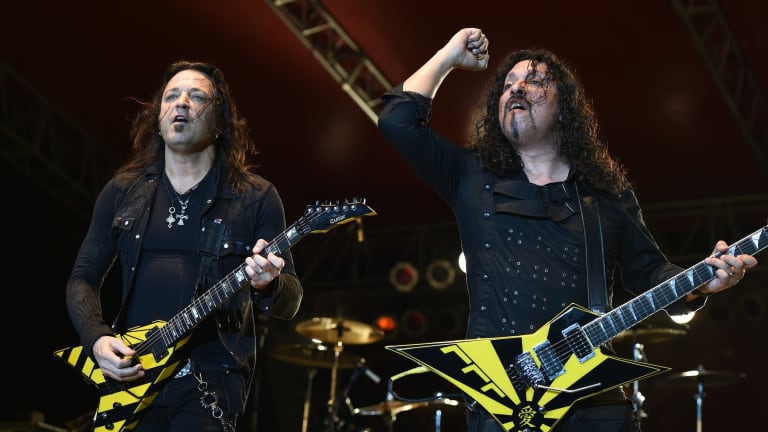 20 best hard rock albums of 2022
From Ozzy to Fozzy, Skid Row to Stryper, Slash to Scorpions and more, these are the records we cranked the most over the past 12 months
The album format – and guitar music – are both supposed to be obsolete, but nobody told 2022 that. Hard rock and heavy metal acts released some excellent long-players over the past 12 months. Although the year was commercially dominated by rap, pop and r&b artists like Bad Bunny, Blackpink and Beyoncé, a few heavy rockers scored big album chart debuts. Below are Metal Edge's picks for the 20 best albums of 2022. Turn 'em on and turn 'em up.
1. Stryper, The Final Battle
Opening with a 15-second scream from front man Michael Sweet, The Final Battle singes right away. That track, "Transgressor," sets the album's metallic tone, with Sweet's vocals channeling Kind Diamond's rock & roll damnation. On their 14th album, the Christian rock icons have forged a new holy relic.
During the sessions, Sweet (eye issues) and Stryper guitarist Oz Fox (brain surgery) were dealing with serious health challenges. The Final Battle is a wounded band biting back like a cornered rattlesnake, on tracks like "Same Old Story" and "See No Evil, Hear No Evil."
"I feel like we made our strongest album, certainly one of our strongest albums, to date," Sweet told Metal Edge during our October interview. "And that's pretty miraculous considering how we had to make it. You know, sitting in chairs and not able to move our heads properly. I'm wearing an eyepatch and trying to play guitar. It was very odd. But we got through it."
Get the album at Metal Edge's shop.
2. Ozzy Osbourne, Patient Number 9
Guest-packed albums often suck, coming off like a business plan more than a musical statement. But Ozzy's latest disc flips that spell. And it might be the beloved Black Sabbath singer's best solo platter since 1991's quadruple platinum No More Tears.
Patient Number 9 is haunting and powerful, Osbourne's ongoing health battles fueling soul-searching lyrics. Now in his mid-70s, the Prince of Darkness may not be at the height of his powers, but his unique vocals can still stir.
The liner notes read like a five-star rocker rolodex. GN'R's Duff McKagan, Metallica's Robert Trujillo, Queens of the Stone Age's Josh Homme, Pearl Jam's Mike McCready, Red Hot Chili Peppers' Chad Smith, longtime Ozzy guitar foil Zakk Wylde and late great Foo Fighters drummer Taylor Hawkins.
Producer/guitarist Andrew Watt even secured the services of two-thirds of the Yardbirds' holy guitar trinity, in the form of Eric Clapton ("One of Those Days") and Jeff Beck (the grandiose "A Thousand Shades" and spooky title track).
Debuting in the top five of the Billboard 200, Patient Number 9 reaches its musical apex when Osbourne returns to his roots. The album's top tracks, "No Escape From Now" and "Degradation Rules," feature Black Sabbath guitarist Tony Iommi's broadsword riffage. Those tunes also find Osbourne digging into his Sabbath-era trick bag. He plays "The Wizard"-style harmonica on the latter and deploys a "Planet Caravan" vocal effect on the former. The old magic endures.
Get the album at Metal Edge's shop.
INLINE
3. Slash feat. Myles Kennedy and The Conspirators, 4
The kind of album many of us wish all our favorite artists would make. Raw. Live. Instinctual. 4, Guns N' Roses guitarist Slash's fourth album with solo band The Conspirators and Alter Bridge frontman Myles Kennedy, was recorded in Nashville with outlaw-country super-producer Dave Cobb.
Opening track "The River Is Rising" boasts bolero riffs and a fretboard frying Slash solo. Kennedy's vocals soar on "Actions Speak Louder Than Words," a bellbottom boogie with a phaser guitar recalling Zep's "Nobody's Fault But Mine." Drummer Brett Fitz and bassist Todd Kerns are the rare hard-rock rhythm section that never forgets to roll. Slash's guitar snarls on "Call Off the Dogs." For the hippie heavy-metal of "Spirit Love," everyone's favorite top-hatted shredder breaks out an electric sitar.
The album's best song, and one of the best songs of the year for our money, is "Fill My World," a soulful midtempo rocker echoing GN'R's immortal "Sweet Child O' Mine." During our November interview, Kennedy said of "Fill My World," "What was interesting is when we were trying to figure out what songs are going to make the record, I think there was talk at one point that that song might not even be on the record. And I remember thinking, oh no, we've got to put that song on there. Because there's something really special about that."
Get the album at Metal Edge's shop.
4. Scorpions, Rock Believer
Listen with your eyes first to The Scorpions' Rock Believer. The album, with its saturated red photo of a model screaming through diaphanous fabric, looks straight out of the '80s, when Scorps LPs like Lovedrive and Animal Magnetism featured memorable covers.
Rock Believer's music is faithful to the packaging. The title track quilts cowbell grooves and arpeggio melancholy, with Klaus Meine's still-supple vocals gliding above. The chorus hook feels like a love letter to ever-loyal hard rock/metal fans.
This is Scorpions' first studio album with former Motörhead bruiser Mickey Dee on drums. On mystical mini-epic "Seventh Sun" Dee's kickdrum sounds as big as a pyramid. "Peacemaker" crushes like a Panzer. Guitarists Matthias Jabs and Rudolf Schenker do solar melodies on "Seventh Sun." "When You Know (Where You Come From)" closes Rock Believer with tastefully restrained acoustic balladry and stinging melancholy.
Get the album at Metal Edge's shop.
INLINE
5. Skid Row, The Gang's All Here
Behold, the spiritual link between Skid Row's self-titled 1989 debut and megaton follow-up Slave to the Grind. In Swedish singer Erik Grönwall, core Skids bassist Rachel Bolan and guitarists Dave Sabo and Scotti Hill have gone back to basics on The Gang's All Here. "Hell or High Water" leaps out of the speakers with his leather-leopard yowl. Bolan's serpentine bass detonates "Time Bomb." "Resurrected" is a heavy-sticky uppercut. The album's most gripping track? The spidery storm of "October's Song," a worthy successor to the Skids' '91 metal epic, "Wasted Time."
Get the album at Metal Edge's shop.
6. Alter Bridge, Pawns & Kings
Two decades in, Alter Bridge have never been heavier or harder. Pawns & Kings, the band's seventh studio collection, opens with guitar Mark Tremonti's tiger-tooth riffs and spellcasting stacked vocals from Myles Kennedy on "This Is War." The song "Silver Tongue" manages to be both thrashy and operatic.
Two longform tunes tentpole Pawns & Kings: the title track and "Fable of the Silent Son." But these are the result of seamless ambition not bloated self-indulgence. The album finds Alter Bridge reteaming with longtime producer Michael "Elvis" Baskette, also known for recordings with acts ranging from Mammoth WVH to Ratt to Limp Bizkit.
Pawns & Kings, which debuted at 35 on the Billboard 200 albums chart, captures a band evolving without falling on their faces. In November, Kennedy told Metal Edge, "We're very cognizant of the fact that, like, 'Okay, you've got other projects you can do to stretch out. But with these four guys, this is what you do, and you can stretch to a point, but still has to retain those elements of your DNA, so that people still know it's you."
Get the album at Metal Edge's shop.
INLINE
7. Def Leppard, Diamond Star Halos
Def Leppard and Mötley Crüe co-headlined this summer's awesome and successful "Stadium Tour," but only one of them played new songs. That would be Leppard. The resilient rockers were justifiably proud of Diamond Star Halos, which cracked the Billboard 200 top 10.
Def Leppard's 12th studio album, its title a tip-of-the-hat to glam hero Marc Bolan, found them playing to their strengths. Standout opener "Take What You Want" is equal parts pop and rock. The single "Kick" evoked populist stomps like "I Love Rock 'n' Roll." And on country-tinged ballad "This Guitar," which found Lep frontman Joe Elliott duetting with roots-music queen Alison Krauss, the band showed they're still a crossover threat … four decades after "Photograph."
Get the album at Metal Edge's shop.
8. Michael Monroe, I Live Too Fast To Die Young
It's well known '80s Sunset Strip stars copy and pasted the gypsy junkie look of Finnish combo Hanoi Rocks. Frontman Michael Monroe's new solo album proved again why those bands should've studied Hanoi's sound a little more. A guitar solo by Slash gives Monroe's I Live Too Fast To Die Young title track extra slither. Tunes like "Can't Stop Falling Apart" are bluesy without getting crusty. Goosed by Monroe's street-tough vocals, "Murder the Summer of Love" is raucous and wry. Piano ballad "Antisocialite" is a sparse gem, while new-wavey "Derelict Palace" channels classic Hanoi.
9. Queensrÿche, Digital Noise Alliance
The thinking man's classic-metal band returns. Sixteenth LP Digital Noise Alliance proves Queensrÿche are still umlaut worthy, opening with "In Extremis," a blast of Iron Maiden-like gallop. Ten years after joining the band, Todd La Torre's glass-shattering vocals still sound like he was born for the gig. Anchored by classic-era guitarist Michael Wilton and bassist Eddie Jackson, Queensrÿche do flamethrowing chug and devil's math on "Behind the Walls." The comfortably numb balladry of "Forest" should satiate "Silent Lucidity" enthusiasts.
Get the album at Metal Edge's shop.
INLINE
10. Classless Act, Welcome to the Show
For a young rock band in 2022, opportunities don't come juicier than being the Stadium Tour opening act. Classless Act were up for challenge. The brash Los Angeles quintet hit the stage early in the day, but they won many new fans. Classless Act's debut album Welcome to the Show gave further notice of the band's potential. The LP spiked '80s-informed sleaze with youth gone wild plus a microdose of '90s alt-rock. Apex cuts include: namesake opener "Classless Act," with Crüe throat Vince Neil making a silvery cameo; folk-flecked "Circles"; and peacocking "Made In Hell." In July, Classless Act frontman Derek Day told Metal Edge he was partial to the song "Haunting Love." "It's just got a cool energy," Day said. "It shows a different side of us, maybe something more vulnerable."
11. King's X, Three Sides of One
King's X should be appreciated more for being the bridge between '80s metal and the alternative-rock that reshaped the next decade. The trio's 13th album shines with Hendrix-y soul-metal ("Let It Rain") and hard-funk ("Give It Up").
Get the album at Metal Edge's shop.
12. Halestorm, Back from the Dead
Is there a better frontperson in rock right now than Lzzy Hale? Halestorm's golden goddess unleashes vocal acrobatics on the defiant title track. Key tracks on the band's Back from the Dead LP also include nose-punching "Wicked Ways," freak-flag flying "Strange Girl" and knotty "The Steeple."
Get the album at Metal Edge's shop.
13. Dorothy, Gifts from the Holy Ghost
Another gifted female rocker, Dorothy Martin, charges her namesake band's 2022 disc, Gifts from the Holy Ghost, with bluesy yet modern allure. Check Martin's towering chorus on "Rest in Peace," the power-chord sashay "A Beautiful Life" and crossroads chanter "Black Sheep."
14. Fozzy, Boombox
Be skeptical of pro wrestling legend Chris Jericho's front man skills at your own peril. Jericho's a natural-born showman and a talented singer. His band Fozzy's 2022 album Boombox jolts with pop-rock anthem "I Still Burn" and sleek headbanger "The Vulture Club." Meanwhile, "Nowhere to Run" plays like non-makeup era Paul Stanley produced by Nine Inch Nail industrialist Trent Reznor.
Get the album at Metal Edge's shop.
15. Enuff Z'Nuff, Finer Than Sin
Since their 1989 self-titled debut, Enuff Z'Nuff has brought a refreshing power-pop lift to heavy rock. With bassist Chip Z'Nuff now on the mic, the band's current lineup evokes boa-clad-Beatles on cuts like "Catastrophe" and "Intoxicated." And Stone Temple Pilots-like instrumental "Sound Check" boasts one of the best opening track names ever.
16. Raven, Leave 'Em Bleeding
The New Wave of British Heavy Metal survivors can still bring it. Tracks like "Top of the Mountain" (razor wire guitar, wild eyed vocals) and "Metal City" (battle jacket riffs, headset-mic yowling) demonstrate that Raven's Gallaghers (bassist/vocalist John, guitarist Mark) remain brothers of a feather.
17. Rammstein, Zeit
Rock that requires subtitles can be a hard sell. Unless it's delivered by Rammstein, everyone's favorite German pyro practitioners. All 11 tracks on eighth studio LP Zeit, which translates to "time," have been streamed 10 million times or more. "Dicke Titten," a cyborg of big band fanfare and slicing industro-thrash, has racked up 50 million streams. Sonically, Zeit spans from piano balladry (the title track) to sinister throb ("Zick Zack").
Get the album at Metal Edge's shop.
18. Disturbed, Divisive
Some 22 years after The Sickness, rock fans still want to get Disturbed. Divisive, the Chicago band's eighth studio album, debuted at 13 on the Billboard 200. Driven by David Draiman's intense vocals, Disturbed's new LP opens with dance-metal grooves on "Hey You." The song "Unstoppable" is aptly appellated, while the title-track scorches earth.
Get the album at Metal Edge's shop.
19. Hellacopters, Eyes of Oblivion
The Swedish garage-rockers brought bitchin' 1972 vibes to 2022. Songs on Hellacopters' Eye of Oblivion set, especially "Tin Foil Soldier" and "Reap a Hurricane," evoke windmill guitaring and muscle-car mischief.
20. The Cult, Under the Midnight Sun
The Cult has always put the go in goth. On the British band's 11th album, legendary front man/guitar duo Ian Astbury and Billy Duffy continue their moody mojo. The song "Mirror" lets Astbury lizard-king as Duffy clangs canyon chords. The cinematic "Give Me Mercy" is strown with evocative couplets and guitar shapes. Fans of classic Cult LPs like Electric and Sonic Temple will groove on the primal grind of "A Cut Inside."