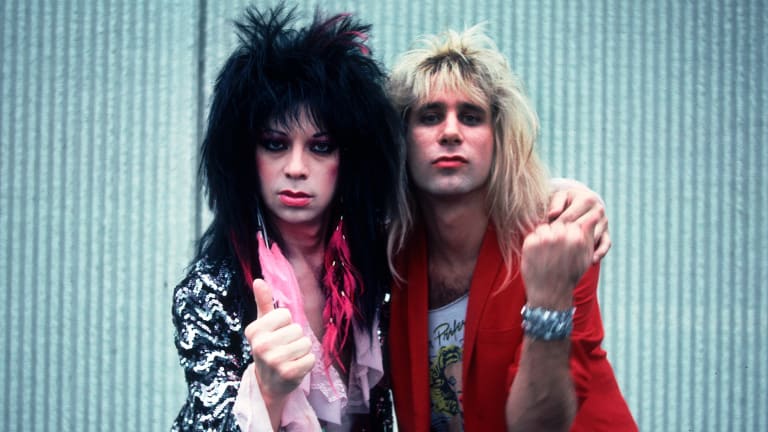 7 great but seriously overlooked albums from the 1980s
How many have you heard?
When it comes to popular music in the 1980s, few styles dominated the airways and MTV like hard rock. But for every multi-platinum success story like Guns N' Roses, Mötley Crüe, Poison, Bon Jovi, there are hundreds of bands releasing quality product, but without the same sort of mainstream penetration. To that point, when we asked Metal Edge readers to offer their picks for awesome-but-overlooked '80s rock albums, we received a lot of responses.
To be sure, everyone's definition of "overlooked" varies, but in the court of public opinion, these are the seven that, while receiving varying degrees of attention during their day, clearly deserved more love than they got. 
One fact that became abundantly clear when we tallied the results: your picks were overwhelming weighted toward albums that came out in 1989. This may have something to do with the fact that, by '89, there were so many hard-rock and metal acts on the scene that it was downright impossible for all of them to reach all the ears they should have. Or maybe 1989 was just a particularly killer year for rock. Regardless, five albums released in the last year of the decade wound up on this list, and there were tons more in competition. Among them? [big breath] Vain's No Respect, D.A.D.'s No Fuel Left for the Pilgrims, Lord Tracy's Deaf Gods of Babylon, Cats in Boots' Kicked & Klawed, Law and Order's Guilty of Innocence, Lillian Axe's Love + War and Pretty Boy Floyd's Leather Boyz with Electric Toyz and self-titled releases from Blue Murder, Junkyard, Shotgun Messiah and Babylon A.D.
As for the records that did make the list? Read on…
Sea Hags – Sea Hags (1989)
Led by singer and guitarist Ron Yocom, Sea Hags oozed out of San Francisco in the mid '80s with plenty of support behind them. Metallica's Kirk Hammett co-produced their first demo, Jetboy's Billy Rowe got them their first gig in L.A.,  and the band's 1989 self-titled debut was helmed by Mike Clink, fresh off his work on Guns N' Roses' Appetite for Destruction. To be sure, the Sea Hags shared some common ground with the Gunners in terms of swagger and sonics, plying a grimy, bloozy sound that was more denim-and-leather sleaze than spandex-and-Aqua-Net sparkle. Leadoff track "Half the Way Valley" is a cult classic cut of the era, powered by an unrelenting riff, hip-shimmying groove and Yocom's menacing vocal, while "Doghouse," "Back to the Grind" and closer "Under the Night Stars" are equally enticing and ferocious. 
Despite the Sea Hags' early promise, the band ultimately fell apart less than a year later in a haze of drug abuse and management issues. Sadly, in 1991 bassist Chris Schlosshardt passed away after a bout with pneumonia. Yocom restarted the band in 2007, but it was not to be; the Sea Hags disappeared for good soon after.
Y&T – Black Tiger (1982)
By the time Y&T emerged as a mainstream force they had spent years as a surefire live act on the West Coast, first as Yesterday and Today, and then with their shortened moniker. Their 1981 effort, Earthshaker, was their first as Y&T and their first with American major label A&M. It's also considered a seminal Y&T record. The follow-up, Black Tiger, not so much. Despite production from Max Norman and a solid set of songs, the album failed to capitalize on Earthshaker's commercial strides. 
Nevertheless, Black Tiger is packed with insanely catchy pop-laced hard rockers like "Don't Wanna Lose" and "Somebody for Me," as well as scorchers like the live mainstay "Open Fire" and the title track. It also set the stage for the breakout success of the band's next trio of albums. And while it's not as easily recalled, Black Tiger is clearly, according to Metal Edge readers, an album that deserves to be mentioned in the same breath as its more successful brethren.
Shark Island – Law of the Order (1989)
Shark Island may have seemed like just another L.A. act jumping on the glam-rock bandwagon when Epic released their debut album, Law of the Order, in 1989. But the reality was that the band, led by enigmatic front man Richard Black, had already been a Sunset Strip staple for close to a decade. Beginning life as the Sharks, they had shared stages with the likes of Motley Crue, Quiet Riot and others, served as the house band at Gazzari's and had an album produced by Mr. "Rock and Roll, Hoochie Koo" himself, Rick Derringer. Most famously, Black has been credited with influencing (or, according to some, originating) Axl Rose's signature "serpentine" stage dance moves. 
When Shark Island finally got their shot on the big stage in 1989, it was with a rock-solid album that displayed a developed sense of songcraft and melody. But perhaps due to the glut of glam bands jamming MTV and radio at the time, neither Law of the Order nor the first single, "Paris Calling," managed to break through. The band soon parted ways, with Richard Black quickly reemerging alongside Tracii Guns, Michael Schenker and others in the supergroup Contraband. Today Black leads a reformed Shark Island, which released a new album, Bloodline 2.020, in 2020.
Tora Tora – Surprise Attack (1989)
Another band that received solid MTV support but wasn't able to crossover into radio or big-venue success, Tora Tora (named for the Van Halen song) rocketed out of Memphis with their debut, Surprise Attack. The band's first single, "Walkin' Shoes," was a full-on blues-rocker that set the act up as a unit with more down-home roots than many of their flashier Sunset Strip-influenced contemporaries. But the album's follow-up single, the straight-down-the-middle rock anthem, "Guilty," failed to capitalize on their early buzz. What's more, the power-ballad third single, "Phantom Rider" never took hold, a cause for concern during a period when the big ballad was almost a sure bet. Nevertheless, "Phantom Rider" remains one of the best examples of the form during that time – a grandiose, almost proggy epic that recalled "Dream On" and "Stairway to Heaven" more than it did the often syrupy and overly-sentimental ballads being produced by many of their peers. 
Tora Tora's follow-up album, 1992's Wild America was equally great, but by that time mainstream music had moved on to grungier pastures, and the album fared even worse  commercially. Today, Tora Tora still records and rocks out on the road.
Vinnie Vincent Invasion – All Systems Go (1988)
If an alien life force landed on Earth and requested one perfect album of '80s shred-guitar excess, you could offer that extraterrestrial, well, a whole lot of examples. But high on that list would undoubtedly be something by the Vinnie Vincent Invasion. To be sure, VVI's 1986 self-titled debut was the more insane guitar flex, and it's also, by extension, the record that gets most of the attention from Vinnie fans. All Systems Go, by comparison, is way overlooked – except, clearly, by Metal Edge readers. 
And while it is the more "understated" Vinnie Vincent record, it's still completely bonkers compared to most anything else on offer at the time or ever. Check Vinnie's brain-scrambling leads on tracks like "Freedom Rock" and "Burn," for starters (an even wilder live performance of "Burn" can be seen here). What's more, new singer Mark Slaughter goes toe-to-toe with Vinnie's guitar for sheer excessiveness, his sky-high vocals as much a marvel as VV's fleet fingers.
Beyond the speedy soloing, there's also a uncharacteristically reigned-in take on the "The Star-Spangled Banner," an ultra-melodic, almost-hit power ballad in the form of "Love Kills," and some pop stylings on "Ecstasy." And while Vinnie gives drummer Bobby Rock a moment to shine on the "Moby Dick"-like penultimate track, "The Meltdown," he takes the last word for himself, wrapping up the proceedings with a four-minute unaccompanied acoustic classical guitar piece titled, bizarrely, "Ya Know – I'm Pretty Shot." 
Dangerous Toys – Dangerous Toys (1989)
Ask anyone who was there at the time: Dangerous Toys were poised to be one of 1989's breakout hard rock bands. And to be sure, their debut single, "Teas'n Pleas'n," was one of the most exciting and downright raucous tunes of the year, a high-energy, shit-kickin', slightly bawdy, slightly ridiculous, completely over-the-top southern-rocking earworm. And they followed it up with the even catchier and more MTV-friendly mid-tempo anthem, "Scared." Additionally, the band came complete with plenty of cred: singer Jason McMaster had previously played with Austin cult prog-metallers Watchtower, while guitarist Scott Dalhover could both shred and boogie with the best of 'em.
If anything, Dangerous Toys was possibly hampered by the fact that they did too much, and therefore didn't quite fit in anywhere. "Scared" was almost a ballad, but not quite, while "Teas'n Pleas'n" flirted with southern rock, but also exhibited glam-metal flash and cycled through three distinct tempo changes and feels in just over three minutes. Elsewhere on the record they tried out full-on hair-metal ("Queen of the Nile") and also had a song about boners ("Sportin' a Woody") and another about murder-for-hire ("Bones in the Gutter"). Great tunes, all of 'em, but, as it turns out, not exactly a recipe for multi-platinum success in the fully-corporatized late '80s rock world. Dangerous Toys pushed through for one more album, 1991's Hellacious Acres, before splitting with Columbia Records and going the indie route ever since.
Badlands – Badlands (1989)
On paper, Badlands seemed to have it all. A "supergroup" centered around guitar hero Jake E. Lee, fresh off a two-album stint with Ozzy Osbourne, the band was rounded out by former Black Sabbath drummer Eric Singer, veteran bassist Greg Chaisson and another former Sabbath man, the leather-lunged Ray Gillen, at the helm. The foursome had major muscle behind them in the form of Atlantic Records, and a drop-dead stunning self-titled debut that, similar to Guns N' Roses and, before them, Led Zeppelin, combined bluesy riffs and rhythms with feral vocal howls and plenty of guitar flash. 
But while Badlands had some MTV success out of the gate with the Zeppelin-y power ballad "Winter's Call" and the catchy, up-tempo rocker "Dreams in the Dark," the album itself underperformed. By the follow-up, 1991's Voodoo Highway, Singer had left to join Kiss; escalating tensions between Gillen and Lee, meanwhile, led to battles that spilled out in the press and onstage. Behind the scenes, meanwhile, Gillen was dealing with serious health and personal issues after being diagnosed with HIV following the release of the first album. He split with Badlands in 1992, and succumbed to an AIDS-related illness a year later. Gillen's death effectively ended any chance of a Badlands reunion, though an album of demos, Dusk, was released in 1998. In the years since,  controversial accusations have surfaced about Gillen's activities during his illness, while Singer continues to serve in Kiss. Jake E. Lee, after many years out of the spotlight, reemerged several years ago with a new act, Red Dragon Cartel. Their most recent album, Patina, was released in 2018.