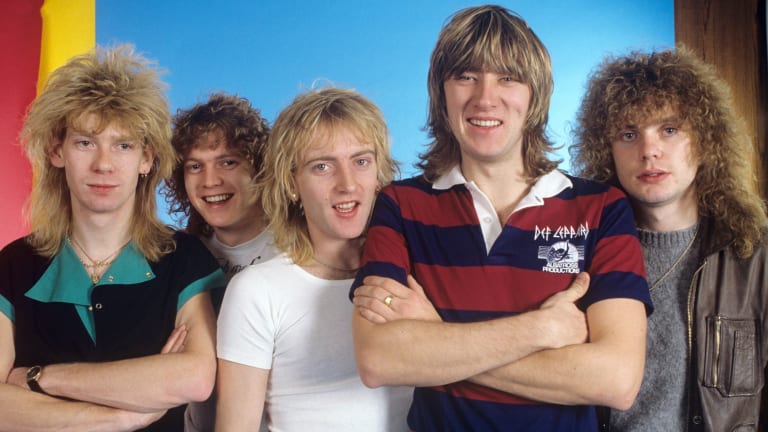 8 explosive facts about Def Leppard's 'Pyromania'
The meaning behind 'Gunter Glieben Glauten Globen,' how the album cover came to be, and just who, exactly, is Booker T. Boffin
Enlisting Robert John "Mutt" Lange for their 1981 sophomore effort High 'n' Dry proved to be the right move for Def Leppard. But the producer known for AC/DC's landmark Back in Black record took it to another level when it came time to record the follow up. Released on January 20, 1983, Pyromania quickly became a triumph for the U.K. fivesome, and it also set the standard for which all future rock albums in the decade would be measured.
It wasn't the easiest journey to complete the album, with tales of going way over budget, the firing of guitarist Pete Willis and bringing in Phil Collen to replace him, and the toll Lange's take-after-take mentality had on the band members and assorted studio personnel. But it paid off dividends.
The meticulous nature of Lange's objective, placing a pop sheen over riffing guitars and Joe Elliott's powerhouse vocals, had never been done to this extent on a hard rock record, and it jettisoned Pyromania into the mainstream. Def Leppard were suddenly being spoken about in the same sentences as heartthrobs like Duran Duran and megastars like Michael Jackson. They were all over MTV, radio and magazines. Venues were packed to the rafters with fans on the ensuing tour who wanted to see "Rock of Ages" and "Photograph" performed live. In short: Lange's vision worked.
"I think the great thing with Mutt, and what was so refreshing, was that all of a sudden we had this incredibly artistic and inspirational way of going about things," Collen told Metal Edge recently. "To me it was just amazing."
Calling the album a masterpiece is hardly a stretch, especially in the hard rock genre. And along with any work of its magnitude and influence, there are many events surrounding it that are forgotten about, lost to the passage of time or simply considered lore. Below, we look at eight of the most explosive details behind Pyromania, from "Gunter Glieben Glauten Globen" to sampled drums to U.S. Senate hearings.
1. Thriller strikes again!
Behind the smash "Photograph" and the just-released "Rock of Ages" single, Def Leppard were primed to take the top spot on the Billboard 200 in May 1983, where they had been hovering in the Top 10 since mid-March. Alas, like so many other challengers in 1983 and beyond, Pyromania just couldn't topple Thriller and sat looking upward at No. 2.
The Michael Jackson bestseller, which went on to spend a record 37 weeks at No. 1, held off Pyromania for two weeks before falling to the No. 4 spot behind the soundtrack to the film Flashdance and Men at Work's Cargo. It started moving up again in late June, when Flashdance pulled into the pole position, but stalled at No. 3 – once more behind Thriller. It spent the rest of the summer stuck at No. 4 and, in the fall of 1983, finally dropped out of the Top 10 for good.
Failing to reach No. 1 was hardly worth crying about, as Pyromania was ultimately certified Diamond, according to the RIAA, selling 10 million copies in the United States alone. All three singles from the LP landed in the Hot 100, with "Photograph" peaking at No. 12, "Rock of Ages" at No. 16 and "Foolin'" at No. 28.
2. "There are no real drums"
Missing in the inspiring story of how Rick Allen overcame the devastating 1984 car accident where he lost his arm only to return to the kit 18 months later, is that he hadn't really played drums on a Def Leppard studio album since High 'n' Dry in 1981. Due to producer Robert John "Mutt" Lange's near obsessive desire for perfection, he decided to use a Fairlight CMI sampler for all of the drum parts on Pyromania – except for the cymbals.
"There are no real drums," album engineer Mike Shipley revealed in a 2013 interview. "The cymbals are played, but the bass drum, snare, and toms are all machine. We had all kinds of drums in there, and I sampled them into the Fairlight and detuned them."
During his interview with Metal Edge, Phil Collen confirmed the account.
"We played to a grid and [Allen] played over that," the guitarist said. "So he played all the cymbals live."
3. Phil Collen didn't know he was in the band
Speaking of Collen, he didn't join in the recording of the album until late in the Pyromania sessions, and thought he was just helping out. The previous year, Joe Elliott rang him up while on tour in support of High 'n' Dry and asked him to learn a dozen or so songs because, "it's not so going so great" with Pete Willis. Things got smoothed out then, but when Elliott called next to see if Collen could assist in the studio, Willis had been fired. But he was never officially asked to be in the band.
"I said, 'Yeah, sure,'" Collen told Sweetwater. "So I come down, I'm just playing and playing some more, singing, playing some more – all the fun stuff like scrapes, and leads, solos, and power chords and [thinking], 'This is great!' Then we're on tour. It really went that quick, and it was, 'Oh, ok, well, I guess I'm in the band.' No one had asked me, but we went on tour and we didn't really know what was gonna to happen."
4. The album cover was meant to "redefine" rock 'n' roll
Def Leppard manager Peter Mensch reached out to Andie Airfix with the intent to do something special for the Pyromania album art. He told the designer the group were "not your average heavy rock band" and therefore didn't want an LP cover featuring "women riding motorbikes" or "fire-breathing monsters." The idea was to come up with a cover which would "redefine" the image of genre.
"What I had in my head, as an image, was something…[the word] 'pyromania' was obviously a starting point, so we have to have fire, we have to have flames," Airfix told Inside Heavy. "I just tried to think of the biggest scale of that kind of power. So the burning building was a kind of starting point, but it had to become much more than that...We wanted it to be slightly futuristic."
5. Pyromania helped kick off the PMRC Senate hearings
The 1985 Parents Music Resource Center Senate hearings over objectionable lyrics and themes in music are usually remembered for testimonies by the likes of Dee Snider and Frank Zappa. Yet when U.S. senator Paula Hawkins kicked off the litany of complaints from the committee formed by the so-called "Washington Wives," she started with album artwork – Pyromania included.
"Today we're raising the question, 'How far should society go to keep young children from being exposed to images and words which may run counter to parent's values and beliefs in decency,' " Hawkins began, then referencing the mid-50s controversy over Elvis Presley shaking his hips on television. "Much has changed since Elvis [and] seemingly innocent times. Subtleties, suggestions and innuendo have given way to overt expressions and descriptions of often violent sexual acts, drug taking and flirtations with the occult. The record album covers to me are self-explanatory."
Hawkins then held a poster-sized blowup of the single to W.A.S.P.'s "Animal (F**k Like a Beast)", put it down and lifted up equally enlarged Pyromania album cover artwork.
"Pyromania," she said smugly while holding it aloft. "No question. Burn a building. Burn, burn, burn."
While there was no direct fallout due to the PMRC hearings, Def Leppard did find themselves in the crosshairs of the committee for another reason. "High 'n' Dry (Saturday Night)," from the High 'n' Dry album, made the list of the "Filthy Fifteen," songs that had objectionable content, for its perceived references to drug and alcohol use.
6. Joe Elliott's iconic Union Jack shirt was a last-minute purchase
MTV played the music video for Pyromania's lead single, "Photograph," seemingly on endless repeat. Capturing the energy of the band, the classic riff of the song and earworm chorus, it was made for the channel. One of the elements of the clip which stood out most was front man Joe Elliott's sleeveless t-shirt depicting the flag of the United Kingdom, which he had picked up just prior to filming for just a few dollars.
"The day before the shoot, I had £25 in my pocket, and I went down Kings Road in London to get some clothes," the singer said in the book I Want My MTV: The Uncensored Story of the Music Video Revolution. "I found a pair of black pleather trousers that were too short by about four inches, so I bought them, and some leg warmers, which I'd seen in the TV show Fame. When I was done buying the pants and the effeminate leggings, I had £8 left. I walked past a punk rock shop and they had a red-white-and-blue Union Jack shirt in the window for £7.99. It was all I could afford, and it was loud. After that video, the shirt became so iconic that we sold almost 100,000 of them on tour that summer."
7. Thomas Dolby was "Booker T. Boffin"
At the time of Pyromania's release, Thomas Dolby was riding high on the success of the quirky new wave hit "She Blinded Me with Science." He was also an in-demand session musician who had worked with everyone from Foreigner to Thompson Twins, and Mutt Lange brought him in not just to play keyboards but help give Pyromania a more robust sound.
"I was working only with Mutt – I barely saw the band," Dolby told Songfacts. "It was a very manicured sound for a rock record, and a lot of what Mutt wanted me to do was double the guitars and make them creamier and thicker. By that time my name was known as a solo artist and I felt it might be a bit confusing to people to see my name on a rock record like that. And so it was actually Mutt that picked up a new moniker for me, which was Booker T. Boffin. My 15-year-old son has a quadruple platinum album on the wall above him credited for keyboards on Pyromania for Booker T. Boffin."
The nickname had help from manager Peter Mensch, who said, "Mutt used to call Dolby 'Book-A-Boffin,' as in 'rent-a-boffin.' So I took to calling him Booker T. Boffin, as in Booker T. and the MGs. And that's how he got credited on the album."
8. "Gunter, Glieben, Glauten, Globen" means…
Nothing. Sadly, it's not some secret runic translation or culled from a long dead language. Rick Allen confirmed the Germanic-sounding introduction to "Rock of Ages" – which he speaks into the mic each show prior to the song – is a nonsense phrase that came out of boredom.
"A lot of people always ask me what 'Gunter Glieben Glauten Globen' actually means," Rick Allen said in a 2018 video tweeted by the official Def Leppard account. "It was actually Mutt Lange who came up with that. He was gettin' so fed up of saying 'one, two, three, four' or whenever we counted in. He wanted to inject a bit of humor in there…It was a great way to break the monotony when we were in the studio."