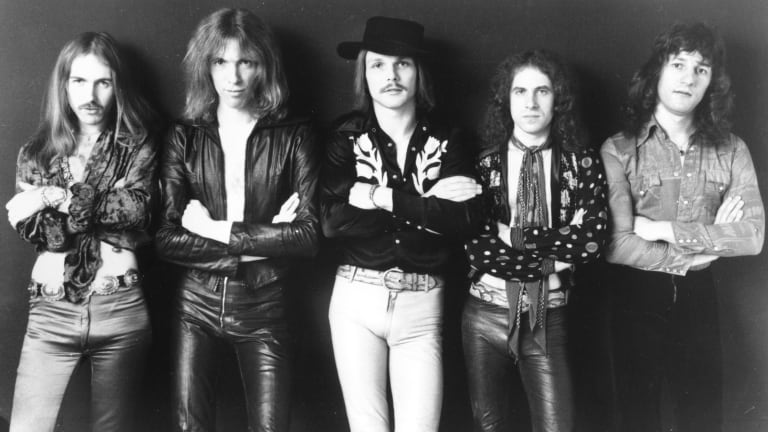 Before the 'Hurricane': 8 Scorpions songs you might not know – but should
Scorpions are best known for hits like 'Rock You Like a Hurricane' and 'Wind of Change.' But as Rudolf Schenker points out, their '70s work deserves a listen as well
For the past four decades, Scorpions have been one of the biggest bands in hard rock and heavy metal, selling millions of albums and headlining arenas while racking up huge hits like the straightforward riff rocker "Rock You Like a Hurricane" and the swelling power ballad "Wind of Change."
But by the time the band achieved any substantial success on these shores, they had already been playing together for more than a decade, releasing albums throughout the '70s that brought them success in their native Germany, as well as Japan and other parts of Europe, but that never quite broke through in the U.S. This was partly due to the fact that the group didn't have very good distribution in this country, as well as that they did not manage to even tour here until the end of that decade. But another factor is that their sound in the Seventies was a bit too unusual, even in the metal world, for widespread consumption, mixing heavy riffs with elements of krautrock, psychedelia, classical music and trippy, Hendrix-y lead playing (courtesy of virtuosic guitarist Uli Jon Roth), not to mention a sometimes absurdist German sensibility.
Explains guitarist Rudolf Schenker, who along with singer Klaus Meine is one of two original members still playing in the band, "We wrote this music in a different way than American bands, who were more inspired by the blues, or English bands, who were very much inspired by American rock and roll and also by the blues. So this gave a different kind of vibe to the Scorpions music."
The result was a sound that helped to inspired some of America's biggest acts—says Rudolf, "When we played Monsters of Rock with Metallica in the '80s, Kirk Hammett and James Hetfield told me how much they were influenced by our music, and by Uli Jon Roth, by [original Scorpions guitarist and Rudolf's brother] Michael Schenker, and by me"—but that has also been eclipsed by the Scorpions' more MTV-friendly '80s and '90s approach. In fact, this early period of the band is almost completely ignored even at their own concerts these days. But there is plenty of great Scorpions music to be found in the years before they began rocking American audiences like a hurricane. AS the band prepares to release its newest – and 19th – studio album, Rock Believer, Rudolf Schenker tells us some of his favorites.
"I'm Goin' Mad" (Lonesome Crow, 1972)
This is the first song on our first album, Lonesome Crow. This was us searching for our style. When we started up, we were playing cover versions of Led Zeppelin and Black Sabbath and the Pretty Things and the Rolling Stones and things like this. But when we started to do our own songs we were very much influenced by German krautrock…which we didn't like! But somehow it touched us a little bit. Because we thought that when we went straight rock we were maybe too commercial. "I'm Goin' Mad" was a kind of session song which somebody started playing a rhythm and Klaus started singing and then a song came. I think that the rhythm came first and then Klaus start to sing, Ahhhh, ahhhh…this kind of thing. The whole Lonesome Crow album was made in seven days—six days of recording, one day of mixing. We did it with Conny Plank, who was a very famous producer in Germany who did Kraftwerk and Neu! and this kind of krautrock. He forced us to be as crazy as possible. And this was the result.
"Speedy's Coming" (Fly to the Rainbow, 1974)
"Speedy's Coming" is actually me. Back then I was talking so fast and I was always on the run, always here and there and doing something. So for a short time they called me Speedy. And the guitars, Uli Jon Roth played this kind of wheee-woww kind of thing, which fit perfectly. And the song really caught the ear of people because of that combination of rocking with the Jimi Hendrix/whammy bar type of guitar playing. I remember also a story about this song with Van Halen. Van Halen was a special guest for Black Sabbath on their tour in 1978. And I tell you one thing, by then my brother Michael, who was living in Los Angeles, he had called me already and said, "Rudolf, you guys have to come here. It's unbelievable. There is one band called Van Halen and they're playing around Los Angeles and they're playing your stuff, like 'Catch Your Train' and 'Speedy's Coming.' " And I said, "Oh, interesting." So then Klaus and I went to this Black Sabbath concert in Hamburg. And after Van Halen played their support set, there was Eddie jumping over the seats and he came to Klaus and me. He said, "Hey, you guys! Come backstage!" So we went backstage, and David Lee Roth is singing, "Speedy's coming!!!" You know? And we end up having dinner together in a German restaurant. We celebrated David Lee Roth's birthday, with cake in the face and everything. And that's my story about "Speedy's Coming."
"Dark Lady" (In Trance, 1975)
In the Seventies we were a kind of very interesting combination of the Schenker/Meine style of composing and the style of Uli Jon Roth, who was very much inspired by Jimi Hendrix. Whereas Klaus and I, we already were writing very much in a Scorpions style. So when Uli played through our songs, the combination was very interesting. When Uli played his own songs it was very much, let's say, like Jimi Hendrix. Uli wrote this song, and so there is very much a Jimi Hendrix vibe. It is a very good song though.
"In Trance" (In Trance, 1975)
"In Trance" is a very interesting song. It was composed in a church, because we were booked into this church in Liege, in Belgium, which became a concert hall. And the atmosphere was very, very, very special. I had this idea about this song, and I was playing it for Uli. Uli wasn't so much convinced at first, but then when Klaus started singing, the vibe of the church also came into the whole picture. Then everything got going, and out of that came "In Trance." It was inspiring.
"Catch Your Train" (Virgin Killer, 1976)
This is one song I like very much. I remember playing this song to Uli Jon Roth, and I remember especially playing him the solo part, which was based on the rhythm. Uli said, "Whoa, what is this? It is crazy! I can't play anything to it!" I said to him, "Look! Try to do it!" And he said, "Okay, I'll try it." And then somehow he came back with this fantastic solo. It fit perfectly to the song. And it turns out it was one of the favorite solos of Eddie Van Halen. So I love this song because it's a fantastic rhythm, it's a very good vocal for Klaus, and it's a very good part for Uli Jon Roth to really present his amazing kind of talent of playing lead guitar.
"Pictured Life" (Virgin Killer, 1976)
In those days I was very much waking up, no breakfast, immediately going to my guitar and then meditating, composing, recording and trying to get ideas on the tape. And one of these ideas was "Pictured Life." I brought that straight to the band and in this case Klaus or Uli came to me and said, "Oh, what is this?" I played it for them and Uli immediately picked up his guitar and tried to add something. One thing that was a very important part of the whole transformation of the Scorpions at this time was bringing in Dieter Dierks as a producer. Because he had the same kind of idea of the music that we had. Maybe he was a little bit more extreme, especially in the vocals. Because Klaus' voice was a very nice voice. But Dieter knew it also had to be interesting and powerful and full of attitude. In the case of "Pictured Life," he brought Klaus very much to his highest point, where the voice starts bringing noise to your ears. That was the idea. Especially with all the harmonies at the end. They're very dirty and very edgy.
"We'll Burn the Sky" (Taken By Force, 1977)
At this time Uli had already mentioned that he would leave the Scorpions. He was living in England with Monika Dannemann, the last girlfriend of Jimi Hendrix, and he came one Sunday morning to me and he said, "Look, I want to talk to you." He said, "Rudolf, I want to leave the band." I said, "Yeah, okay." Later Uli told me that he was very surprised that I didn't try to convince him to stay with the Scorpions. But I was watching him after he was with Monika and I knew there was no chance of him staying longer because he was burning…not the sky, but he was burning to really do his own stuff. So, okay, that was fine. But the album Taken By Force we convinced him to do, and he did a very good job on it. "We'll Burn the Sky," the music was written by me, and it's a good song because it has that nice intro, and then the verses have a very slow kind of feeling, and then it goes into something much louder. It has different rhythm changes which really forced Uli to write great lead stuff. And then the lyrics are by Monika, and she was writing about Jimi Hendrix.
"The Sails of Charon" (Taken By Force, 1977)
Uli, he was into flamenco music, he was into classical music, and then he had the ability to turn it all into rock music. It was a great thing, because he was playing the guitar in rock music different than anybody else. It is from Uli's last album with us, and I think it was the highest point he could go when he was in the Scorpions. This is a very, very outstanding song.