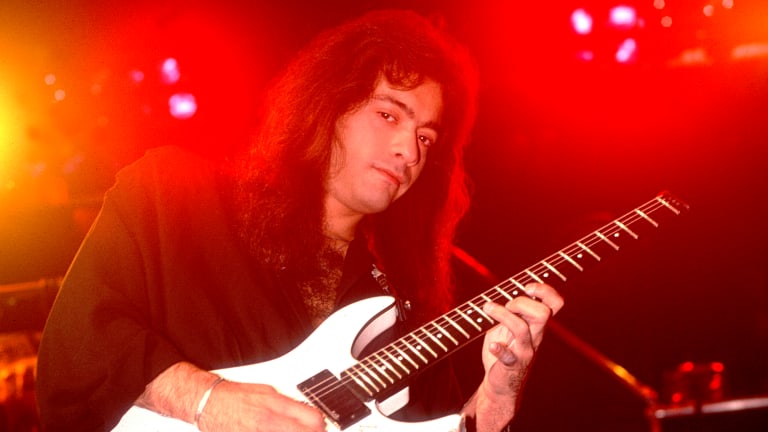 Fan Poll: 5 best '80s hard-rock guitar solos
Number one is 'frighteningly' awesome
Let's face it – attempting to pick a favorite '80s hard-rock guitar solo is no easy task. Because the '80s were literally the era of shit-hot hard-rock guitar solos. So much so that we'd even venture to ask: if a hard-rock song in the '80s didn't include a guitar solo, was it even a song at all? Who knows, and who cares. Because one thing's for sure – it likely wasn't a song worth listening to. 
But despite the wealth of shreddy goodies to choose from, when it came to singling out the best of the best Metal Edge's readers proved more than up to the challenge. And to be sure, all the big names were in contention, from Yngwie, Slash and Vai to Zakk, Warren DeMartini and Nuno Bettencourt. There was plenty of love for tandems like Adrian Smith and Dave Murray, Glenn Tipton and K.K. Downing and Rudolf Schenker and Matthias Jabs, and also a healthy amount of votes for players on the heavier end of the spectrum (Kirk Hammett) and the relatively lighter side (Prince). Solos that almost made the cut? Jake E. Lee for "Bark at the Moon." Brad Gillis and Jeff Watson for "Don't Tell Me You Love Me." Nuno for "Play With Me." Warren for "Lay It Down." Slash for "Sweet Child O' Mine." Vivian Campbell for "Rainbow in the Dark." There were some ballad contenders, among them Scotti Hill for "I Remember You," Mick Mars for "Home Sweet Home," C.C. DeVille for "Life Goes On" and Richie Sambora for "Wanted Dead or Alive." There were even a surprising number of votes for Cliff Burton for "(Anesthesia) Pulling Teeth," but, hey, a bass is still technically a guitar… 
But despite the heavy competition, the five on this list proved hard to beat. Get ready, get shreddy... and go check 'em out!
5. Reb Beach, "Headed for a Heartbreak" (Winger, Winger, 1988)
Winger have taken more than their fair share of hits over the years for being supposed hair-metal lightweights (see: Stewart on Beavis and Butt-Head; see also: Metallica's "Noting Else Matters" video). But the fact remains that from the top down, the dudes in the band could play. And no doubt, the group's 1988 debut served to introduce a new guitar star to the world in Reb Beach, whose ridiculously advanced chops, as well as years spent as a studio rat and hired gun for artists ranging from the Bee Gees to Chaka Khan to Fiona and Twisted Sister, made it so he arrived on the scene fully formed and ready to rock. And rock he did on Winger… except on the album-closing hit ballad, that is, where he was given an extended leash – almost the entire second half of the song, in fact – to do his more melodic thing. He starts out slow with some gently moaning volume swells, and then gradually piles on the speed and the technique until the solo erupts in a breathtaking, almost fusion-y six-string explosion. As Reb recalled in Nothin' But a Good Time, " 'Headed for a Heartbreak' was the one that definitely showed the other musicians that I was a good musician. Players of all ilks would come up and go, 'Man, that "Headed for a Heartbreak" solo is just smokin'!' "
4. Vito Bratta, "Wait" (White Lion, Pride , 1987)
There's an old saying that a great guitar solo should function as its own mini-song within a song. Whoever came up with that must have just listened to Vito Bratta's lead in "Wait." In just 16 bars, Bratta unleashes a six-string symphony that sounds at once painstakingly crafted and also as if it just flowed effortlessly from his fingers. The level of technique here is truly awesome, with Vito spending most of the time with both hands on the fretboard – not quite tapping in traditional EVH style, but more as a means of playing the guitar like a piano. He unspools long curlicues of notes punctuated by tapped tones, artificial harmonics and all manner of other sonic adornments. Throughout, his touch is incredibly light, and his playing exceedingly clean and refined. It's a truly awe-inspiring performance, and in large part the reason that, roughly three decades after he walked away from the music industry, Bratta is held in almost mythic regard.
3. Randy Rhoads, "Over the Mountain" (Ozzy Osbourne, Diary of a Madman, 1982)
Whenever Randy Rhoads' name came up in this poll, it was usually as part of the response, "Anything by Randy Rhoads." And while it's true that a case could be made for pretty much any Rhoads solo to appear on this list, two songs stood out from the pack in terms of votes. One was "Mr. Crowley," and the other is the song that came in third in this poll: "Over the Mountain." It may not be Rhoads' most famous solo, it's a worthy (and, arguably, correct) choice. Indeed, it's one of Rhoads' most expressive solos, with phrases constructed of long notes alternated with speedy, precision-picked classical lines, and capped by a show-stopping final passage in which Randy wrangles his whammy bar into submission, approximating the sound of, perhaps, a flock of birds flying over a mountain. One of the best, from one of the best.
2. Eddie Van Halen "Hot for Teacher" (Van Halen, 1984, 1984)
Yes, yes, there were plenty of votes for "Eruption," but remember – that was the '70s. When it comes to '80s VH, your choice was overwhelmingly "Hot for Teacher." And who could argue? If anyone wanted to point out just what it is about Eddie Van Halen that makes him stand head and shoulders above all peers, competitors and imitators, "Teacher" is as good an example as any. Because it ain't just about speed and pyrotechnics. It's also phrasing, tempo, note choice, rhythm, groove, dynamics, whimsy and a million other seemingly imperceptible but essential ingredients. And from the opening tapping salvo to the exhilarating, tension-building middle solo to the mock-grandiose (but also actually grandiose) coda, in which Eddie wraps the whole insane song up in a six-string bow, "Teacher" is a one-of-a-kind white-knuckled guitar ride. And, yeah, there's a shit-ton of speed and pyrotechnics to boot. All hail King Edward.
1. George Lynch, "Mr. Scary" (Dokken, Back for the Attack, 1987)
For the second week in a row Dokken tops our reader's poll. This one, however, is less of a surprise. To be sure, there was plenty of Dokken near the top of the vote-getting list – "Kiss of Death," "Tooth and Nail" and "In My Dreams," to name three – but in the end there was one that stood head and shoulders above not just all other Dokken songs, but all songs of the era, according to you, the readers. And really, it's hardly a surprise that "Mr. Scary" took top honors. For many of us, George Lynch is the premiere '80s shred demon, and why settle for just 16 or 32 bars of Lynch when you can have a whole freakin' song? And what a song it is. A tour de force of instrumental guitar shred, "Mr. Scary" is jam-packed with not only insane soloing, but seriously ferocious riffs and rhythm work as well. From the opening razor-sharp F# octave licks it's a thrill-a-second rollercoaster that never lets up. To this day, it stands as Lynch's calling card and a high point of hard-rock guitar performance, in the '80s or any decade.