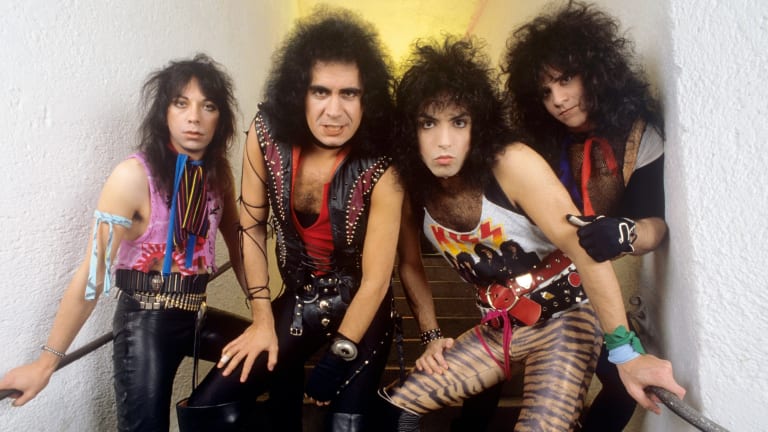 Fan Poll: 5 best non-makeup-era Kiss songs
Find out what track you voted 'king of the mountain'
It's an accepted fact that there's few, if any, fan bases in rock 'n' roll that are more passionate and opinionated than the Kiss Army. And our readers demonstrated that truism once again when we posed our very first Fan Poll question to you: "What is Kiss' best non-makeup years song?" Your answers ranged from the big MTV hits to album-track favs to deep, deep cuts. But no matter the choice, one thing was clear: for many fans, the non-makeup years, and the glammed-up, pop-metal sound that characterized much, but not all, of that time, is not only beloved, but in some cases even preferred. At the very least, it sparked a discussion that suggests a reevaluation of the often-maligned era is in order.
As for the reader who answered with "God of Thunder"? Read these words and take heed…
5. "Lick It Up" (Lick It Up, 1983)
If Kiss seemed unsure about taking off the clown white, you wouldn't have known it by their first album sans makeup. Actually scratch that – what we meant to say was, yes, you totally would have known it. From the initial uncomfortable reveal on MTV to the awkward strutting (and on Gene's part, scowling and… ass-shaking) in the "Lick It Up" video, this was a band looking to shake things up, but not sure exactly how the whole experiment was going to go.
To that end, the Lick It Up album itself was somewhat uneven. But the title track was a stone-cold classic. Interestingly, it's one of Kiss' most over-the-top and, at the same time, minimalistic songs, its gang-chanted refrain and heavily-echoed drums cut by an exceedingly simple and tightly-coiled verse that more or less continues unchanged in the chorus, as well as a solo section that keeps loose-gun shredder Vinnie Vincent heavily reined in. The result is a stone-cold classic, and one of the '80s-era Kiss tracks that remains a highlight of their live sets to this day.
4. "Who Wants to Be Lonely" (Asylum, 1985)
Kiss filmed a music video for "Who Wants to Be Lonely," but the song never took off as a single. Nor was it ever played live on the Asylum tour. Which is a shame, as the track, a cowrite between Stanley, Desmond Child and Jean Beauvior (who had played with, among others, the Plasmatics and Little Steven & the Disciples of Soul), clearly has a lot of fans out there. And it's hardly surprising why. On first listen, "Who Wants to Be Lonely" comes across as a straightforward midtempo rocker, but on closer inspection it reveals itself to be far more layered and nuanced, its chugging, aggro opening riff colored by more desolate guitar melodies in the verse and an anguished (if also fist-pumping) chorus. All that, and Paul rocking his hot-pink-and-yellow robe like nobody's business in the video. What more could you ask for from mid-'80s Kiss?
3. "Reason to Live" (Crazy Nights, 1987)
Kiss put together some memorable ballads during the '80s (see: the Stanley/Michael Bolton cowrite "Forever), but "Reason to Live" stands as the best of the bunch. As Paul recalled in an interview, when he first played it over the phone for Gene, the bassist was rendered "speechless." Which, as any Kiss knows, is not an easy feat to achieve. "Reason to Live" came off of Crazy Nights, arguably the most commercial of all of Kiss' '80s records, and it's safe to say that, given the presence of songwriter and hitmaker du jour Desmond Child as Paul's collaborator, it was designed with mainstream success in mind. And while it wasn't a huge hit, it managed to become the highest charting single from the record, and also drop into fairly heavy rotation on MTV. With its glossy production and stacked, minor-to-major melodies, it is unquestionably a product of its particular time. But what a great time, and what a great product.
2. "Heaven's on Fire" (Animalize, 1984)
Kiss' glam-metal phase proved to be a rocky road overall, but following Lick It Up's tentative steps in that stylistic direction, the single that kicked the era into overdrive remains one of their best. With a high-octane riff, a steroid-ed boogie-rock rhythm and an unabashed arena-chant chorus, "Heaven's on Fire" is an all-out blast. And it's a prime example of Stanley in full-on peacocking mode, strutting shimmying and woo-oo-oo-ing all over the place. Even in the face of serious obstacles – Gene's attention on his acting career; Mark St. John's physical ailments; some truly godawful costume choices – "Heaven" brought Kiss roaring into the MTV era with one of the year's biggest anthems, demonstrating that the band wasn't ready to kiss off just yet.
1. "Unholy" (Revenge, 1992)
Throughout the '80s, Kiss often seemed to be playing catch-up to a generation of bands that they had in no small way helped to spawn. Clearly, they were not going to make that same mistake in the '90s. The band came roaring into the new decade with Revenge (okay, with the fluffy Bill & Ted's Bogus Journey cut "God Gave Rock 'n' Roll to You II', but still), which was their strongest album in years and arguably their heaviest ever.
And nowhere were they heavier or stronger than on the record's opening cut, "Unholy." A Simmons tour de force (with some help from long-estranged former guitarist Vinnie Vincent on the writing side), the song served as a calling card for the now unmasked and goatee-d demon much in the same way "God of Thunder" had some 15 years earlier. And it's not just Gene who's on point – from Stanley's awesomely twisted riffing to Kulick's skronky, dive-bombing solo, to the insistent pounding of new drummer Eric Singer, "Unholy" is the sound of a band shedding its '80s baggage and getting ready to pummel the future… even if, in just a few years, they'd welcome back Ace and Peter, reapply the makeup and take a full-on "Rocket Ride" back to the '70s.
Even if the promise hinted at by Revenge ultimately remained unfulfilled as Kiss retreated into nostalgia mode, it's a triumphant capstone to the band's unmasked years. And "Unholy" was without a doubt the top pick in our poll, by a landslide. We couldn't agree more.