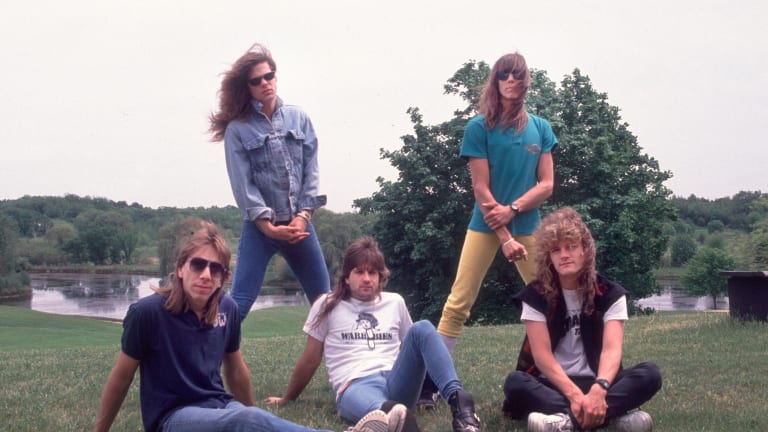 Fan Poll: 5 Best Power Ballads
You'll never guess what came in at #1 (or #5, for that matter)
We have to be honest – when we first put out the call for this power-ballad fan poll, we figured we knew which bands would pull the most votes: Poison. Motley. Warrant. Whitesnake. Bon Jovi. And so on. And while they all received plenty of mentions, none managed to make it to the Top 5. Other big (but not big enough) vote-getters? Twisted Sister for "The Price." Scorpions for "Still Loving You." Saigon Kick for "Love Is on the Way." Faster Pussycat for "House of Pain." But all of these paled in comparison for the love shown for the five songs on this list. And while it might not be the list we expected, it's the list you voted for. And no doubt about it, it's a pretty great list... 
5. W.A.S.P., "Forever Free" (The Headless Children, 1989)
If there's one metal list we would have never expected W.A.S.P. to appear on, this might be it. The band that unleashed "Animal," that showered us in raw meat, that spewed blood and rained down fire and donned sawblade codpieces, has also given us a poignant ballad about lost love, heaven's light and riding the wind forever free. From the cleanly-strummed cowboy chords that open the song to the whoa-ohs-ohs that close it, "Forever Free" is for sure a different look from W.A.S.P., but, given your votes, clearly one that worked. It also serves as a bridge between the band's "wild child" early days to the more wide-ranging sound that Blackie Lawless would pursue going forward.
4. Steelheart, "I'll Never Let You Go (Angel Eyes)" (Steelheart, 1990)
By the time Steelheart released their 1990 debut, hair metal was in its last throes. But while the band faced an uphill battle from the get-go, they did manage to squeeze in one hit before the mainstream musical tides turned for good. And what a hit it was. "I'll Never Let You Go" only made it to #23 on the Billboard Hot 100, but for those of us who loved our power ballads, this was as "power-ballad-y" as it got. From the gently-picked intro, to the massive power chords that came crashing in on the pre-chorus, to the even more massive chords that come crashing in on the even more massive chorus, to the booming, reverb-y drums and the chest-beating, harmonized guitar melodies, "I'll Never Let You Go" hits every power-ballad mark.
And yet, it still feels like there's something we're forgetting. Oh, right – Michael (or, as he's now known, Miljenko) Matijevic's vocals, which were… how can we put it? How about, INSANE. Matijevic (who later recorded the vocals for Mark Wahlberg's character in the 2001 flick Rock Star) spends the whole tune basically pushing his voice higher and higher, and stretching out syllables longer and longer. When he hits the final "goo-ohhh!" that caps the song, it sounds as if his voice is ascending to the heavens, waving goodbye to Rob Halford, Sebastian Bach and every other metal shrieker as it rockets into the stratosphere. To this day, it remains one of the most thrilling, and seemingly inhuman, moments in all of power-ballad history.
3. Skid Row "I Remember You" (Skid Row, 1989)
As the results came in on this poll, lesser-known Skid Row ballads like "Quicksand Jesus" and "In a Darkened Room" were making strong showings. But in the end, "I Remember You" eked it out to become not only the top-voted Skid Row power ballad, but one of the top five on the list. And really, how could it not? In addition to being a massive hit at the time of its release, it showcases everything that made Skid Row great back then: masterful melodies, earworm choruses, stellar guitar playing and, of course, the one-of-a-kind vocals of Sebastian Bach, who takes things from a sweet croon to a hell-raising howl over the course of the song's five-minute run-time. And we're all right there with him on that journey, walking hand-in-hand.
2. Tesla "Love Song" (The Great Radio Controversy, 1989)
Though released in the '80s, Tesla's "Love Song" mashes together some of the best elements of '70s-style hard-rock balladry in the service of a truly classic track. There's Jimmy Page-like picking wizardry in the extended instrumental opening, Skynyrd-y southern goodness in the laidback rhythms, some Joe Perry-style strut in the guitar solo. But it's not all a throwback: the whole thing climaxes in a totally '80s arena-style singalong chorus. The result is a masterclass in songwriting, arranging and performance, and a shining moment in a career that continues to burn brightly today.
1. Dokken, "Alone Again" (Tooth and Nail, 1984)
When it came to the number-one vote getter, you guys handed us a surprise. No "Every Rose"? No "Home Sweet Home"? No "Is This Love"? No, no and no. Your overwhelming choice was Dokken's "Alone Again," off of the band's second album, Tooth and Nail.
Interestingly, Dokken's catalog doesn't feature many slower songs – which, given the fact that Don Dokken's vocal approach has always been noticeably softer and smoother than the majority of his peers, seems like a missed opportunity for the band in terms of courting mainstream success. And indeed, during the time of Tooth and Nail, power ballads were just beginning to take hold as major pop hits (see: "Sister Christian"). So much so that Dokken's label, Elektra Records informed the band they needed to have one on their next record. Without anything in the hopper, Don pulled out "Alone Again, which he had written almost a decade earlier. He and bassist Jeff Pilson reworked it for the album, and voila! Dokken, after years of struggle, were now pop-metal contenders.
But even if Dokken played the game, they still did in their own "Dokken-y" way. "Alone Again" is an all over darker and doomier take on the power ballad, and only managed to claw its way to #64 on the Billboard singles chart. But the video made it into regular rotation on MTV, a format that was quickly becoming as important as radio – and for hard rock and metal bands, maybe even more important. As for that video, Don recalled in the '80s hard-rock oral history Nothin' But a Good Time. "We ended up playing the Palladium and we hired [director] Wayne Isham. He said, 'I'll bring in a couple guys cheap, with some 16mm cameras.' That's why, if you look at the video, it's live. We played 'Alone Again' and they filmed the show and it became, like, a standard. We just took off. But it was a long, hard fight."