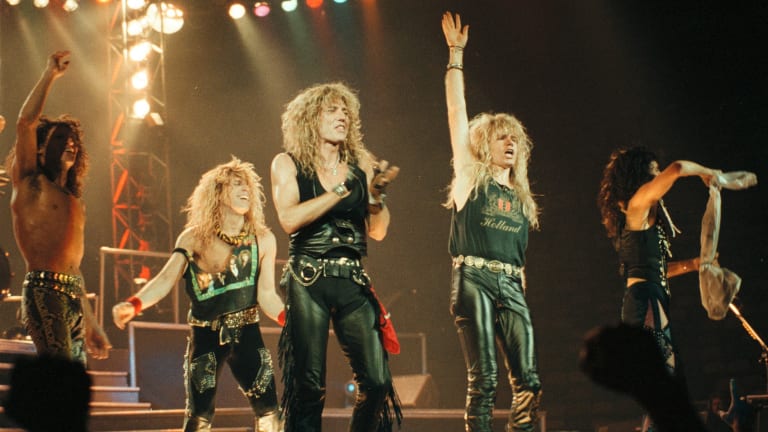 Fan Poll: 5 favorite Whitesnake deep cuts
From soulful blues jams to heavy rock anthems to big ballads, these are the 'Snake songs you picked
Whitesnake will forever be most associated with the platinum-maned, big-riffed, Jaguar-driving late '80s MTV incarnation of the band that produced massive hits like "Here I Go Again," "Still of the Night" and "Is This Love."
But the 'Snake's history uncoils far and wide, all the way back to David Coverdale's late '70s departure from Deep Purple, and up through the current day, to their rather excellent 2019 13th studio album, Flesh & Blood.
Which means that there's plenty of material ripe for the picking when it comes to choosing great Whitesnake deep cuts. And while we'll admit that we expected the majority of the votes to be directed toward the late '70s/early '80s "blooze-rock" years (a brilliant period that, to this day, remains criminally under-appreciated in the U.S.), surprisingly, our readers gravitated toward album cuts from the same era during which Coverdale & Co. ruled the charts and MTV airwaves. Which just goes to show how powerful that period of the 'Snake was for many listeners. 
As for the top choice? It fittingly straddles both of these eras. Whether or not it's actually a "deep cut" is another debate altogether… 
5. "Only My Soul" (David Coverdale, Northwinds, 1978; Whitesnake, Snakebite, 1978)
Your #5 vote-getter stands as a true Whitesnake deep cut – so deep, in fact, that it's arguably not even a true Whitesnake tune at all. Originally appearing on 1978's Northwinds, Coverdale's second solo EP after leaving Deep Purple, the soulful blues dirge features an entirely different lineup from Whitesnake, save for Coverdale and guitarist Mickey Moody. After Coverdale formed Whitesnake later that year, "Only My Soul," along with several other Northwinds tracks, were combined with four songs from the first Whitesnake EP, Snakebite, to form an extended version of that release. And with that, Whitesnake were off and running.
4. "Kittens Got Claws" (Slip of the Tongue, 1989)
In the late '80s, Whitesnake could whip up a sexed-up, innuendo-filled horndog hard-rocker seemingly in their sleep (heck, on Slip of the Tongue alone, "Kittens Got Claws" is followed by the very similar in tone and sound, "Cheap An' Nasty"). So what makes "Kittens" stand out from the pack? For starters, it's just more fun. The rhythm is jaunty, the guitars sparkle and spank and after just one listen the chorus has burrowed its way into your brain and refused to leave. Add in some ridiculous cat noises and even more ridiculous Coverdale wordplay ("your G-string tuned to 'A' "?) and you have a song that, while perhaps overlooked at the time, has clearly grown in stature amongst 'Snake fans.
3. "Walking in the Shadow of the Blues" (Lovehunter, 1979)
"Walking in the Shadow of the Blues" is as good an example as any of Coverdale's approach to Whitesnake in the very early years, taking the organ-heavy sound of his previous band, Deep Purple, and showcasing it within a more concise, pub-rock style of songcraft. And to be sure, "Shadow" is built around former Purple man Jon Lord's burbling keys, and then suffused with a driving and ('natch) bluesy rhythm. Add in the wailing, always perfect-for-the-song guitar playing of Micky Moody and Bernie Marsden and you have a hard-hitting and avowed classic.
2. "Sailing Ships" (Slip of the Tongue, 1989)
Whitesnake have had some fairly massive success with ballads – "Is This Love" and "Here I Go Again" being the most obvious – but "Sailing Ships," the closing track on Slip of the Tongue, might be their most stunning example of the form. Written primarily by guitarist Adrian Vandenberg for his mother, "Ships" began life as a tender, gently-picked guitar ballad. But in the hands of Coverdale and guitarist Steve Vai (who performed all the guitar parts on SOTT after Vandenberg was sidelined with a hand injury), it became a glorious, six-minute epic – subtle, reserved and beautifully melodic in its earlier minutes, wild, majestic and supremely over-the-top later on – that climaxes in a miasma of shredding, stacked harmony guitars, torpedoing drums and wailing vocals. Vandenberg later recorded an acoustic-guitar-and-violin version with Coverdale for his MoonKings project, but the original stands alone as an unabashedly excessive sonic monument to the power ballad – the type of thing that few bands could pull off as expertly as '80s-era Whitesnake.
1. "Crying in the Rain" (Saints & Sinners, 1982; Whitesnake, 1987)
So let's start with the necessary question: Is "Crying in the Rain," the beloved leadoff track from Whitesnake's 1987 U.S. breakthrough, even a deep cut? Readers apparently think so, as the song received an overwhelming number of votes in this poll to make it an easy #1. And to be sure, despite its popularity amongst the Whitesnake faithful, "Crying" was never released as a single, didn't have an MTV video, and is rarely, if ever, played on the radio. Given those facts, we'll rule in favor of this one – deep cut!
Like its album mate "Here I Go Again," "Crying in the Rain" was first recorded in more bluesy form for 1982's Saints & Sinners, an album that was virtually unheard on U.S. shores at the time of its release. When the band set its sights on American domination in 1987, it was reimagined and reworked, injected with John Sykes' blazing guitars, Aynsley Dunbar's booming drums and Coverdale's histrionic vocal wails in order to better suit a more metal-crazed U.S. audience. As with "Here I Go Again," the makeover proved effective, as "Crying in the Rain," with its prowling riffs, swelling arrangement and dramatic instrumental breaks, morphed into a towering, Zeppelin-on-steroids anthem that, deep cut or no, remains one of Whitesnake's most beloved tunes to this day.