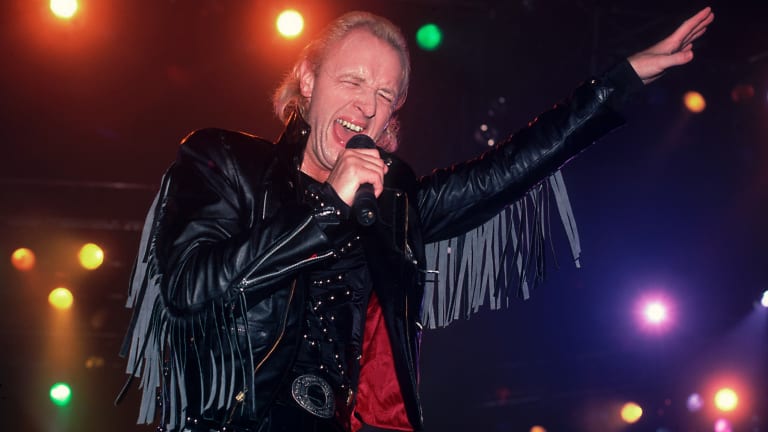 Fan Poll: 5 greatest '80s hard rock and metal singers
The vocalists that made us want to stand up and shout through the decade
If you wanted to make it in heavy rock 'n' roll in the 1980s, you needed more than a few things on your side. A hotshot guitarist, for one. Some kickass hair didn't hurt either. And, oh, yeah, maybe a killer song or two. One other thing that was essential? A stone-cold stunner of a singer, with not just pipes, but pizzazz to match. To be sure, the decade of decadence sometimes seemed as if it was packed to venue capacity with 'em. And while only five could make this list, rest assured that all the greats got plenty of repeat mentions. A short list of those would include high vote-getters like Geoff Tate, Bruce Dickinson, Tom Keifer, Axl Rose, and Ian Astbury, as well as solid picks like Jani Lane, David Coverdale, Klaus Meine, Jeff Keith, Paul Stanley, Vince Neil and Stephen Pearcy, and welcome entries like TNT's Tony Harnell and Steelheart's Miljenko Matijevic. But in the end, there were five that clearly topped the chart. From five to one, here we go…
5. Jack Russell (Great White)
Let's be frank: Great White, and in particular former singer Jack Russell, have had a rough go of it over the past few decades. But what has gotten somewhat lost in the haze of arguments, breakups, reunions, drug issues, health scares and extreme tragedy that Russell has often played a central role in is that he possessed one of the most pure and emotive blues-rock voices of the era. While Great White's early output may have skewed more toward a sort of generic, Priest-y heavy metal attack, with 1987's Once Bitten they took a decidedly more bluesy approach, and it was here that Russell truly shined. On tracks like the slow burning "Save Your Love," as well as "Mista Bone" and "House of Broken Love" (the latter two from 1989's …Twice Shy), Russell went more for raw emotion than histrionics, moaning, wailing and howling in a voice that felt more earthbound and organic – and therefore, more relatable – than that of many of his contemporaries. And for a true blues-rock vocal masterclass, revisit his performance on Great White's criminally underrated 1990 MTV Unplugged episode, in particular his impressive Robert Plant-isms on the band's cover of Led Zeppelin's version of "Babe, I'm Gonna Leave You."
4. Michael Sweet (Stryper)
From the start, Stryper separated themselves from the pack by carving out a sound that was in some ways a sort of ultra-melodic take on aggressive heavy metal – the guitars were crunchy but never harsh, the harmony guitar solos were Maiden-esque but also super smooth, the rhythms could be pummeling but the choruses were always exceedingly catchy. You could make a case that Michael Sweet embodied a similar sort of yin and yang in his vocals. Without a doubt, Sweet possessed one of the cleanest, most pitch-perfect singing voices of the era (it's no surprise he was later tapped to stand in for Brad Delp in Boston). But he was also capable of ridiculously acrobatic vocal feats, with a range and power that was seriously stunning and, at times, almost inhuman. Pick any '80s Stryper track at random and you're guaranteed to land on a first-rate Sweet performance that would lead most of his peers to hang their hairsprayed heads in defeat. But for the ne plus ultra example of Sweet's abilities, throw on the title track from 1986's To Hell with the Devil, and prepare to be blown away.
3. Sebastian Bach (Skid Row)
Technically Sebastian Bach only made one album (or, more specifically, one album that most of us heard) in the 1980s, but, damn, what an album. And, damn, what a voice. Sure, he had the range. But let's be honest – the '80s hard rock and metal scenes didn't lack for singers who could reach ear-piercing, glass-shattering tones on the regular. What Bach also brought to the party with Skid Row, and on 1989's Skid Row, was style, substance and straight-up attitude. When Baz put his throat into a lyric, you believed it, whether it was the sweet, gentle musings in "I Remember You," the lookin'-for-a-fight growls in "Piece of Me," the anguished howls in "18 and Life" or the ripsaw, barely contained fury of "Makin' a Mess." And when he really let loose – say, for just two examples, the bridge in "Big Guns" or the climax of "I Remember You" – Sebastian was untouchable.
2. Rob Halford (Judas Priest)
By 1980 Rob Halford was already a legend; nevertheless, the Metal God took things to an entirely new level with Judas Priest in the decade. British Steel and Point of Entry were impressive, well, points of entry, but it was with 1982's Screaming for Vengeance, and in particular on the shrieking title track, that Halford staked his claim as the banshee wail-er bar none. With follow-up Defenders of the Faith he pushed things even further (see: "Freewheel Burning" and the falsetto-powered title track), and from there on out his vocal supremacy was established fact. And if Priest seemed outdated by the end of the decade, the band, and Halford, came roaring back with 1990's Painkiller – the title cut featured perhaps his most insanely awesome performance to date. In general, Halford's influence on the sound of metal vocals over the past five decades can't be overstated. To this day, any front man that sings in a forceful, quasi-operatic style is undoubtedly compared to him at one point or another…and it's never a question as to who comes out on top.
1. Ronnie James Dio (Black Sabbath, Dio)
When it came to tallying the votes, RJD won by the length of a dragon's tail (that would be "a lot"). And really, could it have been any other way? By 1981, he had already lent his considerable pipes to two downright classic '80s metal records – Black Sabbath's Heaven and Hell and Mob Rules. Just two years later, he unveiled his new band, Dio, and unleashed one of the greatest albums of the era: Holy Diver. With just that record alone, Dio's spot at the top of this list may have been clinched. His voice throughout Diver is a marvel – at once gravelly and operatic, gruff and melodious, and capable of telegraphing great emotion but also ridiculously outrageous bombast. And it was equally commanding and enrapturing on subsequent records like The Last in Line, Sacred Heart and Dream Evil. Most of all, it is completely singular – suffice it to say, there is arguably not a single Dio song that could work with another singer's voice in his place, because there is no other singer that could capture the same sort of power and glory with such unabashed conviction and stunning execution. It's the reason why, for many hard rock and metal fans, he will always be without peer.