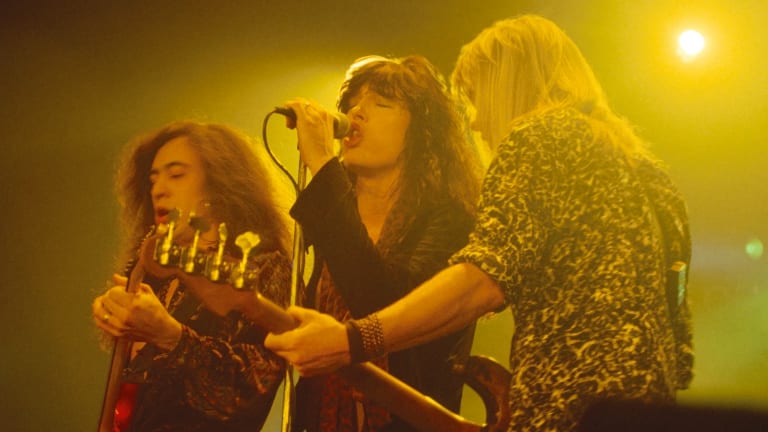 Fan Poll: 5 greatest Cinderella songs
Think you know what came out on top?
They haven't released a new studio record in almost 30 years, but there's something about Cinderella's music that still feels oddly current. This is partly due to the fact that they played consistently great shows during their 2000s rebirth, and also because front man Tom Keifer is still out there killing it with his solo band. Furthermore, given their decidedly blues-rock bent, Cinderella's music, in particular on albums like1988's Long Cold Winter and the follow-up, 1990's Heartbreak Station, feel both representative of their era, but also utterly timeless.
So for our latest poll we figured there'd be no better band to question you, the Metal Edge reader, about than the Pennsylvania foursome. And when it came to picking your favorite Cinderella tracks, the responses ran the gamut from the obvious hits ("Nobody's Fool," "Shake Me," "Somebody Save Me") to deeper cuts from less-recognized albums (in particular, "Blood from a Stone," from 1994's underrated swan song, Still Climbing, received several nods). As for the jokester who picked "Bibbidi-Bobbidi-Boo"? Yeah, wrong Cinderella…
5. Night Songs (Night Songs, 1986)
Sure, there are bigger hits (and, in "Nobody's Fool," maybe even their biggest hit) on Cinderella's debut. But you guys unanimously went for the title track, which kicks the record off with a grinding, mid-tempo stomper that comes off like a glammed-up AC/DC. It's all churn-'n'-burn, with a bit of greasy slide guitar for good measure, and Keifer's rasp at its, well, rasp-iest best. A standout cut that makes it clear from the get-go that there's more than meets the eye (and ear) to the big-haired, spandex-and-scarfs-adorned band pictured on the album's cover. 
4. "Don't Know What You Got (Till It's Gone)" (Long Cold Winter, 1988)
By 1988 virtually every long-haired hard rock band was releasing a power ballad at some point during a new album cycle. Cinderella, however, may have been the only act to do it as the leadoff single from their record. But if the song the band was doing it with was as strong as "Don't Know What You Got (Till It's Gone)," it was clearly worth the risk. The track unveiled yet another layer of the band's sound - it was neither an over-the-top hair-metal anthem nor a '70s-styled blues rocker, but rather a dramatic and elegant piano-led lamentation - and it proved to be a major turning point in Cinderella's career, demonstrating that they were as committed to songwriting and arrangement as they were to rocking hard. 
3. "Bad Seamstress Blues/Fallin' Apart at the Seams" (Long Cold Winter, 1988)
As the leadoff single from Long Cold Winter, "Don't Know What You Got (Till It's Gone)" was most Cinderella fans' first hint that the band had undergone a change in temperament since their glam-tastic debut. But it was Winter's two-part leadoff track that truly showed where they were headed. From the swaggering, Stones-y rhythm to the gutbucket slide guitar licks, the down-on-your-luck lyrics to Keifer's soulful howl, "Bad Seamstress Blues/Fallin' Apart at the Seams" revealed Cinderella's blues roots in full force, and it was a sound that would remain at the center of their work for the rest of their days. The year may have been 1988, but in Cinderella's world the blues-rocking '70s had never gone away. 
2. "Heartbreak Station" (Heartbreak Station, 1990)
While Long Cold Winter was staunchly rooted in '70-styled blues rock, by the time of Cinderella's next record they were both further refining that sound (opener "The More Things Change" is another successful variation on the "Falling Apart at the Seams" theme) and also expanding on it. This was evident in leadoff single "Shelter Me," which came off like a hard-rock version of a Leon Russell southern gospel jam, as well as the follow-up single, "Heartbreak Station." If this was on the surface another Stones-derivative track, this time Cinderella pulled from that band's Let It Bleed acoustic-country side. Add in some swelling strings and Keifer singing (at least partly), in an uncharacteristically clean-toned voice, and you have one of the album's standout cuts and also, for all intents, Cinderella's final hit single.
1. "Gypsy Road" (Long Cold Winter, 1988)
Arguably, this is where it all came together perfectly for Cinderella. The instantly catchy (and of course, mildly bluesy) main riff, the propulsive, up-tempo rhythm, the anthemic chorus, the '80s-dazzle guitar solo, the fist-pumping lyrics (really, who is to care if Keifer grows his hair to the sky?), the hushed, singalong breakdown before the song revs back up… "Gypsy Road" wraps all of Cinderella's songwriting and performing strengths into one tight and hard-hitting four-minute package. And like the very best Cinderella tunes, it sounds as fresh and full-of-life today as it did blasting out of car speakers almost 35 years ago. A timeless classic, and your #1 choice by a longshot.