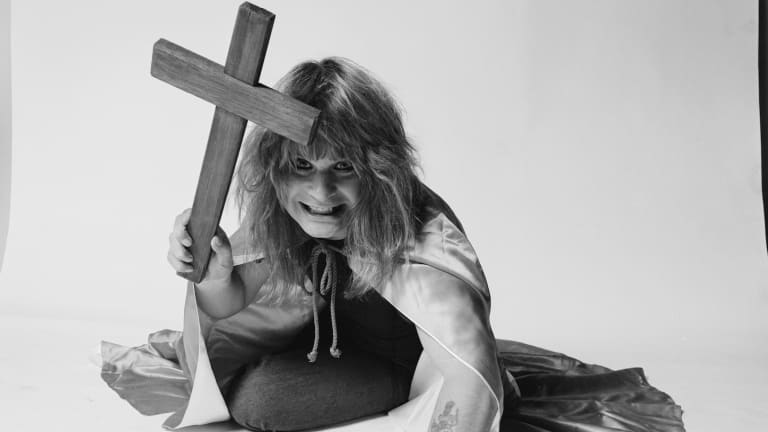 Fan Poll: 5 greatest debut albums of the 1980s
These records struck first, and struck hard
As the saying goes, you only get one chance to make a first impression. And when we asked you, the Metal Edge faithful, which '80s bands impressed you the most with their debut albums, you responded in droves. 
Let it be said, there were plenty of major '80s hard-rock platters - Skid Row's self-titled record, Cinderella's Night Songs, Poison's Look What the Cat Dragged In - that got plenty of love... but not quite enough to make the cut. And there were also a slew of refreshing and unexpected mentions, among them efforts from W.A.S.P., Queensryche and Kix, as well as Enuff Z'Nuff, Britny Fox, Sea Hags and Keel. A few of you picked early grunge classics from Nirvana and Soundgarden, while others went toward the heavier end of the spectrum, naming Metallica, Anthrax and Metal Church. In the end, only five could make the cut. You might not agree with all of 'em, but we'd wager that #1 is something of a no-brainer. 
As for the joker who wrote in Milli Vanilli's 1988 debut, All or Nothing? Well, it did come out in the '80s... 
5. Tesla – Mechanical Resonance (Geffen, 1986)
Tesla bassist Brian Wheat recently told us that he views his band's music as something that "comes from the gut." And that ethos has been there since day one. Released during hard rock's glammiest days, Mechanical Resonance was a bluesy and bare-knuckled blast of blue-jean-style hard rock that succeeded on its own terms. At the same time, tracks like "Modern Day Cowboy," "Cumin' 'Atcha Live" and "EZ Come, EZ Go," as well as as their cover of "Little Suzi," were full of enough vocal flash and guitar shredding to please even the most devout hair-metal heads. A surprise entry on this list, but hardly an undeserving one.
4. Ratt – Out of the Cellar (Atlantic, 1984)
Ratt had appeared a year earlier with a self-titled indie-label EP, but Out of the Cellar represents the band's first full-length foray. And what a foray it was. From the gritty riffs and grinding rhythms to Stephen Pearcy's gravelly vocals, songs like "Lack of Communication," "Back For More" and "The Morning After" are cocksure, streetwise rockers that sound like they were literally spawned from the Hollywood gutters, while the explosive "Scene of the Crime," the cinematic "Wanted Man" and the indelible "Round and Round" are avowed pop-metal anthems that demonstrated that in addition to drop-dead glammy looks and sleazy attitude, Ratt had serious chops and songwriting credentials.
3. Ozzy Osbourne – Blizzard of Ozz (Jet, 1980)
Let it be said that, in 1980, no one was expecting much from Ozzy Osbourne. In his early 30s and already considered a washed-up, drugged-out has-been, the Ozzman bet on guitarist Randy Rhoads, who was going nowhere fast with a getting-long-in-the-tooth Quiet Riot and nevertheless still was unsure about taking the leap with Ozzy. But together with drummer Lee Kerslake and bassist Bob Daisley, the foursome struck heavy-metal gold. Blizzard of Ozz wasn't an immediate smash, but it has since become one of the most successful debuts of the era, selling over five million units and featuring a clutch of songs – "I Don't Know," Suicide Solution," "Mr. Crowley," "Goodbye to Romance" and, of course, "Crazy Train" – that have become metal standards. The album not only resurrected Ozzy's career, but also launched him to meteoric new heights. It took Randy Rhoads along with him, cementing his status as a neo-classical shredder without peer, despite his tragic death less than two years later. 
2. Mötley Crüe – Too Fast For Love (Leathür Records, 1981)
Whether you prefer the original Leathür version or the more well-known Elektra re-release, one thing's for sure: the Crüe's debut is not only a stone-cold killer, it's also arguably the album that, much like Nikki Sixx did to his knee-high boots, lit the Strip and the '80s glam scene on fire. Mixing punk attitude with pop songwriting and as much drugs, alcohol and Aqua-Net as they could grab, guzzle and gargle, Motley's debut established the look, sound and attitude of a certain dominating strain of rock for the next decade – and they did it all with analbum recorded for a few hundred bucks in the span of one week. 
1. Guns N' Roses – Appetite for Destruction (Geffen, 1987)
Was the top spot ever really in contention? Beyond being the best '80s hard rock debut album, Appetite for Destruction is also, in many people's eyes, the best first album – and possibly the best album, period – ever. As we said previously, "with its magic combination of Stones-on-steroids riffs and punk-rock nihilism, Appetite is so good that Gn'R had no choice but to release a double album in an attempt to top it."