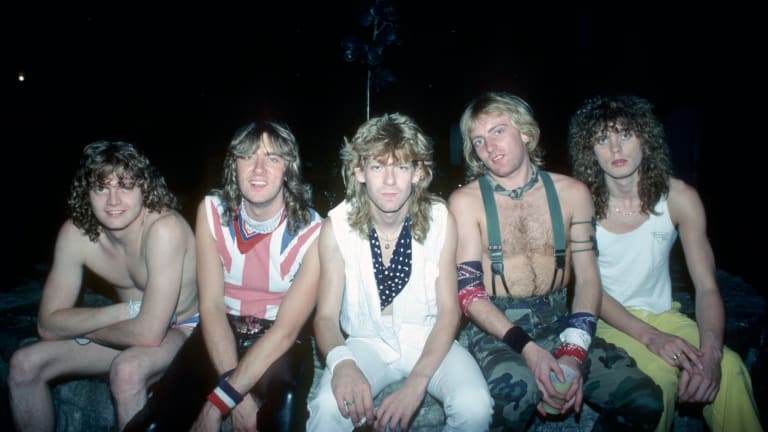 Fan Poll: 5 greatest Def Leppard deep cuts
Want to know what topped the list? Step inside, walk this way...
Few rock acts over the past 40 years have been as dependable a hit machine as Def Leppard. But while the British legends are best known for anthems like "Rock of Ages" and "Pour Some Sugar on Me" and ballads likes "Love Bites" and "Two Steps Behind" (not to mention newly-minted classics like "Kick," from the just-released Diamond Star Halos), us hardcore fans know that there's plenty of gold to be found in the less celebrated tracks from the band's more than 40-year career.
For that reason, we asked you to name your favorite Def Leppard deep cut. And since the definition of "deep cut" can be subjective, in this situation we made it simple: for a band with so many hit singles, any song that was never released in that format was up for grabs. Which means that, while there were plenty of votes for lesser-known Lep tunes like Retro Active's "Desert Song" and Euphoria's Paper Sun," both were nevertheless issued as singles, and therefore out of contention. As for the ones that did make the Top 5? Step inside, walk this way... 
5. "Overture" (On Through the Night, 1980)
This Def Leppard epic first appeared on the band's 1978 demo, and then 1979's The Def Leppard E.P. (in both cases listed as "The Overture"), before making its way onto the band's full-length debut as the album's closing track. Despite its prevalence during their early days its unlike anything else in the band's catalog at the time, or since. Veering from a pastoral, folky intro replete with beautifully stacked vocal harmonies, to a boogie-metal rocker studded with southern-rock-style dual guitar leads, to a crushing, almost proggy instrumental section over the course of its seven-minute-plus runtime, "Overture" is one of the band's most ambitious tracks, while also remaining insanely catchy. An early gem, to be sure.
4. "Fractured Love" (Retro Active, 1993)
"Fractured Love" hails from the Hysteria sessions in the mid '80s, though it's not hard to understand why it didn't ultimately make the cut for that album. Overall, it's just too dark and moody – the song remains hushed and tightly-coiled for a good two minutes before finally bursting open to reveal the riff and chorus – in comparison to the glossy, chest-beating material that defined Hysteria. Thankfully, the song received its due on the 1993 odds 'n' sods compilation Retro Active, and remains a fan fav to this day.
3. "White Lightning" (Adrenalize, 1992)
In one sense, the entire Adrenalize album could be viewed as a tribute to Def Leppard guitarist Steve Clark, who tragically passed away at the age of 30 during the making of the record. But while his writing credits are all over the record, and Phil Collen traced the guitar parts he had laid on the demos, there is one song in particular that stands as a monument to Clark. That would be "White Lightning," which takes its title from a nickname given to the guitarist. Opening with a stirring six-string tribute from Collen, Joe Elliott then outlines the triumphs and tribulations of a life consumed by rock 'n' roll and its spoils, one that has gone "off the rails like a runaway train." For a band that tended to keep things light and fun lyrically, it was a moment to both grieve and celebrate someone who was an essential part of the Leppard family. 
2. "Stagefright" (Pyromania, 1983)
"Stagefright" is arguably the high-energy point of Pyromania, kicking off with a roaring, clapping audience and Joe Elliott intoning "I said a-welcome to my shoooowww!" From there, we get one of the Lep's most aggro, chugging riffs, offset by an excessively melodic chorus and solo section. Throughout, Elliott pushes his voice to its raspy limits, while the guitars shred, screech and dive-bomb all around him. 
1. "Mirror Mirror (Look Into My Eyes)" (High 'n' Dry, 1981)
We have to say, when we asked you guys to pick deep Def cuts, you didn't disappoint. We weren't too surprised to find the #1 choice in this poll hailing from the absolutely classic High 'n' Dry, but when it came to the actual song, the votes came in not for high-energy rockers like "Let It Go" or "You Got Me Runnin', " but rather this dark-yet-highly-melodic midtempo track buried deep on Side 2. In fact, "Mirror, Mirror" is so obscure that, following Def Leppard's Pyromania tour, the band didn't even play it live again for more than 20 years, until the 2007 Downstage Thrust North American jaunt. Fortunately, it has made a welcome appearance in various set lists on subsequent tours. Here's hoping it makes the cut for this summer's Stadium Tour…