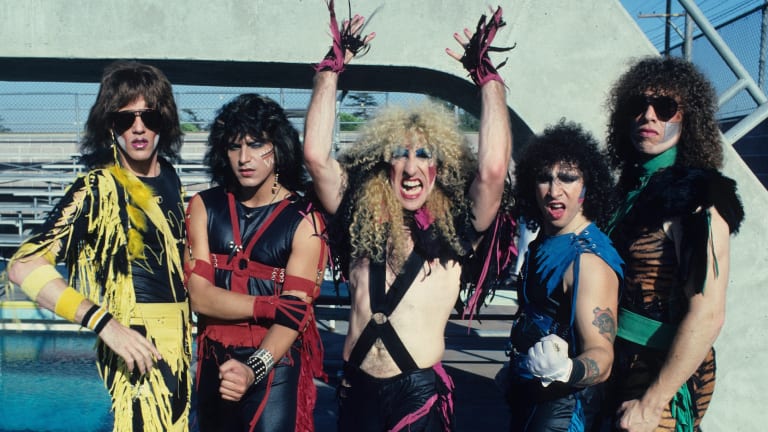 Fan Poll: 5 greatest hard-rock songs of 1984
We knew right from the beginning what would land at #1. As for the rest of the list…
Ah, 1984 – a great year for hard rock, as many of you pointed out in the comments section for this week's Fan Poll. And so while there were only five songs that could make the list, let it be known that there were many, many classic bands that released many, many classic recordings that year that deserve also mention.
Just a few of them? How about Scorpions, Whitesnake, W.A.S.P., Deep Purple, Ozzy and Kiss, for starters. Veering into heavier territory, you guys also picked tracks from Metallica, Anthrax, Mercyful Fate, Armored Saint and Accept.
But in the end, there were five jams that reigned supreme. Number One was hardly a surprise to us, but see if you can guess the rest…
5. Dokken, "Just Got Lucky"
Dokken were firing on all cylinders with their second full-length, Tooth and Nail, which featured stone-cold melodic-metal classics like the rampaging title track and "Into the Fire," as well as the power-ballad hit "Alone Again." Also buried in the track list? This gem, which splits the difference between jaunty pop-rocker and driving Sunset Strip anthem. Add in a first-rate Don Dokken vocal turn and always stellar George Lynch guitar work, and you have the #4 song on our list. 
4. Dio "The Last in Line"
Dio is about as straight-up heavy metal as it gets, but much like the previous year's "Rainbow in the Dark," the lead single from the band's second album became a classic by incorporating some overt and more melodic hard-rock elements, from the clean-toned intro section to the streamlined, spacious riff to the bright keyboard stabs that punctuate the chorus. The result was something both, well, evil and divine, and one of the greatest heavy anthems of the year.
3. Twisted Sister, "The Price"
Twisted Sister truly dominated 1984 with Stay Hungry, so it's no surprise to find them on this list. The song our readers chose, however, was unexpected. No "We're Not Gonna Take It"? No "I Wanna Rock"? Not even a "Burn in Hell"? Rather, you went for the big power ballad, "The Price." And we couldn't agree more. Even though it was released as a single, the song never quite received the recognition it deserved, perhaps coming a few years early to truly ride the power-ballad wave to the top of the charts. And yet, in Metal Edge readers' minds at least, it's an avowed classic.
2. Van Halen, "Hot for Teacher"
By the time Van Halen released "Hot for Teacher," they had already scored two of the biggest hits of their career in "Jump" and "Panama." So for the third single from 1984, they opted to blow it out in unmatched, over-the-top VH style. "Hot for Teacher" has everything there is to love about the band - hot-wired riffing, hopped up boogie rhythms, a roller coaster arrangement, insane drumming, ribald David Lee Roth humor and some of the most dazzling, head-spinning guitar work Eddie Van Halen ever put to tape. The outrageous-bordering-on-preposterous music video didn't hurt, either. As for whatever became of poor Waldo, we'll never know...
1. Ratt, "Round and Round"
If there's any song that perfectly encapsulates early-to-mid '80s pop-metal, this very well might be it. From the sound (the incredible riff, the glorious harmony solo, the thudding beat, the insanely hooky chorus), to the image (big, feathered hair, ripped and tattered clothing, some eyeliner for dramatic effect) to the visuals (the MTV-dominating music video) "Round and Round" is about as flawless a specimen as exists. And as much as it's a time capsule of a particular era, it also sounds absolutely kick-ass today, almost 40 years later.