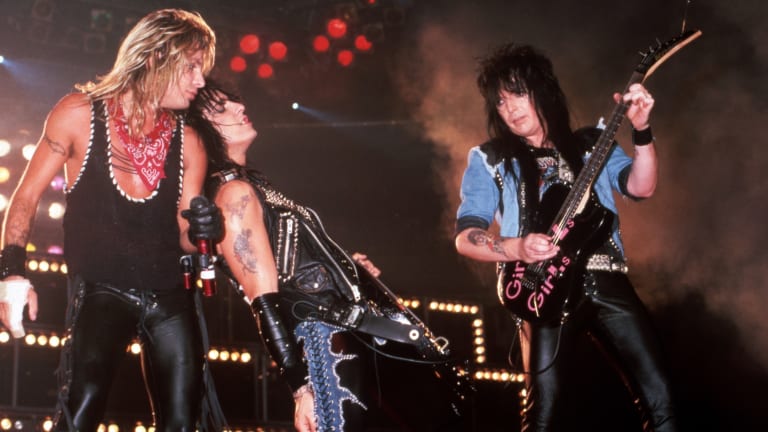 Fan Poll: 5 greatest hard-rock songs of 1987
We could have guessed the band that would come out on top. The song, however, was a surprise...
Ah, 1987. A great year for hard rock. Maybe the best year of all the decade, even. While this might be up for debate, one thing that is not – at least, not anymore – is what are the five best hard rock songs of that year. Because we asked, and you guys answered. And while we all may not fully agree on the following list, one thing is for sure – the five top vote-getters are all undeniably killer tracks. Get ready to talk a walk…err, a ride…on the wild side, and read on.
5. Dokken, "Kiss of Death"
Dokken's fourth album kicked off with one of their most ferocious tracks to date. And while the entire band is in fine form here, "Kiss of Death" is ultimately a George Lynch tour de force. Sure, the album's Lynch instrumental, "Mr. Scary," is regarded as his ultimate guitar statement, but "Kiss of Death" is arguably packed with just as many thrilling six-string moments, from the full minute of aggresive riffing that opens the song, to the full-tilt shredding during his mid-song solo, to the equally wild and head-spinning licks he peels off during the outro. To be sure, there are bigger hits on Back for the Attack, but none hit as hard as this "Kiss."
4. Kiss, "Crazy Crazy Nights"
Kiss were never exactly shy about gunning for mainstream success. But even so, few songs in their catalog seem as designed to achieve maximum radio – and, probably more accurately, MTV – play than "Crazy Crazy Nights," the leadoff track and first single from the band's 14th studio album, Crazy Nights. Written by Paul Stanley and songwriter Adam Mitchell, it's one of Kiss' slickest, shiniest and poppiest efforts, from arguably their slickest, shiniest and poppiest album. "Crazy Crazy Nights" is all big, major-key riffs and melodies and singalong choruses, and Stanley spews feel-good aphorisms throughout, serving as the wind beneath the wings of anyone who's been wound up tight, buried alive, told they don't belong, or had their soul, um, taken away. If the song hasn't exactly endured, it's an approach that certainly worked in the moment, as "Crazy Crazy Nights" gave Kiss one of the biggest U.K. hits of their career and dropped into heavy rotation on MTV. As for the airwaves? As Paul says, "If life is a radio, turn it up to 10!"
3. Whitesnake, "Still of the Night"
For many people in the U.S., "Still of the Night" was their first exposure to Whitesnake. But even those who were well familiar with the long-running David Coverdale-led troupe at that time had still never heard Whitesnake quite like this. Beginning life in the late '70s as a bloozy, pub-rockin' unit, the band had been inching toward a more modern hard-rock with each successive release. By the time of 1984's Slide It In, with the addition of former Thin Lizzy and Tygers of Pan Tang shredder John Sykes, they were coiled and ready for U.S.-dominating hard-rock glory, and 1987's self-titled album delivered. "Here I Go Again" and "Is This Love" were the hits, but first single "Still of the Night" was the one with the insane Zeppelin-on-steroids riff, cannon-sized drums and "wolf howl" Coverdale vocal histrionics. More than 30 years later, the rack still sounds as epic, haunting and powerful as it did upon its release.
2. Mötley Crüe, "Wild Side"
Mötley Crüe's fourth studio effort, Girls, Girls, Girls, was, by many accounts, an uneven affair, but suffice it to say it started off with a big bang. "Wild Side" is the Crüe at their sleazy, debauched Crüe-iest, from Mick Mars' gravel-toned riffs to Nikki Sixx's street-urchin poetics about dream teens, trash queens and fallen angels, to the police sirens and screams that splatter the song on the fade out. It's one of the band's darkest, dirtiest and most cynical tunes, and yet the Crüe were such an unstoppable force that it still became a major mainstream hit at the time, and remains one's of the Crüe's most beloved anthems today.
1. Guns N' Roses, "Rocket Queen"
Think of 1987 in rock 'n' roll, and one album comes to mind: Appetite for Destruction. But while it's not surprising that Guns N' Roses landed in the top slot here, you guys readers threw us a curveball with your song selection. No 'Welcome to the Jungle"? No "Sweet Child"? No "Paradise City"? No, no and no. Your overwhelming pick for the top hard-rock song of 1987 was Appetite's closing track, "Rocket Queen." And what a track it is. The slinky, ominous riff, the hip-shaking, the snakey rhythm, Axl's ferocious, tongue-like-a-razor vocal, Slash's slowly-intensifying-and-ultimately-explosive slide solo during the breakdown… it's a sound and an attack that is quintessential Guns N' Roses, and one that scores of bands tried (and failed) to replicate in their wake. And that's to say nothing of "Rocket Queen"'s glorious outro, one of the most disarmingly tender moments in the entire Gn'R catalog, and an epic end to both the album, and, as you readers have determined, the finest hard rock song of the year.