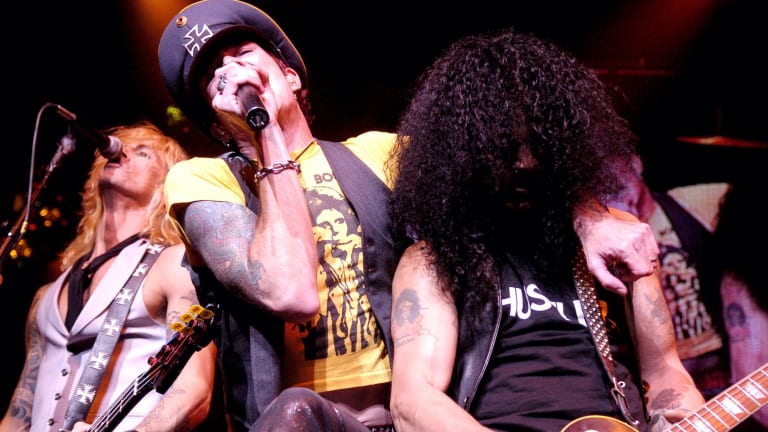 Fan Poll: 5 greatest hard-rock supergroups
Who's the 'super-est' of them all?
What, exactly, is the definition of a supergroup? How many members have to have been famous prior to the band's creation? What level of fame did they have to achieve? Do there have to be recordings involved, or can it just be a live situation?
As the debate amongst our readers demonstrated, the jury is out on the actual parameters. But what is without question is the acts that you thought most fit the bill. In this case, the five outlined below were far and away the top vote getters. Others that garnered plenty of votes? Contraband. Dead Daisies. Them Crooked Vultures. Temple of the Dog. Hellyeah. The End Machine. The Winery Dogs. Down. Mad Season. And let's not forget, of course, the actual 'Supergroup' itself – Damnocracy, a.k.a. Savage Animal! 
To find out who made the list, read on...
5. Chickenfoot
There are several confounding things about Chickenfoot. For starters, the fact that they chose to name the band Chickenfoot. Then there's the fact that that their 2011 album, Chickenfoot III, is actually only their second release. Regardless, the band itself made a certain kind of obvious sense. Sammy Hagar and Michael Anthony had already spent decades playing alongside arguably the greatest rock guitarist (Eddie Van Halen) and drummer (Alex Van Halen) around, and so they weren't going to settle for anything less than the best in their new project. And indeed, with Joe Satriani on guitar and Red Hot Chili Peppers spark plug Chad Smith behind the kit, they hitched their musical wagon to another tremendous musical duo. What's more, with Satch and Smith, the pair tapped into the sort of looseness and free-wheeling spirit that was a hallmark of early Van Halen, but was sorely lacking during the Hagar years. Indeed, Chickenfoot is a blast to listen to... even if the name doesn't look all that great on a t-shirt.
4. Damn Yankees
Ted Nugent would probably pride himself on being untamable, but as Damn Yankees, Night Ranger singer/bassist Jack Blades and Styx singer/guitarist Tommy Shaw managed to get the Motor City Madman to fall in line with their sweetly melodic AOR style rock. The trio, along with drummer Michael Cartellone, crafted a pair of impeccably-crafted, tightly-arranged, sparklingly-produced early '90s hard rock records, just as the entire genre was about to be cratered by grunge and alternative. Even as Nirvana, Pearl Jam and their ilk began to take over the airwaves, the Yankees managed to rack up MTV and radio hits with angelic vocal harmonies, crunchy major-key riffs and glorious solos, as well as impeccable power ballads like "Where You Goin' Now" and the sweeping, soaring "High Enough."
3. Audioslave
After front man Zach de la Rocha exited Rage Against the Machine, the three remaining members – guitarist Tom Morello, bassist Tim Commerford and drummer Brad Wilk – vowed to continue making music together. The smart money was on them pulling in another rapper to front the group (early on they jammed with Cypress Hill's B-Real), but instead they took a serious left turn, hooking up with former Soundgarden howler Chris Cornell, rebranding themselves Audioslave and trading in Rage's heavily syncopated, hip-hop-influenced rhythms for a colossal, radio-ready classic-rock-meets-modern-rock sound. The result may have been more middle-of-the-road than either Rage or Soundgarden, but it was also an undeniable and rather massive success. The band's 2002's self-titled sold over three million copies, and the two follow-ups, 2005's Out of Exile and 2006's Revelations, went platinum and gold, respectively.
2. Mr. Big
Mr. Big was built around the insane musical prowess of former Racer X guitar virtuoso Paul Gilbert and tapping-crazed bassist Billy Sheehan, who had just finished up a stint playing alongside Steve Vai in David Lee Roth's band. And to be sure, the band's first single, 1989's "Addicted to That Rush," highlighted the pair's monstrous chops, functioning more as a launching pad for tandem guitar-and-bass acrobatics than as an actual song. But what soon became clear is that what really made Mr. Big tick was songwriting, not shredding. Rounded out by soulful vocalist Eric Martin (formerly of the Eric Martin Band) and rock-solid journeyman drummer Pat Torpey (who played with everyone from Roger Daltrey to Robert Plant to Belinda Carlisle), the band hit it, um, big, and made their mark with ultra-melodic fare like the psychedelic "Green-Tinted Sixties Mind," their cover of Cat Stevens' folky "Wild World" and the smash acoustic ballad "To Be With You." Of course, sometimes they just couldn't help themselves, and so we were also graced with fare like "Daddy, Brother, Lover, Little Boy (The Electric Drill Song)," arguably the most Van Halen-sounding song of the early '90s – and that includes anything recorded by Van Halen at the time.
1. Velvet Revolver
If we're being honest, number one was hardly a surprise. Because while many supergroups sound better on paper than in practice, Velvet Revolver are the rare example that not only delivered the goods on record, but were also an explosive live band, with an on-the-edge, who-knows-what's going-to-happen sort of vibe that you don't often find in acts that are formed by musicians that are already well-established and successful. Were they as awe-inspiring as Guns N' Roses at their most explosive? No. Were they as idiosyncratic as Stone Temple Pilots at their Tiny Music weirdest? Hardly. But they delivered catchy, anthemic, swaggering hard rock in spades, and during a nu-metal and pop-punk dominated era when it was in drastically short supply. And while the union of Gn'R's Slash, Duff and Matt Sorum and STP's sadly deceased Scott Weiland (with rock-solid rhythm guitarist Dave Kushner rounding things out), proved too combustible to last, VR's two albums together, and in particular their excellent 2004 self-titled debut, stand as some of the best hard rock of the early aughts.