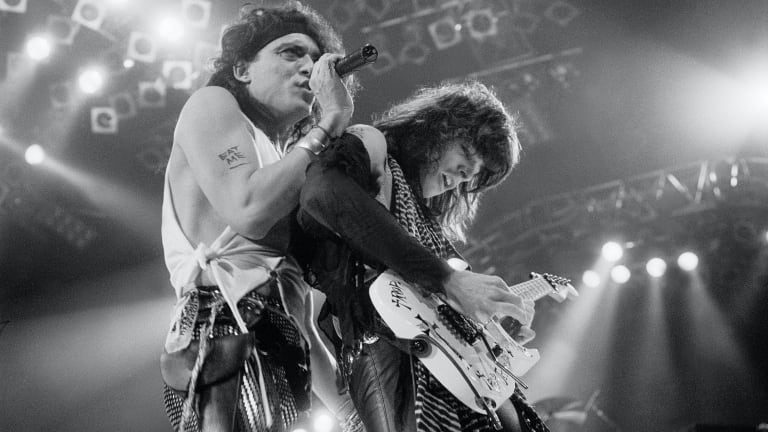 Fan Poll: 5 greatest Ratt songs
And no, 'Round and Round' is not #1…
Let's make one thing clear right from the get-go: you guys love Ratt. When we put out the call to pick your favorite song from the Sunset Strip rodents, one of the most common answers was "all of them." But in the end, you, the Metal Edge reader, chose, and you chose well. Not only that, you also went deep, going not just for the expected and well-deserved, but also the lesser-known and, in one case, less-famous versions of a popular hit. With that in mind, let's get to the list, which is, not surprisingly, way, way cool.
5. "Way Cool Jr." (Reach for the Sky, 1988)
Back in the '80s (and maybe even still today), going "blues" was often musical shorthand for attempting something more authentic-sounding. And to be sure, it didn't always work in the glam-metal world. But Ratt not only pulled it off with "Way Cool Jr.," but created one of their greatest tunes in the process. Much credit goes to Warren DeMartini's absolutely killer lead work, in particular the loose and, yes, very bluesy, open-string lick that kicks the song off, but Pearcy also comes off as something of an MVP here, with his naturally raspy voice perfectly suited to the proceedings. Add in a rock-solid groove, an unusually playful lyric and some unexpected arrangement touches and it's enough to even forgive the cloying and arguably unnecessary horn accompaniment.
4. "Nobody Rides for Free" (Point Break soundtrack, 1991)
We have to admit, we wouldn't have expected this one to reach the top 5, but that's one of the great things about polls: you never know what the true experts – the fans – are going to love. And clearly, you all love "Nobody Rides for Free." An unusual track in the Ratt catalog, "Nobody" was written by a songwriter named Steve Canton, who performed the tune with his own band, Climate of Crisis, around L.A. before it made its way to Ratt. Pearcy, DeMartini and Croucier made some changes to Canton's song, and along with Blotzer recorded their version for the soundtrack to the Patrick Swayze/Keanu Reeves surf-cop caper Point Break. Out of that tumultuous period – the song was their first recorded as a four-piece, as Robbin Crosby, in the throes of a serious drug addiction, had exited the band a year earlier – came Ratt's final hit single before breaking up for the first time.
3. "Back for More" (Ratt EP, 1983)
A stone-cold Ratt classic, we weren't surprised to see "Back for More" make the list. What was surprising to us was how many readers made sure to specify that they were referring not to the well-known Out of the Cellar version, but rather the earlier recording of the song, from the 1983 Ratt EP. A slightly slower and heavier take, with more prominent bass and a more melodic breakdown section that was excised from the Cellar recording, the Ratt EP version isn't necessarily better than what came later, but it does have a certain youthful energy and rawness that perfectly captures the band in their pre-major label, Sunset Strip prime. The result is not only a great song, but a representation of an incredible and unrepeatable moment in time.
2. "Round and Round" (Out of the Cellar, 1984)
For most of us, "Round and Round" was our first taste of Ratt. And what a glorious taste it was. From DeMartini's awesome, "Panama"-like intro lick to Pearcy's cocky, assured vocal, the strutting verse riff to the insanely hooky (and again, very "Panama"-like) pre-chorus guitar figure, and then, ultimately, the perfectly-sculpted singalong chorus and Warren and Robbin's towering harmony solo, "Round and Round" is as fine an '80s hard rock specimen as there exists. And that's before we even get to the campy, crossdressing, ceiling-crashing, Milton Berle-starring video, which dominated MTV for the better part of that year. When people think of Ratt, it is the sound of "Round and Round," and the look of the band in the video, that will always be the first things that come to mind. The song will forever be the band's calling card, and deservedly so. And yet, it wasn't Metal Edge readers' top choice…
1. "Lay It Down" (Invasion of Your Privacy, 1985)
A few weeks back we ran a poll to name the greatest '80s hard-rock guitar solo, and DeMartini's lead in "Lay It Down" just barely missed the top 5. Clearly, this is a song that has made a big mark on Metal Edge readers, as it reappeared in this poll and slightly edged out expected favorite "Round and Round" to nab the top spot. Like the latter song, "Lay It Down" opens with another classic DeMartini riff and hinges around an earworm chorus. But the song, released as the first single from their sophomore album, also slightly updates the Ratt sound for the mid '80s with a slight electro-throb rhythm in the verses and some well-placed synth accents. And then, of course, there's that aforementioned DeMartini guitar solo, which served to elevate him from mere '80s guitar god status to shredder par excellence. A high point for guitar solos, Ratt as a band and the entire '80s rock genre in general.