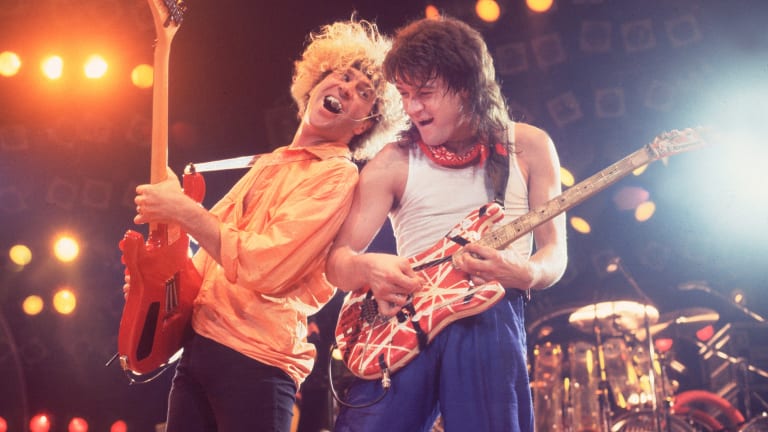 Fan Poll: 5 greatest 'Van Hagar' songs
You'll never guess what landed at #2...
Okay, okay, let's get one thing out of the way: We know there's no such band as "Van Hagar." As one reader responded to this poll question, "Never listened to Van Hagar. Loved Van Halen with Sammy singing."
Needless to say, we agree - Sammy was great with VH. Which is why we put this poll to you, the readers, in the first place. And when it came to your responses, there are clearly many, many fans who feel the same way. And while the Sammy-era hits were well represented – in addition to the ones that made the list below, there were tons of votes for "Best of Both Worlds," "Love Walks In," "Runaround," "When It's Love," "Right Now," "Can't Stop Lovin' You" and other MTV and radio staples – you guys also went deep, calling attention to "Sucker in a 3 Piece," "Black and Blue," "Seventh Seal," "Good Enough," "The Dream is Over," "5150" and more as some of your favorite Sam-and-Ed (and Al and Mike) compositions.
As for the five that ultimately topped the list? Read on…
5. "Why Can't This Be Love" (5150, 1986)
After David Lee Roth exited the band and Sammy Hagar came onboard, fans wondered whether Van Halen would still be Van Halen. With the release of the new lineup's first single, they got their answer: Yes! … and … no! To be sure, "Why Can't This Be Love" demonstrated that Ed, Al and Mike were still on top and primed to rock. But with Sammy's more melodic vocals and Eddie's increased use of synthesizers in place of guitar licks and pyrotechnics, "Why Can't This Be Love" showed off a more pop-leaning, melodious and (gasp!) mature side of the band. Clearly, fans liked what they heard - the song hit Number Three on the Billboard singles chart and helped pave the way for 5150 to become VH's first chart-topping album. With Sammy on board, it wouldn't be their last.
4. "Poundcake" (For Unlawful Carnal Knowledge, 1991)
Let's be honest: OU812 was a solid album, but its hit singles – "When It's Love" and "Finish What Ya Started" – hardly presented Van Halen at their, well, hardest. When it came time to unleash the follow-up, 1991's For Unlawful Carnal Knowledge, the band came out swinging. Not only was "Poundcake" one of their most rocking singles in years, it signaled a serious shift away from the synths and back toward the guitar. And make no mistake, there were lots and lots of guitars on this one – rhythm guitars and lead guitars, six-strings and 12-strings, even guitars played with, famously, a Makita 6012HD power drill. The result was another Mainstream Rock chart-topper, as well as a fitting statement that, at the dawn of their third decade together, Van Halen were still a force to be reckoned with.
3. "Judgement Day" (For Unlawful Carnal Knowledge, 1991)
"Poundcake," the opening cut on For Unlawful Carnal Knowledge, was a hard-rocking, guitar-forward return to form for Van Halen. And for any fans that worried it was merely a fluke, all doubts were put to rest with the album's second track, "Judgement Day." The chugging aggro-rocker recalled the band's heavier, Fair Warning-era attack while also keeping things current with nicely chorused guitar arpeggios and some socio-cultural commentary from Sammy in the lyrics. A deep cut, but one that has clearly struck a nerve with hardcore fans.
2. "Humans Being" (Twister soundtrack, 1996)
This one, we have to admit, was a surprise. "Humans Being" is not exactly thought of as a classic Van Halen tune, but our readers clearly have a lot of love for it. Written and recorded at a time when Sammy and the Van Halens were at extreme odds, "Humans Being" is a dark-toned and somewhat disjointed track with a complicated backstory. It was composed for the soundtrack to the tornado-thriller flick Twister, and underwent several rewrites on its path to creation. It also broke open an already widening fissure between the Hagar and the Van Halens, and would prove to be the lineup's final original recording together. That said, it also features one of Hagar's most expressive vocals (despite the fact that he recorded his performance in just 90 minutes before catching a flight out of L.A.), as well as an extended, and truly stellar, EVH solo. The song managed to top Billboard's Mainstream Rock Songs chart in May, 1996. The following month, Hagar and Van Halen parted ways.
1. "Dreams" (5150, 1986)
This 5150 cut was your overwhelming pick for top SH with VH song. And if anybody out there has a problem with that, know this: Sammy himself has called "Dreams" his favorite track that he recorded with band. And who can argue with the man himself? Released as the second single from 5150, "Dreams," like "Jump" before it, demonstrated just how adept Eddie Van Halen was at building an up-tempo hard-rock song around keyboards rather than guitar. This time, he upped the pop quotient even more, with the result being one of VH's most soaring and anthemic tunes. As for Sammy, much as he states in the lyrics, he pushes his voice "higher and higher" (producer Mick Jones once said he was "singing so high he almost hyperventilated"), delivering one of his greatest vocal performances with the band. A perennial fan favorite, "Dreams" was a live staple of the Sammy era, and appeared in sets during the Cherone years, as well as in Sammy solo gigs since.