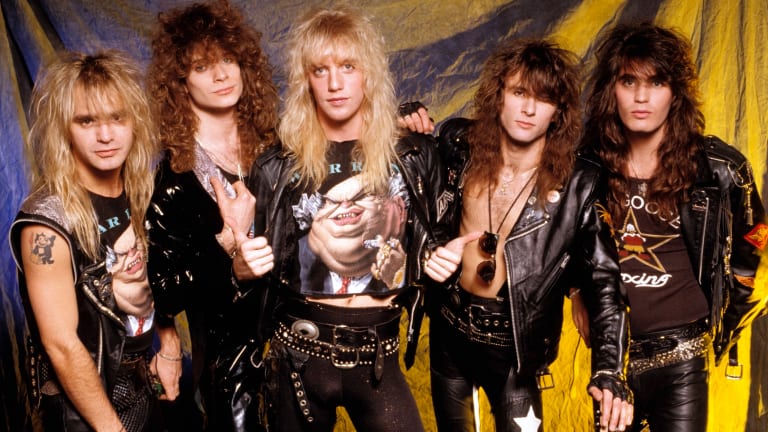 Fan Poll: 5 greatest Warrant songs
The best of the Down Boys, according to Metal Edge readers
In the larger public eye, Warrant are mostly remembered for "Cherry Pie" and "Heaven" (and those awesome, awesome white leather suits in the latter video). But real hard rock fans know that Warrant have some real, no-nonsense hard rockers to their name (and, of course, more than a few top-notch ballads).
What's more, the band has always been capable of going a bit deeper than many of their peers, whether it's with a sticky pop hook, an unexpected chord change or, in late front man Jani Lane, a lyric that could be disarmingly sentimental or emotional. With that in mind, we asked you guys to name your favorite Warrant tracks. And to be sure, your choices encompassed everything that's great and unique about the band, and included some surprising picks, to boot.
5. "Down Boys" (Dirty Rotten Filthy Stinking Rich, 1989)
Warrant's musical calling card made your top 5, but just barely. This is likely due to the fact that longtime fans have understandably burned out on the staple track. Nevertheless, it's an undeniable classic, and one that is arguably more nuanced than the catchy, shout-along chorus would suggest, with Jani Lane evidencing, alongside his cocksure bravado, some regret and sadness about a relationship gone south.
4. "April 2031" (Dog Eat Dog, 1992)
Admittedly, people don't tend to look to the guys who wrote "Cherry Pie" for social commentary, but here we are. In "April 2031," Jani Lane conjures a post-apocalyptic hellscape, imagining a world ravaged by nuclear war and "beyond resuscitation." The imagery is both bleak ("They say the sky used to be blue / I don't believe it") and morbidly humorous ("Hug my aluminum pillow so tight") and it's paired with a dirge-y, bordering-on-metal backing track. Not what we think of as characteristic Warrant, but clearly what you guys think of as quintessential Warrant.
3. "32 Pennies" (Dirty Rotten Filthy Stinking Rich, 1989)
The first track on Warrant's first album was never a hit single, but it's undoubtably an essential Warrant cut. "32 Pennies" explodes out of the speakers with youthful swagger and a rock-solid groove, and while Jani Lane is ostensibly singing to a female that has caught his eye, the lyrics could also be read a statement of purpose for a band that, at the moment, may have had only had 32 pennies in a Ragu jar to their name, but also had their collective eye set on "climb(ing) to the top of the highest mountain."
2. "I Saw Red" (Cherry Pie, 1990)
Plenty of pop-metal bands released power ballads in the '80s and early '90s (in reality, maybe every single one of 'em). But arguably no band did the power ballad as well as Warrant. In our opinion, this slot could have been held by any number of Warrant tunes – "Heaven," "Blind Faith," "Sometimes She Cries" – but the one you chose is 'I Saw Red." It's also possibly their finest, with one of Jani Lane's most affecting vocals paired with an elegant, piano-led arrangement and a massively hooky chorus.
1. "Uncle Tom's Cabin" (Cherry Pie, 1990)
The second single from Cherry Pie was your overwhelming top pick for best Warrant song. And indeed, it has remained a fan favorite since its release more than 30 years ago. While in retrospect it may not seem so, at the time "UTC" signaled something of a shift in the Warrant approach, presenting a less sexed-up, slightly harder-edged style than the band had previously evidenced, especially in their choice of singles. It also hinted at the type of story songs (hello, "April 2031") that Jani Lane would begin to explore on Dog Eat Dog. In the end, it's an ideal balance between the band's poppier early output and more weighty '90s work.