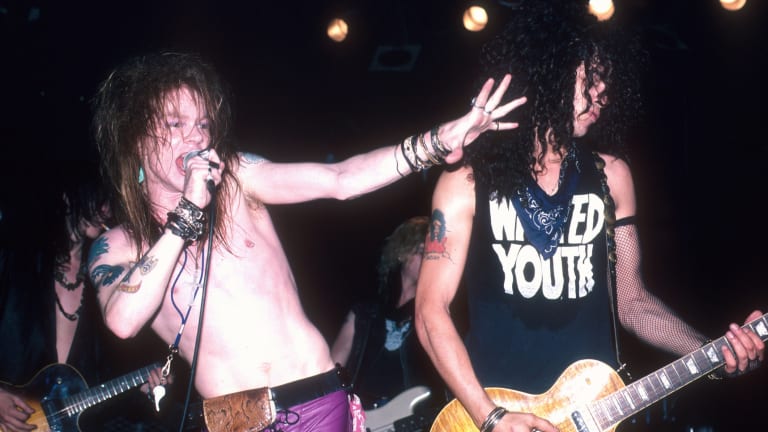 6 greatest L.A. glam-metal debut albums
They crawled out of the cellar and up onto the Strip. Oh my god, look what the cat dragged in...
"Livin' in L.A. is so much….ffffun!" Taime Downe screeched on Faster Pussycat's 1987 debut album. And who could argue with the man?
Throughout the 1980s, Los Angeles – and, in particular, that golden road known as the Sunset Strip – was not only ground zero for some of the best rock 'n' roll of the decade, it was also where many of the era's biggest, baddest and hairiest bands first spawned and cut their teeth.
From Mötley at the Whisky to Ratt at Gazzarri's and Guns N' Roses at the Troubadour, the City of Angels was the place to be. As for Taime and Faster Pussycat? Well, you could likely find them down at the best Cathouse in town…
If you were there, then you know what we're talking about. And if you weren't, just slap on these six great L.A. glam-metal debut albums and prepare to return to the scene of the crime…
Mötley Crüe – Too Fast For Love (Elektra, 1981)
The album that launched a thousand bands. Fueled by drugs, alcohol and Vince Neil's impossibly shrill wail, Motley Crue unwittingly established the look, sound and attitude of a decade with this rough-and-tumble album recorded in just a week. Permeated by a genuine punk sneer, Too Fast for Love's take-no-prisoners abandon still sounds fresh today, while Tommy Lee's I've-got-a-cowbell-and-I'm-gonna-use-it drumming may be the best example of hard-rock sticksmanship committed to tape since John Bonham laid it down with Led Zeppelin.
Ratt – Out of the Cellar (Atlantic, 1984)
Armed with gruesome looks, gnarly riffs and the gravelly vocals of front man Stephen Pearcy, Ratt's debut full-length truly feels like something that oozed up through the gutters and grates of the Strip. But the grungy grinders ("Lack of Communication," "Wanted Man") were cut with enough pure pop-metal gems ("Round and Round," "Scene of the Crime") to make a bona fide classic. Truly the good, the bad and the ugly.
Poison – Look What the Cat Dragged In (Capitol, 1986)
First of all, anyone, who dares to claim that his first reaction to the jacket cover of Poison's debut wasn't, "Whoa! These girls are hot!" is a flat-out liar. Second of all, C.C. DeVille was the funniest, coolest and most reckless guitar player to ever sell out an arena. Third of all, if "Talk Dirt to Me" had been recorded by the Sex Pistols for Never Mind the Bollocks, snotty rock critics everywhere would be hailing it as the greatest punk-rock song of all time.
Guns N' Roses – Appetite for Destruction (Geffen, 1987)
The massive 'do sported by Axl Rose in the "Welcome to the Jungle" video certainly justifies this album's inclusion in any hair-metal best-of list. That said, with its magic combination of Stones-on-steroids riffs and punk-rock nihilism, Appetite may also be one of the 20 best rock records of all time…so good, in fact, that Gn'R had no choice but to release a double album in an attempt to top it.
Faster Pussycat – Faster Pussycat (Elektra, 1987)
It's a shame that Faster Pussycat felt a need to "evolve" after releasing this rough-and-tumble collection. If they had stayed their course, they might now be regarded as L.A.'s snotty answer to the New York Dolls. True to Johnny Thunders' "rock now, ask questions later" approach, singer Taime Downe painstakingly imitated Dolls vocalist David Johansen's total disregard for pitch. Perhaps more importantly, Downe also shared Johansen's flair for injecting wit and wordplay into otherwise lowbrow lyrics.
Warrant – Dirty Rotten Filthy Stinking Rich (Columbia, 1988)
Yes, Warrant may have taken the over-sexed himbo act to new extremes in their horny live shows. But that should never eclipse the simple truth that vocalist Jani Lane was one of the most accomplished songwriters of the pop-metal genre. If you can't get down with anthems like "Big Talk," "Down Boys" and the disturbingly moving ballad, "Sometimes She Cries," seek medical attention immediately – your heart has stopped.