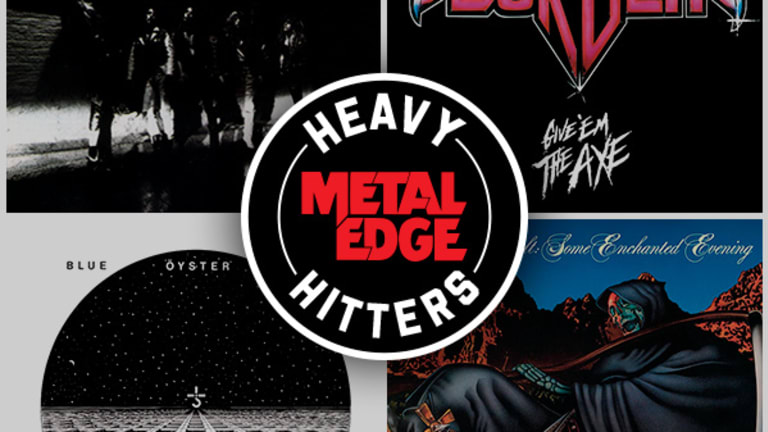 Heavy Hitters: Skid Row, Lizzy Borden & Blue Oyster Cult
Paul Gargano revisits four albums that helped make this year's M3 Rock Fest memorable
It's been a week since the M3 Rock Festival wrapped its 13th year of celebrating all things rock, guitar and glam, and truth be told I'm still recovering. Not because I'm old, but because I can't get three hours of sleep for five nights in a row and bounce back like I used to… Okay, maybe I'm old. But it was worth every minute, as I'm still reeling from stellar sets by Blue Oyster Cult, Lizzy Borden and Skid Row – the three bands I will honor in this week's installment of Heavy Hitters, your weekly (or almost weekly, depending on how busy I am) dose of all things vinyl.
SKID ROW Skid Row
If you've been with me since the start of this column, you might remember that I called this debut a "near-perfect magnum opus of swagger on steroids" about three months ago (to the day, actually). After seeing Skid Row's literal rebirth with new frontman Erik Gronwall at M3, I couldn't think of an album more deserving to be my first repeat as a Heavy Hitter. Six of the album's 11 tracks made it into the M3 set, and each of them hit with the same punk rock viscosity that always made Skid Row stick that much harder than their hard rock peers. "Big Guns,""Piece of Me" and "Makin' a Mess" still snarl with a timeless aggression more than three decades later, "18 And Life" and "I Remember You" are two of the genre's preeminent ballads, and "Youth Gone Wild" remains one of the era's defining songs. If I may be so bold, I'm upgrading this album from near-perfect to perfect, and ranking it right up there alongside Appetite for Destruction. If you want to argue, find me at the Rainbow. In the meantime, you can find Skid Row's self-titled debut on both red and silver vinyl in the Metal Edge store.
LIZZY BORDEN Give 'Em the Axe
Technically speaking, Lizzy Borden made their debut on Metal Massacre IV, the 1983 installment of Metal Blade Records' genre-defining compilations. For the uninitiated, the first collection, released in 1982, featured the debut of both Metallica and Ratt. And for the collectors that are as obsessive as I am, the first run of that album has Metallica spelled Mettallica on the back cover – that original pressing is one of my prized LPs. But back to Lizzy Borden… Released in 1984, this four-track debut EP features Lizzy originals "Give 'Em The Axe," "Kiss Of Death" and "No Time To Lose," and a cover of the Rainbow classic "Long Live Rock N Roll." None of these early nuggets made it into the band's 6-song M3 set, but they all hold their own nearly 40 years later as Lizzy's vocals soar and the instrumentation soldiers on with aplomb. If you're not familiar with the man best known for "Me Against The World," you should be - on this EP, Lizzy goes toe-to-toe with early Queensryche and might even come out on top. Pressed on white and blue vinyl, this is a must-own reissue and a great introduction to one of the most underrated bands to blaze a trail for hard rock and heavy metal in the mid-'80s.
BLUE OYSTER CULT Blue Oyster Cult
This is the album that started it all for my favorite band from Long Island. The self-titled debut from Blue Oyster Cult came out 50 years ago in January 1972 (that's about a month after my conception, if you're keeping score at home) and features the colossal "Cities On Flame With Rock And Roll" – if the riff doesn't punch your soul, drummer Albert Bouchard will as he sings the lines "my heart is black and my lips are cold / cities on flame with rock and roll / three thousand guitars, they seem to cry / my ears will melt and then my eyes." Equal parts hard rock, prog and psychedelic, BOC are far more clever than they'll ever receive credit for, just jump over to your favorite streaming service and check out "I'm On The Lamb But I Ain't No Sheep" to know exactly what I'm talking about. In addition to "Cities," the M3 set also dusted off "Then Came the Last Days of May" and "Before the Kiss, A Redcap" from this pristine platter of post-psychedelic greatness. 
BLUE OYSTER CULT Some Enchanted Evening
My double-shot of Blue Oyster Cult continues with Some Enchanted Evening – the third LP I ever bought with my own money, following KISS Alive 2 and Ted Nugent Free For All. Yes, I can remember the first three records I bought, but I can't remember that eight double tequila and sodas probably isn't the best idea if I haven't eaten in more than 24 hours. The only song I knew when I bought this live compilation was "Godzilla," but that was the only song I needed to know – it introduced me to heavy, and it remains as cool today as it was when it first breathed its fire into my earholes. "Oh no, there goes Tokyo, go go Godzilla!" The guitars are rapturous, and when the band kicked into this monster at M3, everyone around me lit up like 12-year-olds seeing their first set of boobs. Can I say that in 2022? Too late, I already did… This live bundle of joy is where I first heard "Don't Fear (The Reaper)," and this is where covers of "Kick Out The Jams" and "We Gotta Get Outta This Place" introduced me to MC5 and The Animals. The album cover is one of my all-time favorites, a sickled grim reaper riding a menacing black stallion across a post-apocalyptic red landscape with the subtle inclusion of the band's iconic logo, and is a glorious testament to why all great artwork deserves to be appreciated on vinyl.