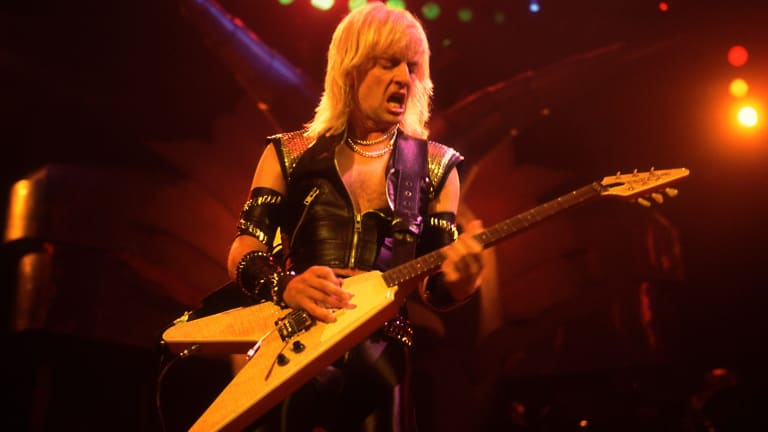 Hey, K.K. Downing! Tell us about your 11 greatest gigs with Judas Priest
The guitar legend picks his most unforgettable Priest shows, from the US Festival to Live Aid to the one where 'we got paid six pounds'
Back in the late 1960s, Kenneth "K.K." Downing was playing in a heavy rock band called Freight with bassist (and schoolmate) Ian Hill and drummer John Ellis. A few years later, they hooked up with singer Al Atkins and Judas Priest were born. While Priest would cycle through many members, and go on to look and sound very, very different, Downing and Hill remained, and in the process helped to create and shape the sound of heavy metal for decades to come. 
Along the way, they would also play some killer gigs. Which is why we asked Downing to speak with us about some of the greatest shows he played with Priest over his four decades with the British metal legends. 
These days, of course, Downing is no longer with the band he helped to form. He split in 2011 and, ever since, has engaged in an often contentious and public war of words with some of the members. But now he's once again letting the music do the talking. A few years back, he got together with singer Tim "Ripper" Owens, another Priest alumnus, and formed KK's Priest. The band released their debut, a collection of raging, anthemic power metal titled Sermons of the Sinner, in 2021, and plan to hit the road later this year in support of the record. "I'm still creating, and the repertoire's getting bigger and bigger and bigger," Downing tells us. "And by the time we go out at the end of this year, or certainly early next year, it will be even bigger. The next chapter is about to unfold." 
Until then, Downing sat down with Metal Edge to talk about his 40 years with Priest, and some of the absolutely unforgettable gigs he was fortunate enough to experience during that time. "And obviously, there's a lot more I could add," he acknowledges. "But if somebody said, 'Think of a listing your sleep…' these are the ones that would absolutely jump out to me."
1. The US Festival, San Bernardino, California (May 29, 1983)
"It's the first one I put on my list. Because it was massive, wasn't it? It's the biggest live audience that I've ever played to. It was a million degrees on the stage, but it was a fantastic lineup – Van Halen, Ozzy, the Scorpions… they called it Heavy Metal Day. I remember we went in and out by helicopter. Which sounds big-time, doesn't it? But you know, it was the way that people were getting in and out, because with the location and the crowd and the traffic on the roads we'd never had made it through. But that was really a great memory, and now we've got the DVDs and stuff if you want to relive it."
2. Royal Albert Hall, London, England (March 31, 2006)
"Playing the Royal Albert Hall was big. It was built in about 1860 or 1870 or something like that, and it's a very special old-world venue where you would normally go to see Swan Lake or the ballet or something Like the English version of Carnegie Hall or something. But they did start to let lots of people play there, and I've seen lots of shows there over the years. I used to go there in the '60s. I saw both of the Cream farewell concerts there in 1968, and I also saw both of the Jimi Hendrix concerts there. This was when I was a young kid, before I was even playing guitar. And so when Priest eventually got to play there as a guest of Roger Daltrey for the Teenage Cancer Trust charity, headlining the rock day with Scorpions and Ian Gillan on the bill, it was incredible. Imagine me standing stage right, in the footsteps of the great Jimi Hendrix, and in the footsteps of Jack Bruce as well, because Eric Clapton was stage left when I saw the Cream shows. It was such an honor. And actually, the photograph on the cover of my autobiography [Heavy Duty: Days and Nights in Judas Priest] is taken from that show, which is very cool as well."
3. Madison Square Garden, New York City (June 18, 1984)
"I've got to include Madison Square Garden, which is one of your very prestigious venues in America. I've seen many tennis tournaments and boxing matches on the television that happened there, and so to finally play there, which we did on the Defenders of the Faith tour in 1984, was a big deal. So we got there, and it was the gig where everybody ripped the seats out and caused gazillions of dollars-worth of damage. [laughs] I've heard different numbers thrown around, but I remember they told us on that day that we were bad guys because we caused $650,000-worth of damage. I don't know how they added it up so quickly! And they banned us. But they did let us back in eventually, I guess when the insurance company gave them a lot of nice new seats. Later on, I was there with Glenn [Tipton] at a tennis tournament, the Volvo Masters – we snuck in – and the manager spotted us. He thanked us for the new seats."
4. Live Aid, JFK Stadium, Philadelphia, Pennsylvania (July 13, 1985)
"You couldn't leave this one out of a live gig list, could you? That was pretty special. We were finishing off recording Turbo, and we were in the Bahamas, so we didn't have far to go to get to Philadelphia. We just jumped on a plane and went and did a three-song set. And it was fantastic. We were there in the dressing rooms, and I think Crosby, Stills & Nash were going on, and we got to say a bit of a hello with those guys backstage. It was just like a big conveyor belt. But we got to play and hang out, and then we went on again at the very end. Somebody said, 'Look, if anybody wants to go on for the finale, you better get your ass in gear and get up there.' So we went up and it was fantastic, because Mick Jagger was there, Tina Turner, Hall & Oates. I was surrounded by all these people and just singing as loud as I could. So that was an incredible time, obviously."
5. Rock Pop Festival, Dortmund, Germany (December 18, 1983).
"We were doing lots of things in 1983, but we did this indoor festival and it was amazing, because we had Ozzy, Krokus, Scorpions, Def Leppard, Quiet Riot, Iron Maiden, all these bands there. There was a stage at each end of the venue, and it was mad. It was like the US Festival, but even 'more,' you know? We flew in to do that one, and then as soon as we played the gig we got on a plane and jumped out. But I remember the atmosphere was fantastic, just full-on metal. And the videos, if anybody gets a chance to check them out, they're well worth seeing because I think we were at the peak of our career, in between Screaming and Defenders. It was a whirlwind time, and a special moment."
6. St. John's Hall, Essington, England (March 6, 1971)
"Next we drop right back to March, 1971, for the first-ever Judas Priest gig. It was at a working men's club in a tiny little town in the Midlands. Working men's clubs were places where the working men of the town would go to hang out, play dominoes and cards, drink cheap beer, whatever. It was just social-type thing. And what used to happen was they would give the stage up to odd bands who would play at dances for their daughters and for their sons to enjoy. That gig we did was with the original Priest lineup, which was me, Al Atkins on vocals, Ian Hill on bass our drummer, John Ellis. And we enjoyed it and actually did a couple of encores. We did our own unique songs and also a couple of covers by a band called Quatermass, who were a three-piece with keyboards and no guitar player. We did some of their songs, like 'Black Sheep of the Family' and 'Post War Saturday Echo.' We got paid six pounds, if I recall."
7. Highway to Hell tour with AC/DC (1979)
"I can't leave out the Highway to Hell tour we did with AC/DC, because I enjoyed that tour so much. And of course we all know it was the last tour that Bon [Scott] did, unfortunately. But we had such a great time with the guys. They were so kind to us, so gracious. AC/DC were one of the great bands that taught us how to interact with the crowd and how to treat support bands that we would have later on as we kind of climbed up the ladder. And it was a great show for the fans as well, because it was '79 and we were just about to break through. That tour really helped us to get to where we wanted to go."
8. Dynasty tour with Kiss (September, 1979)
"I've got to mention this tour because you would think it was maybe a bit of a mismatch, but I don't think so, because we really enjoyed playing with the Kiss guys. And again, they treated us very, very well, and we got to hang out and shoot pool, do some fun things together. Since then I've had had the opportunity to hang about with Gene [Simmons] and the guys, and they're very down to earth and grounded for being these mega-superstar guys. But I have to give them credit – they came to see us at the Palladium in New York and offered us a chance to go out there on the big stages. So I do thank them for that. And it was a great time."
9. British Steel tour with Iron Maiden (1980)
I have to include the British Steel tour we did Iron Maiden supporting us. We did it in the U.K. first, and then we went on the same tour in the U.S. And you know, Judas Priest and Iron Maiden on the same bill, to me, it was really kind of the consolidation of heavy metal as we know it today. It was the first tour that we were clad in the leather and the studs, and we had the British Steel album and all those songs. I think it kind of paved the way for a lot of things for the band, and also heavy metal as we know it."
10. Day on the Green, Alameda County Coliseum, Oakland, California (July 23-24, 1977)
"What a show that was. We were supporting Led Zeppelin. That was incredible because we'd just been playing some clubs, right? And some small theaters down the East Coast, which was kind of a stronghold for U.K. metal at the time. I can remember we were playing these clubs and I would be throwing the guitar about, and I can remember these polystyrene square things on the ceiling being smashed, which we had to pay for. So you can imagine the types of venues we were playing. And then somebody said, 'Can you go to California to play with Led Zeppelin?' I'm going, 'Okay… which direction is that?' [laughs] So we get on the plane and play two sold-out shows at the Coliseum to, like, 110,000 people. Ity was just three bands – Zeppelin, Derringer and us. And we got to say hello to the guys and stuff like that. It was a real treat."
11. VH1 Rock Honors, Mandalay Bay Events Center, Las Vegas, Nevada (May 25, 2006)
"That was fantastic. It was us, Queen, Def Leppard and Kiss. Just a wonderful night. I guess I'm throwing this in there because Judas Priest has been nominated for the Rock & Roll Hall of Fame again this year, which is pretty cool. And there's a lot to be said about the Hall of Fame, but I think that apart from winning a Grammy [for Best Metal Performance in 2010], the first-ever VH1 Rock Honors was the nearest thing I've experienced to one of these "you've made it, you've won an award" type of things. And I have to say, winning that award was pretty cool."