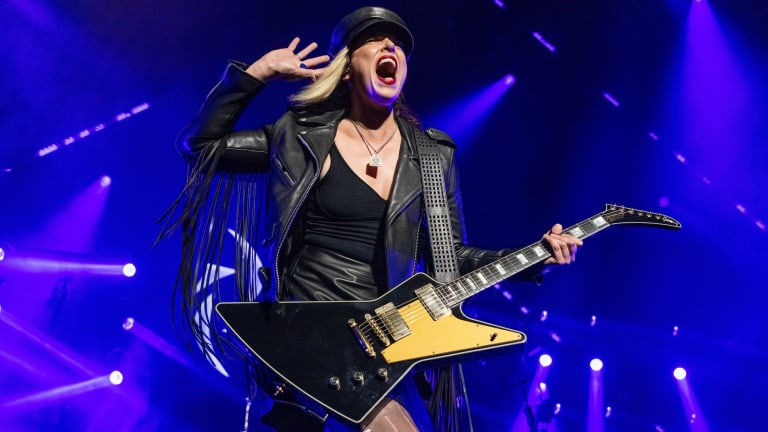 Hey, Lzzy Hale! Who are your 5 biggest '80s rock influences?
The Halestorm singer and guitarist on the artists that helped her to discover and embrace her 'weirdness'
Halestorm singer and guitarist Lzzy Hale grew up in the 1990s, but she's an unabashed '80s girl at heart. And while being an avowed Alice Cooper and Cinderella freak in her Pennsylvania high school in the late '90s could have led her to be regarded as something of, well, an actual freak, she instead wore it as a badge of honor. 
"The great thing about all of these bands, and especially someone like Alice Cooper, is that by knowing that the majority of the girls my age – actually, I should say probably one hundred percent of the girls my age – were not listening to Alice Cooper made it into almost a weapon," Hale tells Metal Edge, then laughs. "It became my superpower. I was like, 'Yeah, this is my music. And nobody else listens to it. It's mine!' "
A short time later, Hale began putting that superpower to good use. Halestorm is currently one of the biggest bands in modern heavy rock, with multiple top ten albums and a Grammy under their collective belt, and has toured alongside everyone from Alice Cooper and Alter Bridge to Stone Sour and Sevendust. They're also getting set to issue their fifth, and arguably heaviest, record to date, Back from the Dead, on May 6.
On the eve of the record's release, Hale sat down with Metal Edge to talk about the five '80s artists that helped make her the rock goddess she is today.
Alice Cooper
"First up is the man, the myth, the legend. Alice does dip back to the '70s, but I loved his '80s work, too. I think I liked the 'strangeness' of it. I liked the fact that it was just something shocking and different. He wasn't this pretty boy, but when you watched him perform he would look at you, like, right through the camera. I remember that being a really big deal for me, especially when we started the band. I was like, 'How do you do that? How do you just look at somebody, right into their soul?' [laughs]
"Also, Alice was the reason I found out I was weird. I remember taking the album Love It to Death to a slumber party when I was 11 years old. This was in '96-ish, and those girls were not listening to Alice Cooper. They looked at me like I was from another planet. And I'm so grateful because I've been able to actually tell Alice this story. And he was like, 'I'm so proud! I'm so proud that it was me helping you discover that you were weird when you were a kid!' "
Pat Benatar
"I would watch these VHS tapes of Pat Benatar live when I was a kid. My parents were like, 'Well, if you're gonna be into this, you might as well see that girls can do it, too.' You know? And so they found me a bunch of quote-unquote research. [laughs]. That what I was calling it. And she was just so great. If I had cut my teeth in the '80s, I definitely would've been the embodiment of Pat Benatar.
Cinderella
"I guess I can describe this as kind of my first boy band. I hate saying it that way, but at that time, when everybody had crushes on, like, the Backstreet Boys and all that stuff, I had crushes on the guys in Cinderella. [laughs] And I've actually had that conversation with Tom [Keifer]'s wife. We were having a glass of wine or two, and I told her, 'When I was 15 I had a crush on Tom…' She's like, 'Oh, everybody did. It's fine!' So that wasn't awkward at all. [laughs]
"But now I've gotten to know him, and I feel like the camaraderie that we have right now, and the honest conversations that I'm able to have with Tom, I'm able to dig deeper into what he did, especially some of the blues influence that he had. Because you know, their most major time was during the '80s, so everybody was looking at it like it's just lipstick and hair. But actually they were an amazing blues band. So he'll send me voice memos of licks and stuff that he learns or that he discovers, or maybe he hears that he wants me to listen to. And it's actually kind of crazy, because there still is that person inside of me that says, 'You know, if you had told your 15-year-old self that you'd be getting voice memos from Tom Keifer, where you can hear all his jewelry jingling in the background,' I mean, I wouldn't have ever believed it. It's amazing. Because Tom, I still wear some of his influence on my sleeve, both vocally and guitar-wise."
Van Halen
"You can't go wrong with Van Halen. And, actually, 'Panama' was my parents' song. My mom was 18 when she got married to my dad, and then they waited 10 years to have me. And during those 10 years they had a lot of fun, and a lot of that was centered around Van Halen. [laughs] So whenever I ask my dad, 'What was the earliest rock band that you actually made me listen to?' He's always like, 'It definitely had to be Van Halen.' So that music's in there!"
Ronnie James Dio
"I'm always down with Dio. Dio is one of my ultimate heroes as far as vocalists go, but also for his demeanor which was unmatched. We're not necessarily going to have another one of those guys in this lifetime.
"I did get to meet him once, and it's kind of a strange story because it happened on accident. We were in the middle of a tour in 2009, right after we released our first album. So we were in between tours and we were headed home to Pennsylvania, and our booking agent calls and he's like, 'Hey, you know Heaven & Hell, the Black Sabbath band with Dio?' I'm like, 'Yes, of course.' And he says, 'Well, they're playing in Atlantic City at the House of Blues and Coheed and Cambria, who were opening up, can't do it. 'Would you mind pivoting, and instead of going to Pennsylvania, just go right to Jersey and do this show?' And I'm like, 'I will crawl through broken glass to do this!' [laughs] So we ended up getting to open up for those guys, and not only was I was very nervous, but also it was just an amazing show. If you've ever been to the House of Blues in Atlantic City, there's all these balconies on the side of the stage where the dressing rooms are. And I would look up, and Geezer and Dio were there, just watching our set. I'm like, 'Oh gosh, they're watching! I didn't think they were going to watch!'
"Then after the set, they all made the effort to come and seek us out, which I thought was really awesome, because they didn't have to do that. They're all legendary cats. But they literally spent way too much time with us. It was about 2:00 AM when everyone decided to roll outside to where the buses were, and Dio's talking the whole time. He just kind of like made you feel like he was everybody's uncle and you're part of the family. He even pinched my cheek. He was like, 'You got it, girl.'
"So then he walked us out to our RV and he goes, 'Stay here. I need to go and sign some stuff for some people that are hanging out by the bus, but I want to come by and say a proper goodbye.' And we were sitting in the RV watching him sign everything for everybody and take all the pictures, and then he actually came back. He knocked on the door, he gets up in our doorway, and I remember saying something to the effect of, 'Thank you so much for taking the time, because we'd understand if you're just tired and want to go.' And Dio wags his finger in my face and he says, 'Lzzy, this is a moment in time. You're never going to remember anybody that you meet on the road. You're never going to remember all the venues. But they are going to remember meeting you for the rest of their lives. You have to make it good for everyone.' At the time, I thought he was giving me advice for my future fans about how to treat everybody, which I absolutely do treat everybody that way. But now I look back and I'm like, 'Oh no, he made that moment for me.' I'll never forget that."