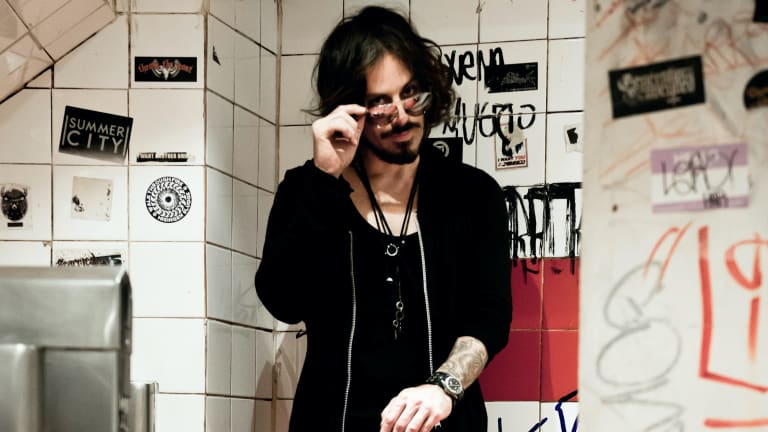 Hey, Richie Kotzen! What are your 3 favorite Poison songs?
The guitar ace looks back on the tunes he most loved to play with the band, as well as the one he still pulls out today
Thanks to his dazzling, shred-heavy solo records, Richie Kotzen was already a known quantity in the guitar universe by the early 1990s. But the young gunslinger truly came to mainstream prominence when he joined Poison to help write and record their 1993 album, Native Tongue. As he recalls, "Prior to me getting in that band, I was signed to Interscope as a solo artist. And I was one of the first artists there. It was me, Linda Perry of 4 Non Blondes, Primus, and this kid Gerardo, who later became a music executive. The first big smash the label had was Mark Wahlberg's 'Good Vibrations.' "
As far as Kotzen's positioning at Interscope, he says, "I was signed to the label as a new artist and I was ready to go. Danny Kortchmar, who did one of my favorite albums of all time, Don Henley's The End of the Innocence, was going to work with me on my record." But when Interscope seemed less interested in promoting Kotzen as a songwriter and more as a "heavy, guitar-slingin', screaming kind of guy," the label and artist parted ways.
Which is when Poison came into the picture.
"My A&R guy said, 'Hey, listen, I want you to check out an opportunity,' " Kotzen recalls. "He said, 'Bret Michaels has been calling me and he's interested in you joining the band. You should go to his house and talk to him.' "
Kotzen obliged, and the two hit it off. "We're hanging out, he's from Pennsylvania, I'm from Pennsylvania, he starts talking about all these groups he likes, and I start getting a little more familiar with exactly who he is and what he's about," Kotzen says. "And I start thinking, wow, they're not just looking for like some dude to step in and play, you know, D, C and G chords over and over again. They want a songwriter. They want a legitimate guy to help chart the course of the group stylistically, and still obviously retain what made the band work in the first place. 
"So I joined Poison, and I think we made a kick-ass record together."
These days, Kotzen is enjoying a successful solo career, as well as fronting the supergroup The Winery Dogs and promoting Smith/Kotzen, his collaborative record with Iron Maiden's Adrian Smith. But he took a few minutes to sit with Metal Edge and pick out his three favorite Poison songs, both from his time with the band and before he joined, as well as reveal the one he still plays at his own shows to this day.
"Stand"
" 'Stand' was one of the ones that solidified the Poison gig for me. Because when I went in there, even though Bret wanted me in the band, I still had to play with them. And I blew the audition because I had problems with my amps. I had some vintage Marshalls, and smoke started coming out of one of them. And then when I went to play one of their tunes I was making mistakes because I thought I knew it but didn't. So they said, "Well, what do you got?" And I played 'Stand.' And Bret loved it.
"It was pretty much done, but then Bret wanted to kind of tweak the lyrics. So in the end, he rewrote the lyrics in the verses based on what I had come up with. And it came out great. Every now and then I still play this one. And when I do play it, I do like a hybrid version of my original lyrics and some of his. It turned out to be a cool collaboration."
"Until You Suffer Some (Fire and Ice)"
"That day when we jammed, after I played the riff to 'Stand' I played the riff to 'Fire and Ice.' And Bret loved that, too. So those two songs are really what got me the Poison gig. With 'Fire and Ice,' he and I worked on that together. Bret was always good with phrases and just kind of saying things in a way that the average person could connect with. And that's probably one of the main things I took away from working with him. Just developing that skill."
"Nothin' But a Good Time"
"As far as the third song, it's gotta be 'Nothin' But a Good Time.' I think I was still a teenager when it first came out, and I always loved the tune. It's a kick-ass, really strong rock 'n' roll song that you just want to listen to again and again. It gets you in a good mood, you know? I remember when I got the Poison gig, saying to myself, 'Now that's a song that I'm gonna look forward to playing soon.' "