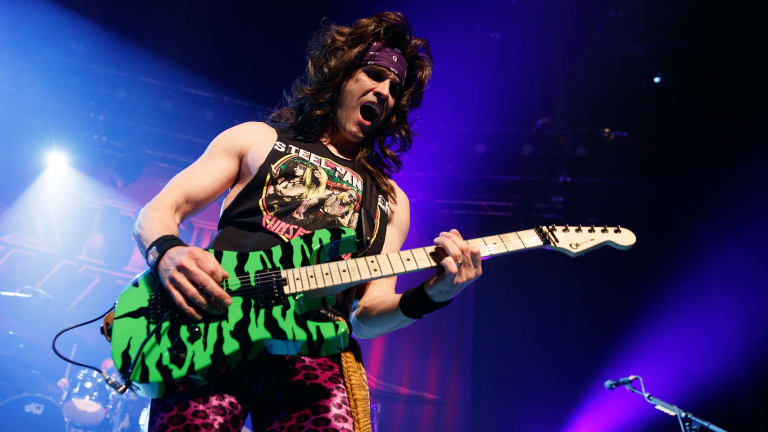 Hey Satchel from Steel Panther! Tell us 5 hair-metal deep cuts we should absolutely know
'If you don't agree you are just dumb,' the guitarist says about his picks
If you're looking for someone to help you out with, say, your dinner table etiquette or what color socks to pair with your khaki shorts, Steel Panther guitarist Satchel might not be your guy. But if you're in need of advice about guitar shredding and looking totally badass while doing it, he might have a nugget or two of wisdom to impart. The same goes for any questions about '80s hair metal, which, we'll have you know, Satchel has a (theoretical) PhD in.
Which is why we asked him to name not just any five great '80s hair metal songs, but five great deep-cut hair-metal songs. And Satchel was clearly up to the task, pulling out tunes featuring iconic guitarists like George Lynch and Vivian Campbell, peerless singers like Dio and Rob Halford (the latter of whom Satchel played with back in the days when he went by the ridiculous stage name "Russ Parrish") and, interestingly, several guys who now play in Foreigner.
And if you don't agree with his choices? As Satchel, says, "you are just dumb."
5. Dokken, "The Hunter" (Under Lock and Key, 1985)
"Here is a classic deep cut from a classic 'deep cut' band. Dokken never had the hits they deserved in my humble opinion. But they delivered a whole bunch of solid records and some of the greatest guitar solos of the decade. This was the first song I heard when Under Lock and Key came out and I think it was the first single. I woke up one afternoon in a pile of beer cans to this cranking on my dad's stereo and I was not disappointed. I went out and bought the record, because you couldn't steal them back then, kids. I was happy to pay the 12 bucks. There's some great songs for strippers to shake their asses to on the album, but this is one of the best. [Dokken bassist] Jeff Pilson plays in Foreigner now."

4. Dio, "Don't Talk to Strangers" (Holy Diver, 1983)
"Okay, this album is a must for all '80s metal fans if you ask me. And this song is epic. Dio is definitely on my list of the top five greatest metal singers of all time, and this song proves it. It's a fact. Not even debatable. And the band on this is just fucking perfect. Vinny [Appice, drums] and Jimmy [Bain, bass] laying it fucking down and Vivian [Campbell, guitar] just on fucking fire ripping your head off. 
"This song starts so softly and Dio just draws you in… like a fucking siren, you cannot resist his sweet call. So you follow him. And of course, you soon find out he's the spawn of Satan himself. The demon's child. But you cannot turn away at this point, so you stay and let him and the band destroy your eardrums and you enjoy every goddam minute of it. It's a heavy metal roller coaster that you will continue to ride until you puke. Thank you, Dio."
3. EZO, "House of a Thousand Pleasures" (EZO, 1987)
"The Japanese are known for many things. Their rich culture. Sumo Wrestling. Ambushes. But did you know that they can rock? Of course you did. You know about Loudness and Baby Metal. But EZO may have very well slipped underneath your radar like a Kamikaze pilot. These guys sounded so good. Riffs, songs, a killer singer. They had it all. 'House of a Thousand Pleasures'… oh yeah. They must be into some kinky shit in Japan because that's about 990 more pleasures than I can think of off the top of my head. Wait… I forgot about that one. 989."
2. Hurricane, "I'm On To You" (Over the Edge, 1988)
"Remember Hurricane? Well, I'm reminding you. This song is hook central. Great chorus. Cool verses. Bitchin' hair. It's rad shit. It's the type of stuff the '80s were built on. Do you know that a Hurricane is the exact same thing as a cyclone and a typhoon depending on what part of the world you are? Isn't that stupid? I think so. I remember three words for the same thing. Ain't nobody got time for that. I would like to imagine there is a band that sounds exactly like Hurricane in India called Cyclone, but I doubt it. Anyway… Kelly Hansen sings in Foreigner now."
1. Judas Priest, "The Sentinel" (Defenders of the Faith, 1984)
"If you're as old as our drummer, Stix, you know that Judas Priest had lots of songs that were not radio hits. The surprising thing is, a lot of those songs fucking should have been. They were that good. This is one of them. Rob is another one on the top five greatest list for me. You can hear his power in this. And the guitar solo is classic Priest. It's the sound that made them one of the greatest heavy metal bands of all time. And if you don't agree you are just dumb."